THERAPY FOR KEIRA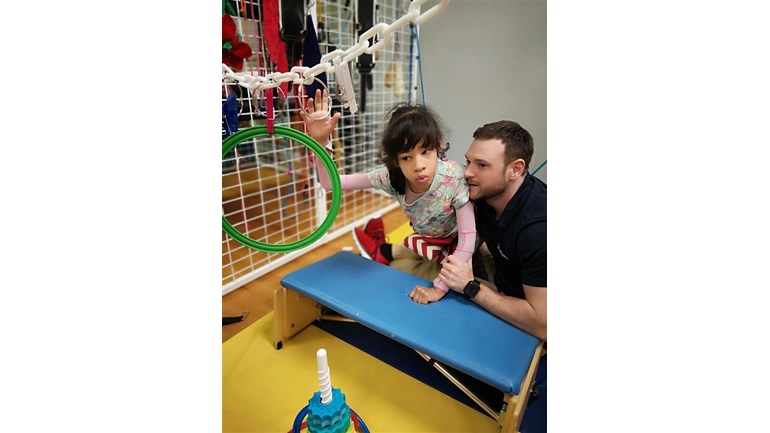 Thanks for taking the time to visit my JustGiving page.
Keira is our 10 year old little girl who has spastic quadriplejic cerebral palsy and epilepsy.  We are raising money for intensive therapies which she has been doing since she was 3 years old,  we would also like to start doing an intensive speech and language therapy at New Jersey Pediatric feeding associates centre this is our wish for the future eventually but we have to find along with sufficient funds also the time to do so.  We have never tried this therapy but have heard nothing but great things about the centre and its therapists and we are sure it will help Keira advance in her eating and drinking and hopefully give her the independence to self feed instead of having to feed her all the time, something we are sure she would LOVE to be able to do for herself.  
Keira was born with no heart beat but she did not want to stop fighting,  she did not give up in that moment and she fought and came back and still she keeps fighting each and every day to prove doctors wrong,  doctors that said she would never sit or be able to crawl,  doctors said she would have no good quality of life,  well she has proved them all wrong up until now and I have no doubt that she will continue to do so.  Keira loves doing therapy, she loves to learn new things.  Unfortunately here in the UK intensive therapy is very hard to come by or if it is called "intensive" it is most likely to be maximum 2.5 hours of therapy a day and possibly only a couple of days a week.  In U.S.A Keira receives 4 hours a day 5 days a week intensive therapy therefore it really is intensive therapy and very effective as we have learned over the years from her progress.  We will continue to get our little girl all the therapy she needs to improve her quality of life.  Keira has a facebook page called www.facebook.com/Therapyforkeira please feel free to follow her progress and click on her past videos where you can see her doing her intensive therapies.  We currently attend www.believetherapy.com and www.centralfloridahyperbarics.com and the speech and language therapy we would like to try also is www.njpfa.com we have also looked into conductive care education in Fareham UK, 2 hour sessions are available and we like what we see from this therapist and what she achieves with her children. 
7.5% of all donations to Tree of Hope in relation to this appeal will be allocated to the general charitable purposes of Tree of Hope to cover our core operating costs.
 
If we raise insufficient funds, or surplus funds, then the funds will be used, if appropriate, to fund support for our child's needs in accordance with Tree of Hope's charitable objects. If in those circumstances we are unable to use all or part of the funds for the benefit of our child in accordance with Tree of Hope's charitable objects, then any funds that cannot be used will be transferred to be used for the general charitable purposes of Tree of Hope

Thank you so much for your support