Katie's Future Freedoms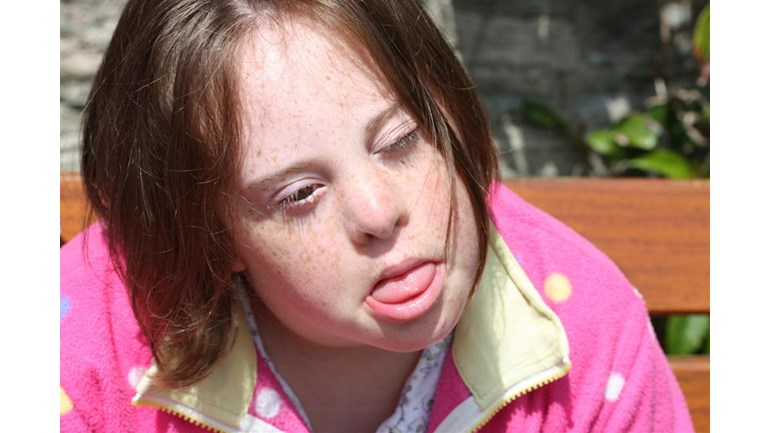 Katie is 12 years old and has Downs Syndrome. She lives with 5 brothers and sisters who also have Downs Syndrome of various ages that have all been adopted.
When Katie was born it was noticeable how "floppy" she was with very little muscle tone. As she has grown it has become evident that her muscles, tendons and ligaments were not developing as you would expect as she remained very flexible. This was particularly noticeable when she would sit on your lap and you could feel her dislocating her hip joints at will. So it was a great thrill to see her taking her first steps at the age of 8 as she was not expected to ever walk with any functionality. We have always encouraged her with her mobility and she will now walk a reasonable distance but she ties quickly. When she has had enough she sits down and to take a rest sometimes in very unsuitable places! With the help of ankle foot orthosis (AFO's), which are a type of orthotic used to support the feet, and her orthopaedic boots she is able the have minimal functional walking as they give her the stability she needs. When she walks without socks it is particularly noticeable how her feet lack any sort of arch and are completely flat, splaying out as she walks. It is remarkable that she can walk at all even if she needs help most of the time to walk over uneven ground or upstairs.
Not only has Katie got mobility difficulties, learning difficulties associated with her Downs Syndrome, she has also been diagnosed as autistic. However despite her challenges she remains a happy content child who loves to play with her interactive musical toys. She also has hearing difficulties and has bone anchored hearing aids (BAHA's) fitted. This hearing loss has impacted upon her speech development which is none existent. She has only recently started to communicate with the use of Makaton sign language and PEX symbols and now regularly indicates her needs.
 So all in all Katie has a number of challenges in life which it is anticipated will only become more profound as she gets older. These challenges can be overcome with the help of good suitable equipment, building and vehicle modifications as well as other strategies. However in these days of austerity these have become hard to fund and have become a wish list instead of reality. Katie should have the same dreams and opportunities that every other 12 year old girl has but due to her limitations and disabilities these things we take for granted are being stolen from her. This is where you can help in raising funds to help her to enjoy the opportunities and experiences that ever other 12 old girl enjoys. It is hoped that within the next year we will be able to purchase a suitable all terrain buggy, as well as a vehicle that will allow her access without discomfort or difficulty. The vehicle will also need to be big enough to carry her wheel chair/buggy and accommodate her car seat as well as enabling us to strap her into it with ease. It also needs to be suitable for all the family to allow us to go to activities and holidays  together. It is also hoped to make some modifications to our home to include the conversion of an out-building to meet her mobility needs as well as the construction of a wet room and a possible sensory room. We can see that her needs will become more profound as she grows older and as local authority fiscal restrains will continue for the foreseeable future we have no other choice but to raise money for her needs now.
So if you have been moved by reading about Katie and feel you would like to help secure Katie's future dreams then please donate whatever you feel you can afford. We really appreciate every penny to help make this happen and we thank you for taking the time to consider her needs and dreams.

Tree of Hope reserves to use these funds for any purpose stated in the parents charter, including but not limited to, medical treatment, surgery and therapies and related travel expenses, medical and exercise equipment, childcare, home adaptations and the cost of vehicles designed for the disabled.

Thanks for taking the time to visit my JustGiving page.
Donating through JustGiving is simple, fast and totally secure. Your details are safe with JustGiving - they'll never sell them on or send unwanted emails. Once you donate, they'll send your money directly to the charity. So it's the most efficient way to donate - saving time and cutting costs for the charity.