Katie's Wish 2 Walk Appeal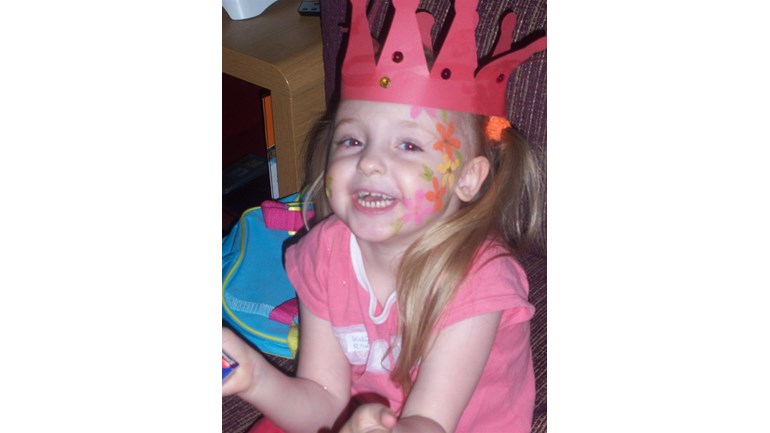 Hi everyone, my name is Katie Riley and I am 7 years old, I live in Stoke-on-Trent with my Mum, Dad, big brother Matthew and little sister Emily.
Following my birth I developed some breathing difficulties and had to be put on a ventilator in the Special Care Baby Unit, which was a very scary time for my family.
As time went by it was noticed that I was not developing as fast as all the other children my age, all the milestones I should have achieved, like learning to sit, crawl and walk were taking much longer than they should have. I was admitted to hospital for tests, where they found out I had a condition called Spastic Diplegia Cerebral Palsy
Cerebral Palsy affects people in many different ways and is caused by damage to the brain before, during or after birth and can affect movement, posture and coordination.

The form of Cerebral Palsy I have means it only affects my legs. I can walk short distances with the aid of special sticks but also need special ankle & leg splints to accomplish this. These splints are very uncomfortable, especially as I have to wear them for long periods of time. For big journeys I have to rely on a wheelchair.

My muscles are very tight and this causes me to walk on my tiptoes. I can't put both feet flat on the ground and because of this I have poor balance and often trip and fall over.
To ensure the muscles in my legs don't become too tight we have to do daily stretching exercises. Unfortunately as I grow the spasticity will become more noticeable and make even the simplest tasks more difficult.
We recently became aware of an operation available in America at St Louis Children's Hospital called Selective Dorsal Rhizotomy (SDR). This operation has been performed by Neurosurgeon Dr T.S.Park for more than 24 years on over 2,000 patients.

This is a very successful procedure and is the reason why my Mum and Dad have set up this Just Giving page to attempt to raise the funds necessary to take me to America for this life changing operation.
The operation, travel, accommodation and aftercare physiotherapy will cost approximately £60,000. Unfortunately this procedure is not currently provided nor funded by the NHS and Dad says we'll just have to raise the money ourselves.

Mum tells me £60,000 is an awful lot of money but between all our family and friends we're going to give this our very best shot. It's still a bit of a dream at the moment, but dreams do sometimes come true, don't they?
Please help make my dream come true, get involved or make a donation today.
Lots of Love
Katie xx