Kallies Hope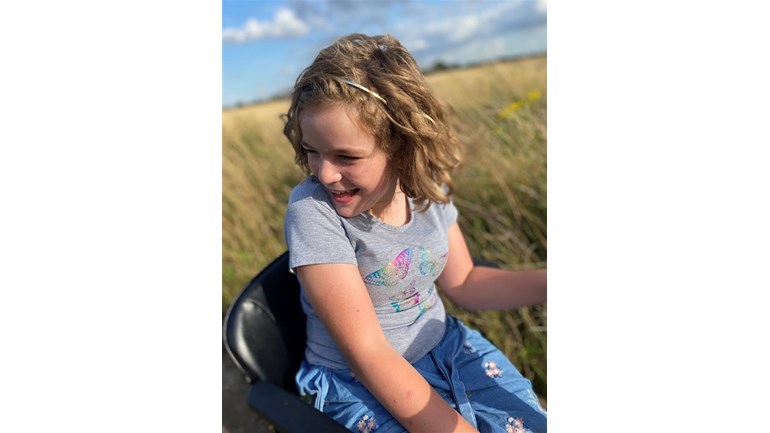 Some of you already know me but for those of you who don't, I would like to introduce myself.

My name is Kallie, I am 11 years old and I was born with congenital heart disease and cerebral palsy. Now I try very hard not to let these affect me but this does come at a cost. I am now in a main stream secondary school, I love it and would love to become more independent than I am now. I want to be like my friends and be able to take part in more normal everyday activities just like they enjoy. So let me tell you about my story so far.

When I was born nobody knew I was poorly until I was 6 days old. I'm told I looked like I had a very bad fake tan so bad in fact I was orange with something called Jaundice and that both whites of my eyes were green due to the jaundice being so severe. At 6 days old doctors discovered that my heart was not normal and in fact had many problems but hey I am Kallie and after some special medication they did not need to do any surgery at this point. The first year of my life not that I remember it was a tough year with many ups and downs but with the help of my amazing cardiologist at Royal Brompton and the medications he had me on really did help. At 7 years old I had a 9 hour open heart surgery and the main issue with my heart was fixed not how the doctors expected it to be but they did it and currently although I will always been under their care my heart is functioning normally.

At a year old I was then diagnosed with spastic diaplegic cerebral palsy. This means that my brain doesn't send signals down to my legs and I've not been able to use them properly. But again the amazing neurodisability team at Great Ormond Street and my local physios have been able to help me.

So why i am here? At 6 years old I was told by doctors at Great Ormond Street they thought I would benefit from a life changing surgery called SDR at the time this wasn't available on the NHS and I was so very lucky to find the Tree of Hope and a lot of amazing people that helped make the operation possible and not only that just over a years worth of therapies for me too. I had SDR surgery also at the age of 7.

Fast forward to today and why I am in need of help again, since having the SDR surgery and having grown significantly over the last 2 years and unfortunately with Covid all of my therapies stopped and life has become a bit of a struggle. I try so very hard and I have an amazing team behind me this includes a personal trainer, an NHS physio, a private physio a swim instructor and I also go horse riding. OK I hear you ask why does she need our help she has an NHS physio unfortunately the NHS are so strained they can only offer a limited amount of sessions and this just isn't enough for me hence all of the other people I have involved. But this does come at a cost and I know it's a huge ask but I really do want to make my dream of walking a reality and I need a little bit more help to get there.

The funds we are now looking to raise will help with the cost of my therapies and adaptations I need to help me get around the house to live an independent life. I truly am so thankful for all the help I have received so far and I would love to continue my journey and make everyone so very proud.

So this is me Kallie I try to fight hard always to better myself and defy all odds and I really hope you can help me to continue this!

Thanks for taking the time to visit my JustGiving page and reading about me Kallies Hope. Love to you all! Kallie xxxx



Donating through JustGiving is simple, fast and totally secure. Your details are safe with JustGiving - they'll never sell them on or send unwanted emails. Once you donate, they'll send your money directly to the charity. So it's the most efficient way to donate - saving time and cutting costs for the charity.

Tree of Hope reserves the right to use these funds for any purpose stated in the parents charter, including but not limited to, medical treatment, surgery and therapies and related travel expenses, medical and exercise equipment, childcare, home adaptations and the cost of vehicles designed for the disabled.