Kali-Hopes mobility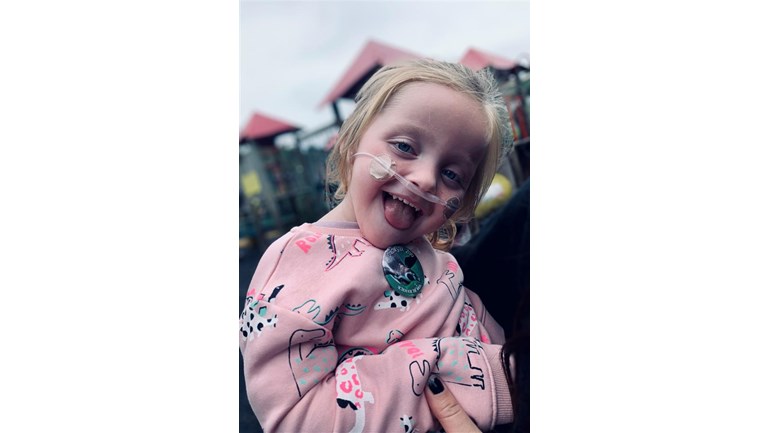 Kalis journey started in 2017 when she was born via emergency c section at 33 weeks weighing 4lbs after a tough pregnancy and birth kali was rushed to neonatal intensive care unit where she spent 11 days growing stronger and stronger. The day kali came home was the most amazing day for us as a family but unfortunately the joy didn't last long as two days later kali was rushed back into hospital with pneumonia and meningitis, where she then spent another 9 days admitted to the Childrens ward. Kali was discharged and things went downhill from there. Kali was frequently admitted to hospital with pneumonia for the next few months, it took months to realise it was due to kali aspirating on her milk that she was suffering so badly with her chest so the decision was made to feed kali through an NG tube after realising she has an extremely unsafe swallow. Kali then didn't reach her milestones and develop as she was expected so she had an MRI in January 2019 which showed significant brain damage, in April 2019 kali got a diagnosis of cerebral palsy. 
(Kali has quadriplegic spastic cerebral palsy, she has very low core muscle tone and high muscle tone in her arms and legs which makes moving very difficult for her. She can roll and drag herself around the floor, she can sit unaided but is wobbly and can fall. She cannot weight bare or walk )

Since kalis diagnosis things have been very hard for kali, as soon as she overcomes one obstacle something else happens and we get another diagnosis. Kali had surgery in December 2019 for a mic-key button feeding tube and a Nissens fundoplication. Kali has hypoglycaemia, nocturnal oxygen due to central apneas and last year was diagnosed with epilepsy after having a lot of seizures in a short space of time. She's spent so many months in hospital beds and gets poorly so easy. But Kali never lets things get her down, she's a very happy determined amazing little girl who brightens everyone's day. We're truly blessed to have such an amazing daughter and want to do our best by her. 
we've started this fundraiser to raise some funds for a much needed wheelchair pushchair and a supportive car seat.
Kalis currently in a pushchair which isn't supportive or comfortable and is causing her lots of pain especially in her legs due to her high muscle tone. Kali gets lots of spasms in her muscles and her legs become tight so she needs plenty of space and support. 
With a very long wait for support through wheelchair services we've decided funding our own chair that can last kali until she's much older would be beneficial. 
We'd also like to fundraise for an adapted supportive car seat as Kali has outgrown regular car seats that are designed for smaller babies and toddlers and is now needing a car seat for a child and they have no support for a child like kali. Unfortunately anything aimed to support disabled children comes at a hefty price, so with your help we'd like to fundraise for these amazing items for kali. Please share our page to reach as many supporters as possible. Thank you very much for reading. 
We would just like to say a massive thank you to the Jack 0' Donnell foundation for their donation of £850 to help purchase a supportive car seat for kali. We are very grateful 
Thanks for taking the time to visit my JustGiving page.

Donating through JustGiving is simple, fast and totally secure. Your details are safe with JustGiving - they'll never sell them on or send unwanted emails. Once you donate, they'll send your money directly to the charity. So it's the most efficient way to donate - saving time and cutting costs for the charity.