Kaius has Cerebral Palsy & needs your help to be mobile and independent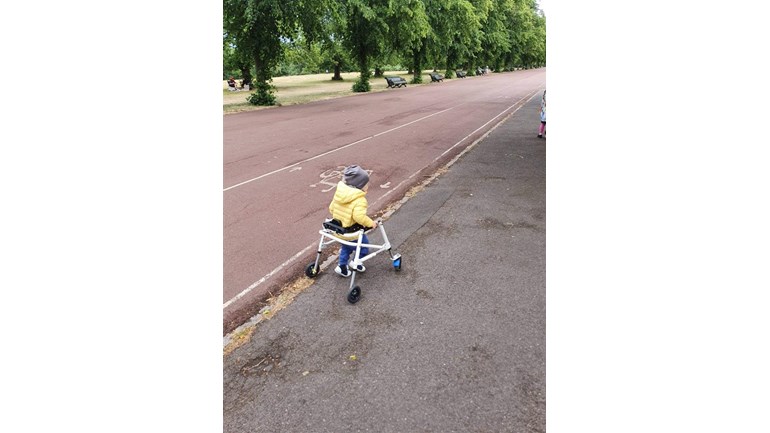 My little boy Kaius who is 3 years old now, has been born extremely premature at 29 weeks. He has stayed at the hospital for 3 months due to gut problems and suspected NEC seven times. Kaius had extensive number of x-rays conducted. 
He also has hydrocephalus, which was observed during our stay via eco scans and MRI. Kaius has PDA - heart condition which is under continuous reviews. 
At the age of one my little boy has been diagnosed with Cerebral Palsy as he was unable to move, role, crawl, sit up and later walk. To start with I was writing it off to prematurity but his clenched fists and extended solid legs and trunk indicated otherwise.
At the moment he is under review and being considered for SDR surgery. It will be challenging but hopeful road to help Kaius with his trunk control, spasticity in his legs, ability to use his hands and a little hope of him being able to make at least some independent steps.
Due to Covid-19 and all the restrictions around it Kaius lost his therapies for 6-7months leaving him unable to use his legs appropriately even in K-Walker. His back became curved and he is struggling to open up his fists limiting his feeding and overall independence.
Therefore, it is vital to get equipment to help him move his legs and equip him with therapies during the weeks to come whilst we are waiting for NHS support to get back on track.
This fundraising is to fund various therapies, equipment and most importantly SDR surgery:
1. SDR surgery £80,000
2. Weekly private therapies £800 p/m
3. Disabled buggy £1,000
4. Bugzi (electric indoor chair) £6,000
5. 88Quest trike £2,500
If for any reason SDR surgery does not go ahead the funds will be used for therapies, equipment, and improvements to meet Kaius's needs as he grows. Please also see charity policy below.
7.5% of all donations to Tree of Hope in relation to this appeal will be allocated to the general charitable purposes of Tree of Hope to cover our core operating costs.

If we raise insufficient funds, or surplus funds, then the funds will be used, if appropriate, to fund support for our child's needs in accordance with Tree of Hope's charitable objects. If in those circumstances we are unable to use all or part of the funds for the benefit of our child in accordance with Tree of Hope's charitable objectives, then any funds that cannot be used will be transferred to be used for the general charitable purposes of Tree of Hope.