Kai's Dream to walk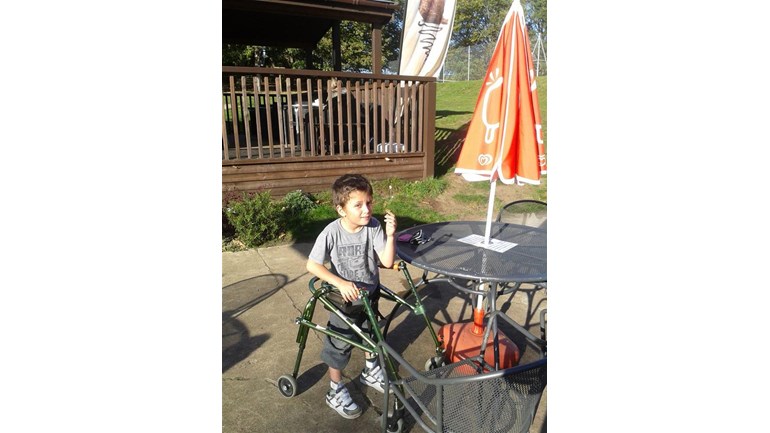 Hi I'm kai a bright happy 8yr old boy with lots of dreams, I just am finding it a bit harder then other kids to achieve them because I have Cerebral Palsy. When I was born I was 10 wks. early and had so many health problems, I weighed an impressive 1.5kg, even so the doctors were not sure I was going to go home to mum and dad, despite stopping breathing, not gaining weight, being jaundice, not feeding and my lungs filled with fluid, I showed them I am a fighter and started to get better. I went home on meds to help drain the liquid off my lungs and was so pleased to be home and off the machines that I started to thrive had to go for very many hospital appointments as something was wrong but even after all the tests no one was quite sure what. At 18 months old I had an MRI, which confirmed every fear my parents had. I had brain damage. so I was diagnosed with Pvl cerebral palsy. It affects all four of my limbs but most of all my legs.
I had very increased tone in my legs and arms, so much so that mum battled to open my legs to change my nappy. although my tone was high in my legs and arms I was floppy everywhere else.
I used to get lots of chest infections but could not cough up all the muck so I just would keep getting sicker, so mom was forced to leave work to take care of me full time. 
I battled to gain weight, I used to drool and had to have thick and easy to make my liquids easy to swallow as I chocked a lot, I also had a helping hand with high calorie drinks to get my strength up. I had hand splints, chewy tube to help my drooling, foot splints. not quit a regular kid but I was a happy one!!
My parents moved home and town to help me get therapy as they never listened to medical people who said I would be chair bound all my life!!! like I said earlier I am a fighter. 
I also had sdr which really has improved my life I can now lift one leg and the other not collapse! I can now walk with a frame. It has really helped me.
I know now that I am getting bigger and older as I get bigger my muscles don't grow as quick as I do, which means I could loose all the hard work I have put in and end up weak and back in my chair.I don't want that, I want to go onto using sticks to walk and hope to be independent one day.
That's where I need your help, I desperately need as much therapy as I can to help me maintain my strength and progress onto reaching my goals. The simple things that most people take for granted. I also need bits of equipment to help me as I grow.
Please every little bit helps !!
Thank you for reading my story, I am a special kid and so are others like me.
Should we exceed the target amount (or if we do not raise enough funds, or if they cannot be used for any other reason) the funds raised will go to the general funds of Tree of Hope to assist other sick children.

Thanks for taking the time to visit my JustGiving page.
Donating through JustGiving is simple, fast and totally secure. Your details are safe with JustGiving – they'll never sell them on or send unwanted emails. Once you donate, they'll send your money directly to the charity. So it's the most efficient way to donate – saving time and cutting costs for the charity.