Junior's Journey his boots are made for walking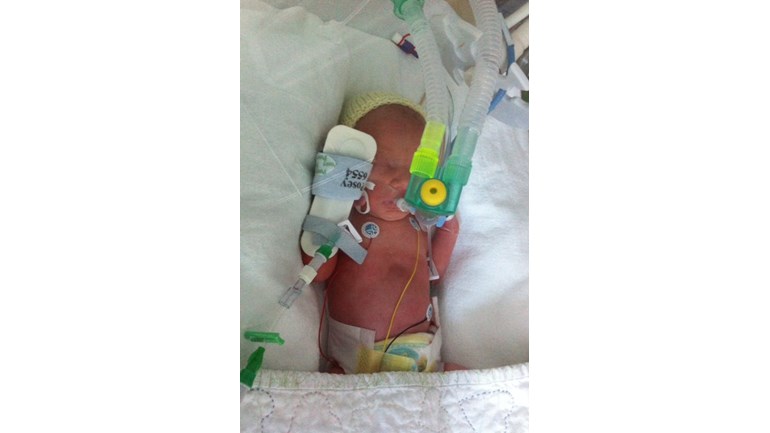 Thanks for taking the time to visit Juniors JustGiving page.
Junior and his twin sister Gracie are 22 months old. They enjoy sing alongs, dancing, playing together, dressing up and going out for walks in the fresh air. They are extremely cheeky, very funny and totally fearless! I truly believe 'mischief' ought to be their middle name. 
The twins were born very premature on 3rd June 2013 at 30 weeks Junior weighing 3lb 9 and Gracie weighing 3lb. They both showed signs of respiratory distress and had to be intubated and put on a ventilator. Juniors temperature had also increased drastically causing concern so a lumbar puncture had to be performed, this scared us both senseless. Both twins spent time in ICU, High Dependency and Special Care. Finally on the 9th July 2013 the twins were discharged. It was such a relief to have them both home, I truly believed at this point we as a family could regain some normality........... But what really happened was the total opposite. 
Junior and Gracie suffered dreadfully with acid reflux, continually vomiting and being in pain with the acidity. By the time they reached 6 months old Gracie's reflux had settled down but Juniors started to get worse, the vomiting continued and the pain was unbearable to watch. We had appointment after appointment but nothing seemed to help. Then one evening I was just about to go to bed when I heard Junior screaming worse than I'd ever known it before. When I got to his cot he was covered in vomit from head to toe but this time was different than before there were loads of blood. I rushed him to hospital and he was admitted straight away, he was thoroughly examined and prescribed a medicine called omeprezole this would reduce the acidity and discomfort. The paediatrician that was caring for Junior suggested that an MRI scan needed to be done, I thought at the time that it was relative to the reflux but she explained that she was concerned with the delay in development that Junior was showing at 11 months old, he was unable to sit up Independently and she was suggesting Junior had Cerebral Palsy. I was totally dumb struck at the thought all the dreams I'd had for my boy were shattered. On the 12th June 2014 Junior had the MRI scan, a few weeks later a letter arrived confirming my worst fear the MRI scan had highlighted Periventricular Leukomalacia (a form of white matter, brain injury) causing Cerebral Palsy. 
Junior suffers with spastic diplegia a complication in the brain - to - nerve - muscle which means that Juniors leg muscles and feet suffer from stiffness/tightness causing pain and disabling him from sitting, standing and even walking independently. Junior has just recently started to use a Kaye walker (posture control walker) he also has orthopaedic boots and sees a physio every 2 weeks but this will not be enough to give Junior the quality/independence of life he deserves. Regardless of all the above obstacles/challenges Juniors gorgeous cheeky smile shines through. His determination blows me away everyday! We know that there isn't a cure for Cerebral Palsy but there is a life changing surgery called SDR Selective Dorsal Rhizotomy, a special technique that involves sectioning (cutting) some of the damaged sensory nerve fibres which are causing the muscle stiffness/spasticity that come from the muscles and enter the spinal cord. This treatment isn't funded on the NHS and isn't widely available in the UK, however in the United States Dr Park has performed a little over 3000 operations to date and people from all over the world have travelled to St. Louis for this treatment. 
We are eager to raise £60,000.00 to cover the cost of the surgery, the intensive physiotherapy program and any equipment Junior will require to keep his rehabilitation going after the surgery. 
The dream is to have Junior doing simple things in life that can be taken for granted, walking along side his twin sister Gracie together with his older sister Mia. Also to watch him play with his sisters walking/running from room to room having fun. So if you can help us by donating whatever you can we will be eternally grateful. Thank you. Should we exceed the target amount (or if we do not raise enough funds, or if they cannot be used for any other reason) the funds raised will go to the general funds of Tree of Hope to assist other sick children. 
Donating through JustGiving is simple, fast and totally secure. Your details are safe with JustGiving – they'll never sell them on or send unwanted emails. Once you donate, they'll send your money directly to the charity. So it's the most efficient way to donate – saving time and cutting costs for the charity.