A Jump Start for Jacob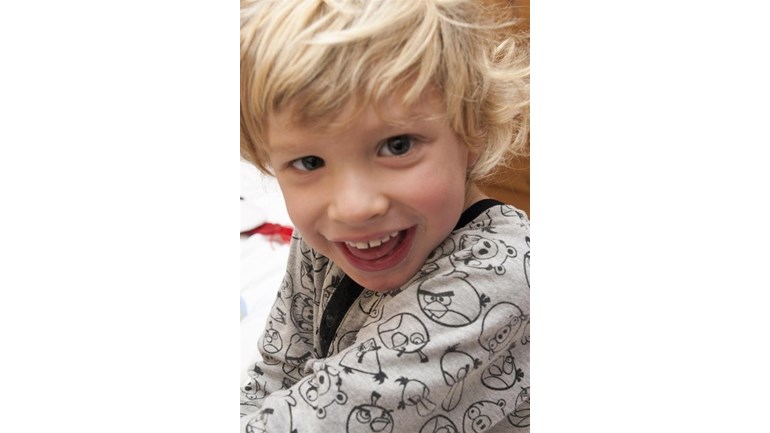 Thanks for taking the time to visit our JustGiving page.
Jacob was born nearly 6 years ago after a long and complicated labour. He had feeding problems and his first year of life involved many hospital admissions. Jacob was finally diagnosed with a brain injury called Periventricular Leukomalacia at 4 and a half and now has a diagnosis of hypotonic cerebral palsy.
Harry, Jacob's younger brother who is 3, says this about him: "My brother is funny. I want him to talk like my friend's brother. Then he could play with me too and run about."
Jacob is a happy, sociable little boy who loves to try and join in with his brother's games. Much to both of their frustration his brain injury means he often finds physical activities impossible because he has such poor co-ordination, balance and problems interpreting the information sent from his eyes. Jacob cannot run around with Harry and falls over frequently. Most of all Harry would love to be able to talk to his brother, sadly Jacob cannot speak. Jacob has a basic understanding of Makaton signing but cannot communicate much despite his much better understanding of what is said to him; this can understandably leave him very frustrated and angry. Jacob also has severe sensory processing problems which mean he can often become overwhelmed by the movements and noises in the world around him, this can make day to day life difficult to manage. Jacob also has a learning disability.
Jacob has a much higher level of understanding than he is able to demonstrate because of the restrictions his physical disability place upon him. To enable Jacob to reach his full potential we need to support and encourage his development as much as we can, giving him both therapy and to try and give him access to the experiences that children without his disability take for granted. Due to the huge cost of disability equipment and therapy we have now reached the point where we are not able to give him all that he needs. 
We need to fundraise for Tree of Hope for some of the following therapies and specialist equipment:
Brainwave therapy - a sensory and physiotherapy programme.

A special needs bed - Jacob gets out of bed up to ten times a night and is in danger of harming himself by falling, falling over his bed guard or from rocking and banging his head on the wall or door. Jacob needs a safe bed that he cannot climb or fall out of.
A special needs off road buggy - Jacob has an NHS wheelchair but this cannot cope with country paths and roads. A three wheeled buggy suitable for older children would enable us to enjoy walks as a whole family again.
Swimming - Of great benefit to Jacob's physical development, his learning disability exclude him from regular swimming classes and suitable lessons cost over four times as much.
Horse riding therapy - Jacob has very poor core muscle strength and has specialist seating at home and school to stop him developing spinal problems. Horse riding has been recommended by his physiotherapist as a good way for him develop his core strength.
The funds raised will go to the general funds of Tree of Hope to assist other sick children if we exceed our target amount or if we do not raise enough funds, or if they cannot be used for any other reason.
Thank you for your support.