Joshuas Journey to St Louis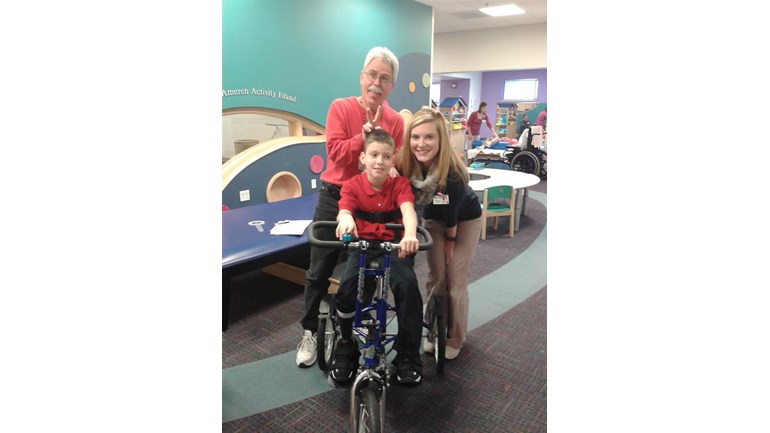 Welcome to Joshua Grangers just giving page.
You may notice Joshua's target has been increased. The reason for this is to cover therapy costs for 2015 as we never included this in our initial target. Joshua will always have to receive strength and conditioning exercises to keep his strength and improve his walking ability but the first 3 years are the most important.
Joshua receives minimal physio from NHS therefore it is vital he receives private therapy. Joshuas made magnificent progress in only 6 months. Balancing, walking unaided, managing to get up and down the stairs, as well as all the little things like better posture and learning to dress himself.
For 2015 we hope to get Joshua:
3 x 1 week courses at MP Fitness in Perth

6 week block at Bobath Scotland

2 x per week strength training for the year

horse-riding as this is great for the core and posture.
The cost of this accumulates to approximately £8000. Last year we raised £55k in 23 weeks please help us raise £8k for ongoing therapy.
Update: Joshua had his sdr and percs surgery in St Louis Childrens Hospital on Tuesday 19 November 2013.
Joshua is doing great and is learning fast. He has recently visited mp fitness and managed to balance and take independent steps.
With the overwhelming support we recieved Joshua will be able to access at least 3 more courses at mp firness and also have private therapy for 2014.
please follow joshuas progress on facebook https://www.facebook.com/joshuas.wishtowalk
Hi my name is Ashley Granger and i have set up this page for my son Joshua, He is 9 Years old and has a condition called Cerebral palsy. There are many different types of Cerebral Palsy, his is Spastic Diplegia.
This type of Cerebral Palsy causes there to be increased spasticity in his legs, making it very difficult and sore for him to walk.
He was born 10 weeks premature, and weighed a tiny 3lbs 6oz. He spent 7 weeks in intensive care, where he spent most of his days on oxygen to help him breath. When he was finally getting ready to go home the doctors discovered he had a slight bleed in his brain, in which they believe is how he has CP.
At the age of 14months i noticed Joshua wasn't doing the things a baby would do for his age. After consulting with the doctors they diagnosed him with CP.
Since then he has had weekly physio, had an occupational therapist and a home teacher. At the age of 3 he started learning to use a walking frame. At the age of 4 i decided that instead of a buggy i would get Joshua a self-propelling wheel chair so he could learn to be more independent, and he soon picked up the speed with that!!
Every day he wears splints to support his ankles, which can be very uncomfortable and has to do h is stretches to try stop his muscles from getting tighter.
2 years ago I looked up treatments for CP, and found that Botox injections and Baclofen medicine can help reduce the high tone in muscles. Every 3 months Joshua received injections to his legs, being so brave, not getting anaesthetic. I then spoke to the consultants about Selective dorsal Rhizotomy (SDR) and was told of the risks which left a lot to think about. After careful consideration and research as a family we felt the risks were low and statistics proved this, so we consulted our Doctor, who was very negative towards the operation. Since then we have been told Joshua will not be a suitable candidate here in the UK for SDR.
Although Joshuas dreams to play football can still come true as he has been accepted for SDR in St Louis Children's Hospital, US. Joshua's surgery is scheduled for November 2013.
If everyone could help us raise the money needed for the operation Dr Parks team in St Louis could perform the life changing surgery. Dr Park has carried out thousands of these operations having successful results. Obviously i would like to see Joshua walk unaided without the worry of his frame or chair, but if he was to come home from St Louis with just a little more independence it would make everyday life a lot easier for him
He has worked so hard to keep his legs working and strong and i promise to keep him working even harder after the operation to get great results. He might have the chance to walk without his frame, it may take a few years hard work but we never have this chance again.
This operation is by no means a cure for Joshuas CP, but a treatment to transform his life.
The operation itself involves the surgeon making an incision into Joshuas back at the bottom of his spine and testing the nerve endings to see which ones are the most responsive. These are the ones that are causing Joshuas legs to be extremely stiff and making it difficult for him to walk. They will then cut the most responsive ones which will in turn reduce the stiffness in his legs. Joshua will then need intensive physio therapy afterwards to ensure he gets the best effects of the operation. The end result being that Joshua will be able to walk unaided and be far more independent. This means more to Joshua than anything in the entire world and as a parent I cannot let this opportunity of a better life pass us by just because the NHS isn't willing to carry this out. If you are a parent or Aunty or Uncle, ask yourself how you would feel if a family member who was completely dependent on other people had the chance to become independent and have a much better quality of life, wouldn't you do everything you could to make this happen. That is why we are now asking you to help us make a difference for our handsome, brave boy. 
Donating through JustGiving is simple, fast and totally secure. Your details are safe with JustGiving – they'll never sell them on or send unwanted emails. Once you donate, they'll send your money directly to the charity and make sure Gift Aid is reclaimed on every eligible donation by a UK taxpayer. So it's the most efficient way to donate - I raise more, whilst saving time and cutting costs for the charity.
Thanks for taking the time to visit my JustGiving page.
So please dig deep and donate now.
Many thanks in advance