Joseph's Dream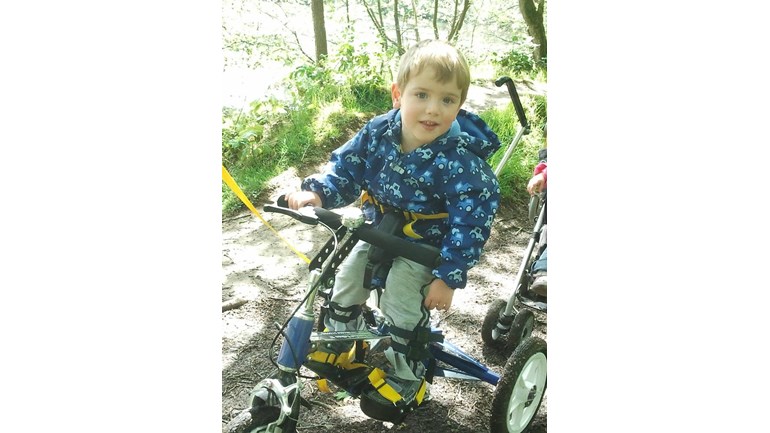 Joseph is our 4 year old son who from the day he was born has amazed us with his determination and courage!
Joseph was born 9 weeks prematurely and at that time suffered a bleed on his brain causing him to have spastic diplegia cerebral palsy.
The only thing that makes Joseph different to other children his age, is that he can't walk or stand unaided. Joseph's cerebral palsy causes his leg muscles to permanently be stiff and painful, the spasticity causes his legs and feet to turn inwards. He isn't able to walk with his feet flat to the ground, walking very high on his tip toes.
Since the age of 2 when we received the news that our first child, our precious little boy who had already been through so much in his short little life, having had to spend almost a month in special care, Joseph has followed a strict daily physiotherapy programme to try to strengthen and stretch the tight muscles in his legs with the hope that it will one day see him walking independently. Despite the physiotherapy and 3 courses of botox injections has had to endure under general anaesthetic Joseph is still not able to walk independently.
In May 2011 an operation called Selective Dorsal Rhizotomy (SDR) previously only available in St Louis, USA, became available in Frenchay Hospital, Bristol, just minutes away from where we live. Suddenly all our prayers seemed to have been answered.
SDR is the ONLY treatment currently available to PERMANENTLY remove the spasticity in Joseph's legs. It would give him a much better range of movement, making his daily physio sessions more tolerable, and could see him walking independently!
Without SDR, we have been advised that Joseph will be in a wheelchair permanently by the time he is a teenager, suffering with multiple deformities in his legs and possibly his spine, requiring numerous orthopaedic surgeries until he reaches adulthood.
We met with the surgeon at Frenchay Hospital who is now performing SDR on the NHS who identified Joseph as a good candidate for the surgery.
An application was made to our local NHS for funding to be provided, but sadly we lost our appeal in January 2012.
Determined that this is the best option for Joseph's quality of life, we are setting about raising the money needed ourselves.
Please help us in making Joseph's Dream a reality!