Get Jonty mobile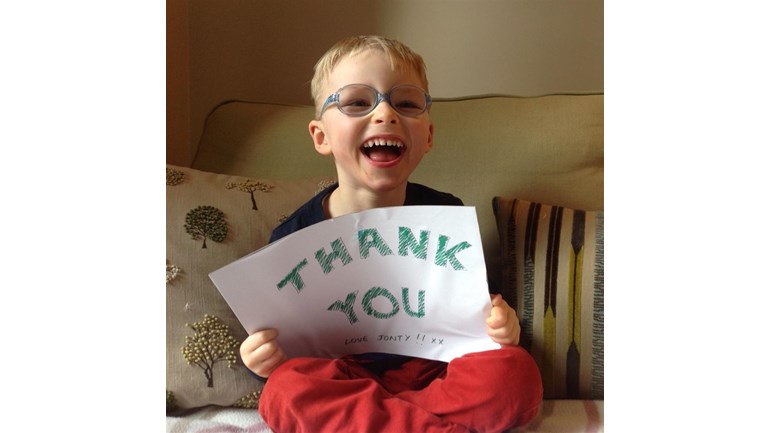 Jonty entered the world in March 2011 showing a strength and determination that many can only dream of. All signs were that he wouldn't survive his arrival into this world, but Jonty had other ideas and continues to prove medical professionals wrong time and time again! Jonty has quadriplegic Cerebral Palsy and epilepsy caused by his traumatic arrival, which means he is not able to crawl, walk, stand alone or live a fully independent life. Despite this, he never fails to amaze and warm the hearts of those he encounters. He has the sunniest, warmest personality and faces his significant challenges with a huge smile on his face! He loves nothing more than socialising with his family and friends, charging around in his walker after a football or gobbling down an ice cream on the beach.
As a result of his physical disabilities, Jonty has to endure many hours of therapy with various professionals. At the last count he was under 6 different consultants for his various complex needs. However, never a day goes by where Jonty's character fails to light up the room and charm even complete strangers. He makes sure his voice is heard and finds ways of communicating, albeit with very limited speech. He has beaten so many odds and expectations already in his short life and we as his parents are inspired by him daily as we try to focus on what he can do in order to give him a life rich in experiences.
In order for Jonty to continue to thrive and develop independence, essential adjustments to our vehicles and house are required; it is for this reason we are raising funds for home alterations and car adjustments (swivel seat). We'd be most grateful for any support you can offer us to enable Jonty to continue on his remarkable journey. 
Should we exceed the target amount (or if we do not raise enough funds, or if they cannot be used for any other reason) the funds will go to the general funds of Tree of Hope to assist other sick children.

Thanks