Jonty's Journey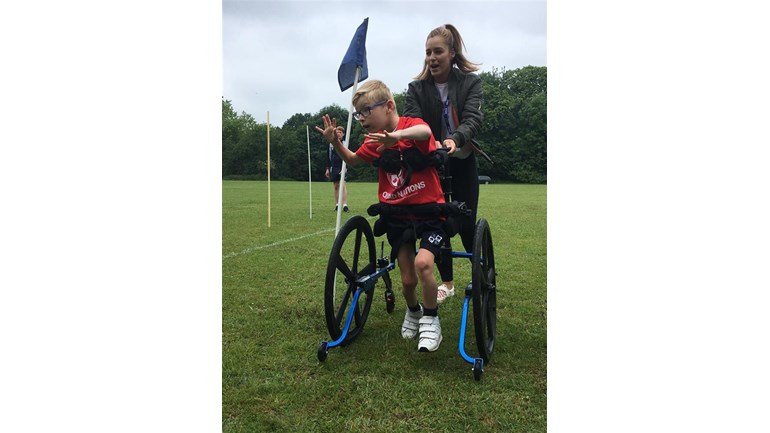 Jonty entered the world in March 2011 showing a strength and determination that many can only dream of. All signs were that he wouldn't survive, but as he came off life support Jonty had other ideas! He continues to prove medical professionals wrong time and time again.  Jonty has quadriplegic Cerebral Palsy caused by his brain injury at birth, which means he is not able to crawl,walk, stand or move independently. He also has epileptic seizures which make him more dependent on his adult caregivers. Despite this, he never fails to grasp life with both hands, throwing himself into so many opportunities that come his way. He often amazes and warm the hearts of those he encounters. He has the sunniest, warmest personality and faces his significant challenges with a huge smile on his face! His personality is really emerging as a cheeky, fun loving nine-year-old - a sport loving adrenaline junkie who is equally happy singing with his choir, cuddling his sister, or enjoying theatre and concerts. He has tried virtually every  adaptive wheelchair sport going, from tennis to horse-riding, skiing to race-running in a specialist walker. He has competed in two adaptive triathlons, and has sung in several concerts and Sunday morning church services with the various choirs he is involved in. He loves nothing more than socialising with his family and friends, gobbling down an ice cream on the beach or offering tea and coffee, or a beer (!) to anybody that calls by. 
As a result of his physical disabilities, Jonty has to endure many hours of therapy each week. At the last count he was under 4 different consultants for his various complex needs. However, never a day goes by where Jonty's character fails to light up the room and charm even complete strangers. He makes sure his voice is heard and has determinedly improved his speech clarity enough to be understood by most people. Not bad for a child who was never expected to breathe by himself! He has beaten so many odds and expectations already in his short life and we as his parents are inspired by him daily as we try to focus on what he can do in order to give him a life rich in experiences.
Whilst all the early therapies have helped, continued expert intervention is essential for Jonty to achieve his potential and live his life as independently as possible. He has undergone major hip surgery and a few minor surgeries already, but teenage growth spurts often work against children with Cerebral Palsy and we have to maximise progress in these early years. Seizures are also likely to increase in puberty, which could derail Jonty's progress for a while. The expense is huge, and Jonty's sheer determination drives his family into raising money to ensure he is never left without the treatment and equipment that he needs. Jonty has weekly physiotherapy, occupational therapy, music therapy and hydrotherapy, and these professionals are all experts in motivating the children to achieve their best. Equipment is also an enormous expense - an adapted car seat alone for a child with Jonty's physical needs can cost £2,000, and his walking frame cost £1,000. 
All money raised has gone towards his ongoing therapies, vital equipment that is sadly no longer provided by the NHS, and surgeries where waiting lists are over a year for children living in chronic pain. Even house adaptations are only partly funded, and we had to contribute significantly to adapting our bungalow to make it fully wheelchair accessible for Jonty, to enable family life at home to be inclusive for him. We are immensely grateful to every person who makes a donation, no matter how small - we simply could not give Jonty this quality of life without your support. 
With love and thanks, Jessica, Gareth, Jonty and Imogen x
Should we exceed the target amount (or if we do not raise enough funds, or if they cannot be used for any other reason) the funds will go to the general funds of Tree of Hope to assist other sick children.
Thanks