lena's john vs C.P.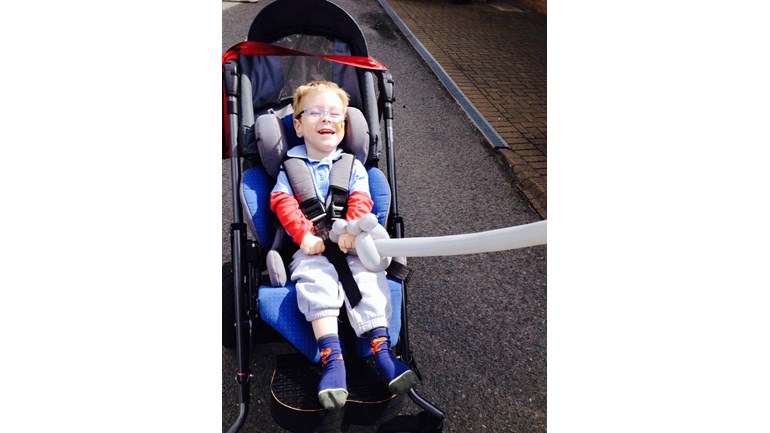 The fight of his life
John was born at twenty five weeks gestation which means he came into the world fifteen weeks early. He weighed 1lb 7oz. He had less than 50% chance of surviving.
When he was two weeks old he contracted pseudomonas and fought the fight of his life to survive however because his body was working so hard just to stay alive there wasn't enough oxygen getting to his brain and as a result he suffered brain damage.
 When he was eight weeks old he had to have emergency sight saving surgery.
John spent first four months of his life in hospital with many ups and downs. On numerous occasions Drs didn't think he would make it but John fought on and surprised everyone a
again and again. 
John came home on the 2 April 2012 and continued on oxygen therapy at home.
At five months he had surgery for inguinal hernias.
John is now two years old. He is very alert and loves being the centre of attention; he enjoys the company of his big sister and his cousins.
Physically he is unable to talk, sit up by himself, unable to use his hands and has not reached any of the milestones babies' progress through.
John's consultants have confirmed that John is showing signs that he has Dystonic and spastic quadriplegia a very severe form of cerebral palsy which means all his limbs are affected. John will most likely be in a wheel chair and have other physical and learning difficulties.
we are fundraising for Tree of hope so that John can receive Advanced Biomechanical Rehabilitation ABR. This therapy was developed by Leonid Blyum in Russia and it has made its way across Europe as far as Scotland only this year.
The crux of this therapy is that the child is assessed and then the parents/guardians of the child are trained to perform very subtle, compressional pressure on the various areas of the baby's trunk area from the neck down. This strengthens the child's core tissue. It is a slow process which involves two- three hours per day but which has shown remarkable results.
John has been through so much in his short life and will face so many more challenges but he always has a smile that can light up a room. everyone who meets him is touched by him. my wish for him is that through ABR we can give him a better quality of life and help him reach his milestones.
The funds raised will go to the general funds of Tree of Hope to assist other sick children if we exceed the target amount, or if we do not raise enough funds, or if they cannot be used for any other reason.
Thank you for your kindness you are giving my son a chance at having a better quality of life
Thanks for taking the time to visit my JustGiving page.
Donating through JustGiving is simple, fast and totally secure. Your details are safe with JustGiving – they'll never sell them on or send unwanted emails. Once you donate, they'll send your money directly to the charity. So it's the most efficient way to donate – saving time and cutting costs for the charity.