Jessica's Pathway of Hope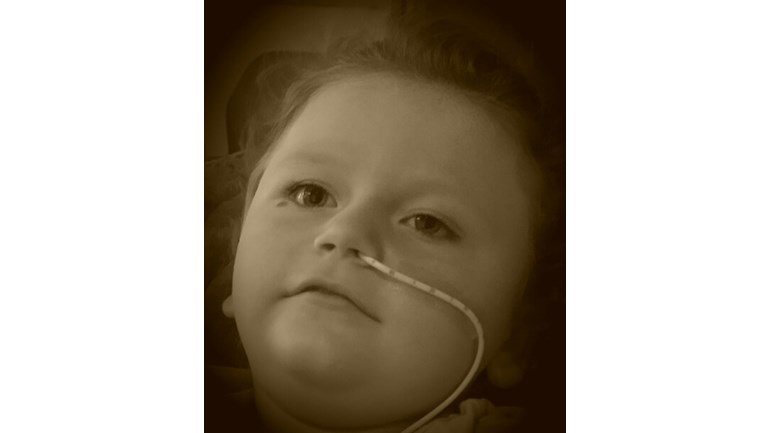 Hi I'm Jessica Henderson aged 3 years and this is my story.
During the pregnancy of Jessica nothing was detected that anything was wrong other than the possibility that she could be born premature, by which steroids were given as a precaution to strengthen her little lungs. At 38 weeks she was born and immediately she couldn't breath were oxygen was given and she was taken to intensive care where she stayed on oxygen for 2weeks. As parents we didn't no what to think other than she needed help and we were looking forward to getting her home, but one day the doctor in charge of her care approached us and began the conversation that every child that comes to intensive care goes through routine checks which involved an MRI scan, which we were informed that she had IVH 'INTRAVENTRICULAR HEMORRHAGE' which we had no understanding of the word, so he broke it down to us that she had a bleed to the left side of her brain and only time would tell what effects it would have on our little girl. I remember holding her most of the day crying and thinking why her, why are little girl, had we done something wrong? had something gone wrong during labour? no answers were given. After 3 weeks she came home and to us she was normal as there was no signs that anything was wrong and we took each day as it came.
When Jessica was 3months old I remember saying to her daddy, that I didn't think she could see as no matter what toy or light I approached her with she didn't acknowledge it, so we booked an appointment with her GP. On the day of the appointment I voiced my concern that I didn't think my little girl could see, he done a view tests and said 'I wouldn't be a very good doctor if I told a mother she was wrong' . So from then I knew damage had occurred with the bleed to her brain, and we were sent for further tests which she was diagnosed blind which was devastating knowing that she would never see us or the beautiful things around her, but I couldn't accept it but was beginning to adjust.
From birth Jessica had never done any physical movements other than lying on her back, she could never grasp a toy when handed to her, but at 7months old I noticed that she was reaching out with both hands and although this was only for a second it give me hope. However over a few weeks her granny noticed these movements getting longer which looked like startles, and when at a review appointment she was admitted immediately which was confirmed she had infantile spasms (epilepsy) were she received steroids and was put on medication to control them. We felt alone and didn't understand why our little girl and knowing that we could do nothing to help her with the pain hurt the most. Jessica was in hospital for a while and just when we thought things couldn't get worse, her paediatrician came to her room and broke the news that out little girl had severe cerebral palsy and that we should prepare ourselves for the future that our daughter would need 24-7 care in needing everything physically and mentally done for her. Me and dad both took it bad as she was the apple of our eye and like every other parent we just wanted a little girl who would dress up, wreck the house and bring lots of happiness to us through her development. 
We got Jessica home but within weeks she was readmitted with urine infections and further seizure activity were she was hitting herself on the head, which meant more drugs and seeing her sedated all the time was so upsetting. From birth she never slept to well and also had watery/irritated eyes, and after waiting some time she gone for tear duct surgery, which didn't work, in turn it left her with a scare under her eye but with further medicines it was under control.
With no known reason as to why our little girl had IVH she had undergone genetic testing however it came back normal, which meant they were unable to find an explanation for the problems she had, which left us with no answers and that was all we wanted an answer behind our little girl, we just couldn't accept it.
Over the coming months Jessica couldn't pass urine and had developed constipation which left her in much pain which we felt helpless towards her, and now she is on medication to control it. She also began to lose her swallow and had a history of gastro-oesophageal reflux which meant that what was going down was coming back up, and due to her not swallowing she was aspirating which meant we couldn't feed her anymore as it was unsafe to do so. She was admitted to hospital and began her journey of NG tube feeding which was an eye opener to what the future held for us.
Throughout her  little life Jessica has had chest infections associated with aspiration which had meant having had many stays in hospital and needing oxygen, which we have to keep a close eye on,  as she becomes upset during feeding, which is another job on its own, and as she is fed 5 times a day taking a couple of hours at a time means we only get limited time to do much needed physiotherapy on her to prevent her little body seizing. We were once told by one of her doctors that all Jessica's functions are there but no connections, and what hurts the most is knowing that there is no cure for her as it is brain damage.
From birth it was also identified that she had scoliosis of the spine, were we were given the devastating news that she would need surgery in years to come which is life threating, and I know we should take each day as it comes, but looking into the future is heart breaking in not knowing how long she may be with us.
Our little girl is now 3years old and is our shining star, and despite everything that is wrong with her she can be very happy and settled at periods. Jessica cannot walk, talk, eat or see and has seizures frequently and when faced with someone new in her presence she becomes very upset and unsettled which makes it difficult. We our asking for help to raise much needed funds to enable a course of intensive therapy to give her a much better way of life. This therapy will strengthen her limbs and body freeing her from pain, with the hope of one she may sit, stand and even walk giving her the independence of freedom which would be a dream come true. 
Should we exceed the target amount (or if we do not raise enough funds, or if they cannot be used for any other reason) the funds raised will go to the general funds of Tree of Hope to assist other sick children.
We are very grateful for any donation made to The Tree of Hope in respect for therapy equipment for Jessica, as it would mean so much for her in being able reach her goal enabling her to live her life as comfortably as she can.
Thanks for taking the time to visit my JustGiving page, and listen to Jessica's story, it means a lot.
Donating through JustGiving is simple, fast and totally secure. Your details are safe with JustGiving – they'll never sell them on or send unwanted emails. Once you donate, they'll send your money directly to the charity. So it's the most efficient way to donate – saving time and cutting costs for the charity.
Text JHEN50 with donation to 70070 many thanks