Innowalk For Jessica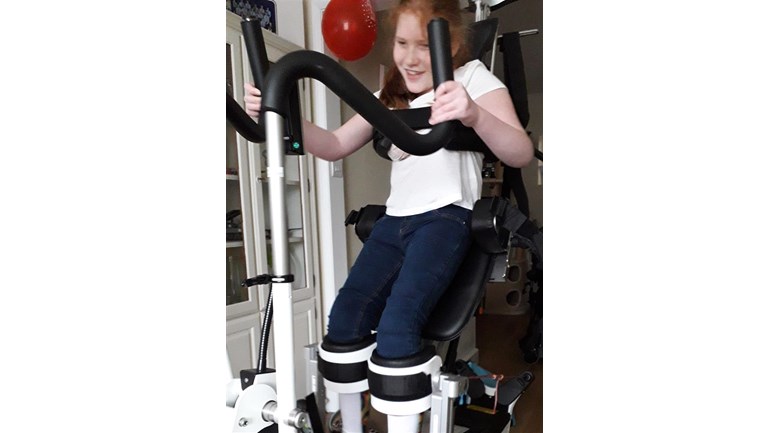 My name is Jessica I am a happy, bright, funny and very intelligent 12 year old. My mum says I have a smile that lights up a room. 

I made early entrance into the world and was born premature at 27 weeks weighing just 1 kilogram. The doctors discovered I had a bleed into my brain and at the age of 2 and a half I was diagnosed with Cerebral Palsy, I have spastic diaplegia meaning both my legs are affected in my case very severely, I also some issues with my arms too.

Growing up with cerebral palsy has not been easy; I need daily physiotherapy to help stretch my tight muscles, I also have lots of hospital and doctor's appointments. I have had two operations to release my tight muscles once on my abductors and in January this year I had my hamstrings operated on. 

As I am unable to walk I also have problems with both my hips, my right hip is especially bad. In May 2016 doctors in Bristol did an operation to fit me with baclofen pump, the pump is implanted in tummy and gives my body a slow release of the medicine baclofen. The medicine stops my muscles being too tight and makes it easier for my parents to look after me and I can do more for myself. Doctors told my parents they hoped it would stop my hip getting worse and me needing surgery so far it's working and my hips are remaining stable. 

My physiotherapist told my mum about a new piece of exercise equipment called an Innowalk, it has been specially designed for people with disabilities and looks a bit like a cross trainer but has lots of support to help hold me in right position. I can exercise in  it sitting down, standing up or just practice standing in it, it has remote control that I can use by myself to decide what I want to do. I have had two assessments using one and I just love it, it's great being able to exercise like everybody else can. 

There have been lots of trials done on kids like me to say that the benefits it can have on my condition are huge, it will help me build up my muscles and reduce my stiffness and help my digestive system which does not work great as I spend most of my day in my wheelchair.

My parents want to buy me an Innowalk so I can use it every day at home, however they cost a lot of money and are not funded by the NHS.


We would be very grateful for your help in whatever way possible, making a donation, organising event for me or simple sharing this page so more people hear my story.

Love Jessica & Family
Just letting you know that Innowalk For Jessica are now registered with easyfundraising, which means you can raise FREE donations for us every time you shop online. Over 4,000 shops and sites will donate to us when you use easyfundraising to shop with them – at no extra cost to yourself!

These donations really mount up and make a BIG difference to us, so we'd really appreciate it if you could take a moment to sign up and support us. It's completely FREE and only takes a moment.

You can find our easyfundraising page at https://www.easyfundraising.org.uk/causes/innowalkforjessica/?utm_campaign=raise-more&utm_medium=email&utm_content=en-e1

Update:
As some of you may be aware, we started a fund-raising
campaign last April to raise money to buy our 13 year old disabled daughter an amazing piece of specialist exercise equipment called an Innowalk. We were amazed by the support we received and with the support of friends and family raised a substantial amount. This, together with a successful charity grant application it looked like we had secured funds we needed. However, despite the pledge from the charity, 9 months on we are still waiting to receive the grant and have recently
been contacted by the charity stating that because of current situation with COVID-19, they are unable to tell us how long wait will be to receive funds. 
With the massive teenage growth that Jessica has had in last 12 months, we have seen a decline in her physical ability. It is becoming increasing difficult for Jessica's weak and shortened muscles to maintain her own body weight; using her standing frame, sitting and doing assisted standing transfers are all becoming more challenging for her. Following recent a physiotherapy review there is growing concern around the stability of Jessica's right hip and whether surgical intervention is now appropriate. It's also likely that if we can't help Jessica to improve her strength as she continues to grow we couldface a future, where in 1-2 year's time where she can no longer physically able to do standing transfers with assistance. This is not the future we or Jessica want.
We have therefore decided to try to raise the full amount
needed ourselves so we can get this vital and life changing piece of equipment as quickly as possible. We need to raise another £15,000 this is still a vast amount of money and we simply cannot do it without help.
If we should exceed our target we will be keeping her campaign open to fund raise for her on going therapy and equipment needs to give her best quality of life.
Thanks for taking the time to visit my JustGiving page.
Donating through JustGiving is simple, fast and totally secure. Your details are safe with JustGiving - they'll never sell them on or send unwanted emails. Once you donate, they'll send your money directly to the charity. So it's the most efficient way to donate - saving time and cutting costs for the charity.
7.5% of all donations to Tree of Hope in relation to this appeal will be allocated to the general charitable purposes of Tree of Hope to cover our core operating costs.
 
If we raise insufficient funds, or surplus funds, then the funds will be used, if appropriate, to fund support for our child's needs in accordance with Tree of Hope's charitable objects.  If in those circumstances we are unable to use all or part of the funds for the benefit of our child in accordance with Tree of Hope's charitable objectives, then any funds that cannot be used will be transferred to be used for the general charitable purposes of Tree of Hope.