Jaxson Peters and Baine Peters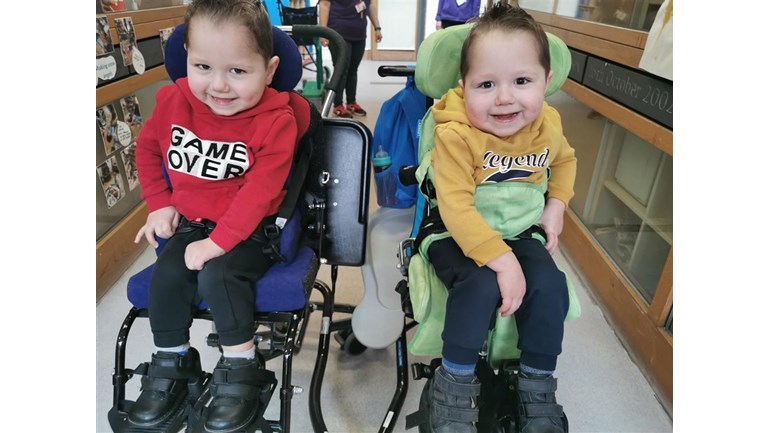 Baine and Jaxson were born on 1st October 2018, after a threatened labour at 25 weeks, luckily they made it to 30 weeks. Everything went well, Baine was born using suction and was left with a bruise covering most of his head but we were given the all clear. At 6-weeks old we had a visit from the health visitor, while she was holding Baine she noticed abnormal movements, jerking and body twitches. He was admitted to hospital for suspected epilepsy, he had lots of tests including EEG & ECG. Other than a few abnormalities, nothing major was found and no diagnosis given. 
At 11 months old, family support workers questioned why both Baine and Jaxson were not able to sit up and had not yet reached any early milestones, they were also described as 'chunky boys'. From here, they underwent multiple tests and after 8 months they got a their diagnosis of four limb cerebral palsy - mixed picture of spasticity and dystonia, scissoring leg syndrome, clonus muscle spasms, global developmental delay and periventricular leukomalacia - brain damage. 
Fast forward two years and although Baine and Jaxson are cheeky young boys, always with a smile on their face, they still face challenges daily. They boys currently attend White Lodge Centre where they receive 1-1 support, multiple therapies and speech and language. Their teachers love having both boys with them and say that their energy and laugh is contagious. Every obstacle they face head on and they are progressing in ways that no one could have predicted. Recently the boys have started crawling, and are zooming around the house. Their speech is improving and they are starting to use equipment provided by White Lodge Centre, from Milbrook House. The boys are approaching three years old and will soon be fitted with their custom wheelchairs to support their mobility. 
However, family life is not easy - every day is a struggle of it's own. Both Baine and Jaxson require high amounts of medication, four to five times a day. They rely on this medication to reduce muscle spasms and help them manage their pain. The boys are incontinent and changing their nappies is difficult as their legs don't open due to muscle tightness. Their muscle tightness has a huge impact on their mobility, they have a supporting standing frame to try and stretch their muscles but this is very painful for them. From February 2021 until 12th August, Baine has undergone left arm and lower limb botox at Evelina St Thomas' Hospital in Westminster, London, twice with full sedation. Jaxson is awaiting his treatment which has been delayed due to the covid-19 pandemic. They both have under developed lungs, a low immune system, spiking temperatures, and often contract bronchitis. As a result, hospital admissions are frequent.
Currently we are awaiting home adaptions to be approved by our landlord and local authority. These are necessary to give the boys the space and opportunity to thrive as they get older and their needs develop. Our occupational therapist, for children with disabilities, has suggested that our home needs to be extended, where Baine and Jaxson will each have their own bedroom and wet room on the ground floor. They are now too heavy to carry up and down the stairs multiple times a day. Baine and Jaxson also needs hoists available across the ground floor to offer them independence as they grow and move around the house. Their needs are life long and having these adaptions will enable them to gain some independence, support their mobility and health and enable the family to create some kind of normal. 

Any funds that are raised for Baine and Jaxson will be used to help pay for our home adaptions, equipment, private therapy, medical procedures and anything else that Baine and Jaxson need to help them thrive in their uncertain future. Our family and friends will conduct lots of fundraising to support our cause so please do follow our journey @JaxsonandBainesStory
Thanks for taking the time to visit my JustGiving page.
Donating through JustGiving is simple, fast and totally secure. Your details are safe with JustGiving - they'll never sell them on or send unwanted emails. Once you donate, they'll send your money directly to the charity. So it's the most efficient way to donate - saving time and cutting costs for the charity