James William Cowley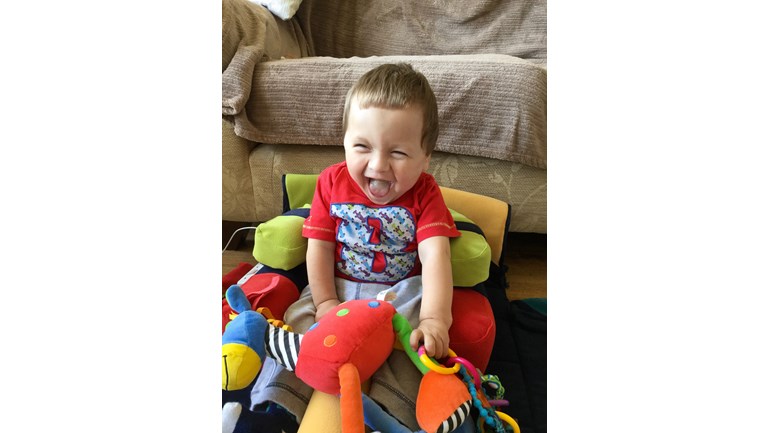 Thanks for taking the time to visit James' JustGiving page.
Hi my name is James & I'm 3 years old, on the 12th November 14 I decided to be a little cheeky & come into the world very early & was born at 24 weeks & 5 days (4 months early) just on the brink of survival.
My story- When James was around 10 days old he began to have seizures & we were told that James had suffered 2 bleeds to the brain a grade 2 & a grade 3 & that he would have some form of disability when he was older, as you can imagine our world collapsed & it feel apart. At 4 weeks old James suffered 2 fractured femurs (yes 2 broken legs at 1 month) due to Metabolic Bone Disease of Prematurity, due to this James doesn't like his legs touching & refuses to stretch them out resulting in very tight hamstrings. At 6 weeks James came off the ventilator but had developed CLD (Chronic Lung Disease).
At 3 months James was rushed for emergency eye surgery for ROP as the blood vessels in his eyes were turning in which can cause blindness, resulting in James being severely visually impaired.
At 4 1/2 months old James was ready to come home on oxygen & NG feeding tube but sadly James' bowel twisted due to Malroation Vulvurus (a condition which had been affecting him since birth causing his bowel to continuously twist) after being rushed for 2 major abdominal surgeries in 80 hrs where is nearly died, James was left with 2 stomas & dependant on TPN & Lipids for 7 months, after 2 further operations James had his bowel rejoined but is left with SBS (Short Bowel Syndrome) meaning he may never get out of nappies due to his bowel movement & will always be at risk of malnutrition which could result in him going back on TPN which can cause liver failure.  Unfortunately after catching Rhino virus (Common cold virus) James was diagnosed with Broncheomalacia (floppy airways meaning the branches in his airways collapse), he narrowly avoided a Tracheostomy but after 1 year & 2 weeks James finally made it home from hospital.
James came home on 24/7 home oxygen & continuously peg fed via a pump, in September 16 James came off his oxygen & is now just pump fed  
Due to being born with Malrotation, Broncheomalacia & his prematurity James has been left with several condition's & Diagnosis- 
- Visual impairment - Blind (unknown how much he can see but has a vision teacher offering support) now wears glasses
- Cortical Visual impairement (CVI)
- CLD- Chronic Lung Disease 
- Fully pump fed via a feeding tube- struggles eating & drinking orally (Currently none taken orally)
- GDD ( Global Development Delay)- can only crawl
- Cerebral Palsy
- SBS- Short Bowel Syndrome (A life limiting condition)  
- Severe Gastro-Oesophageal Reflux
- Ischaemic changes & Multicystic abnormalities (from his brain bleeds)
- Diagnosed with Central Sleep Apneoa- meaning his brain forgets to breathe when he's asleep 
The NSH is under cut backs & as a result we can't get the equipment or therapies James needs to reach his full potential.
🌟 List of equipment & therapies we need to fund as the aren't available to James through the NHS
- Private Hydroptherapy sessions as there are no NHS sessions available in our area
- Private SALT lessons as James needs more input than is available for our area to help him learn to eat, drink & communicate
- Hippotherapy/ Pony therapy riding lessons at a specialist centre to help with balance (Freedom Equine Centre)
- Therapy courses such as Makaton to help communication with James 
- Other specialist equipment needed to help James such as- sensory equipment, specialist buggy accessories 
- Room adaptions, such as support in bathroom. James enjoys trying to stand up in the bath & as he enjoys a shower
- Specialist button pads for his new feeding button, protection belt & feeding tube cover to stop James from being able to wrap the wire around him
- Money towards funding a specialist trike which will fully support James 
- The main thing we would like to apply for is help from Brain injury centres such a Brainwave, to help James' brain development, these intense course's & reviews & follow up appointments are very expensive but will help James hopefully one day learn to walk & be able to join in with his pears at school.
Thank you for thanking you time to read about James, he's is the most happiest & loving boy ever but is starting to get upset & frustrated as he wants to get moving but can't figure out how to do it, without intervention this might never happen
Thank you love James & his Mummy & Daddy x
7.5% of all donations to Tree of Hope in relation to this appeal will be allocated to the general charitable purposes of Tree of Hope to cover our core operating costs.

If we raise insufficient funds, or surplus funds, then the funds will be used, if appropriate, to fund support for our child's needs in accordance with Tree of Hope's charitable objects. If in those circumstances we are unable to use all or part of the funds for the benefit of our child in accordance with Tree of Hope's charitable objects, then any funds that cannot be used will be transferred to be used for the general charitable purposes of Tree of Hope.

Donating through JustGiving is simple, fast and totally secure. Your details are safe with JustGiving - they'll never sell them on or send unwanted emails. Once you donate, they'll send your money directly to the charity. So it's the most efficient way to donate - saving time and cutting costs for the charity.