James's Precious Footsteps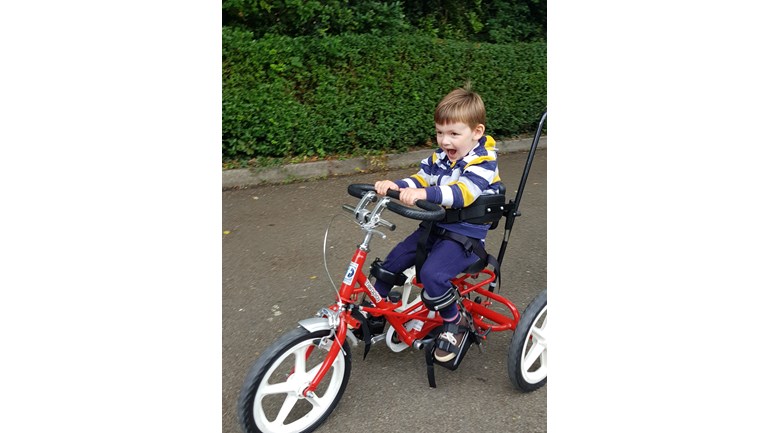 Hello my name is James England and I am 5 years old. I was born ten weeks early and spent the first five weeks of my life in intensive care until I was strong enough to come home. 
At 15 months of age I was diagnosed with Spastic Diplegia Cerebral Palsy. I have spasticity in both my legs and arms which can be very uncomfortable and restricts my movements. I have difficulties with muscle control, balance and coordination which restricts me from being able to walk independently. 
Despite his disability James is a very happy and cheeky boy and takes on all the challenges his condition throws at him - with great determination. James' dream is to walk and with his continued therapy and specialist equipment we are one step closer. 
Currently we are fundraising to pay for a powered chair TinyTrax that James had a demonstration on in March. He manoeuvred it perfectly without any instruction. He played freely for the duration where as previously he'd have to crawl on the ground and would get tired, wet, cold and frustrated. His manual wheelchair doesn't function on grass so his only options are to crawl. The Tinytrax will operate on tarmac, grass, pebbled roads, hills , snow and even sand, it's easily portable so it can come on family outings and holidays too. This will also benefit him at school not only on a practical level but on a social level too. Unfortunately the NHS will not fund this chair so we have to pay for it privately just like his operation in June 2021. The chair costs £7100 and will last him until he's approximately 10 years old. If you're thinking of doing something for charity this year please consider James' charity.
We are continually fundraising to help pay for James' private therapies, specialist equipment and home adaptions in the near future. 
Since James' SDR surgery in June 2021 we have seen many improvements. With help James can now get himself in and out of his wheelchair. He is able to use his parallel bars independently. He can get in and out of his chair that he uses at home and is taking steps with less support from us. 

We can't thank you enough for your kind support and generosity for making a better life for our little boy James xx

Thanks for taking the time to visit my JustGiving page.

Donating through JustGiving is simple, fast and totally secure. Your details are safe with JustGiving - they'll never sell them on or send unwanted emails. Once you donate, they'll send your money directly to the charity. So it's the most efficient way to donate - saving time and cutting costs for the charity.
7.5% of all donations to Tree of Hope in relation to this appeal will be allocated to the general charitable purposes of Tree of Hope to cover our core operating costs.
If we raise insufficient funds, or surplus funds, then the funds will be used, if appropriate, to fund support for our child's needs in accordance with Tree of Hope's charitable objects.  If in those circumstances we are unable to use all or part of the funds for the benefit of our child in accordance with Tree of Hope's charitable objectives, then any funds that cannot be used will be transferred to be used for the general charitable purposes of Tree of Hope.