Jake's Fund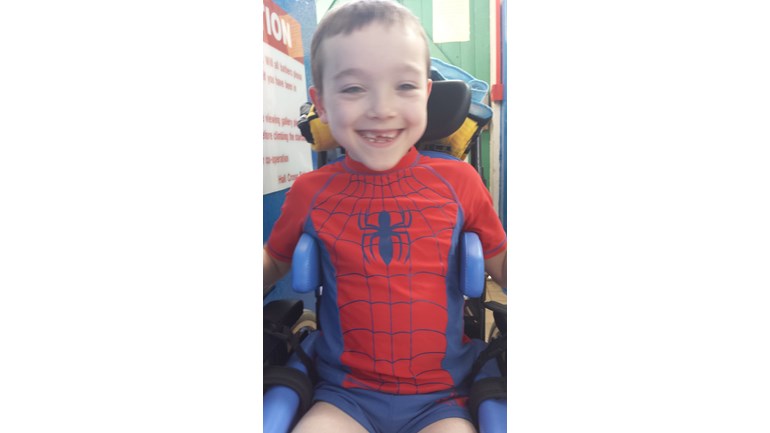 Jake's  Story.
Jake was born on 10th June 2007 via emergency C-section.  He was 6 weeks premature and weighed 5lb 1oz.  He spent the first 3 weeks of his life in the Special Care Baby Unit at Doncaster Royal Infirmary.
The doctors recognised that Jake had problems before he came home from hospital so follow up appointments were made to keep an eye on his progress.  When he was 19 months old he had an MRI scan on his brain which confirmed that part of his brain was damaged, he was then diagnosed with Dystonic Spastic Cerebral Palsy with all 4 limbs involved.
Jake has had a physiotherapy and occupational therapy programme to follow from an early age and has made slow and steady progress.   He tries so hard with all his therapies but is still unable to stand or walk independently.  He has specialist seating, a standing frame and wheelchair and wears splints (AFO's) to correct his foot position. 
He wears his splints for most of the day and due to the abnormalities in his feet and tightness in his muscles they cause him considerable pain.  He has also undergone several surgeries and procedures (muscle lengthening, bone grafts, bone pinning, botox injections) to try and help with his posture and reduce pain.  Last week he had more surgery to insert titanium plugs into the gaps between the bones in his feet  and botox injections in his legs in the hope that it will give him a better foot position and reduce the pain from his splints rubbing.  He is now in casts for 4 weeks to hold his feet in position.  He is extremely brave in all he has to go through and faces everything with his infectious smile. 
Unfortunately the level of support that Jake requires just isn't available through the NHS which is why I am fundraising for his therapy needs.   The funds raised will be used for his ongoing therapy  (Physiotherapy, Rebound Therapy, Horse Riding and Swimming) as well as any equipment needed (therapy balls, specialist toys, walking frames, walking sticks, splints (AFO's) etc).  The money will also be used to part fund a wheelchair accessible vehicle for transporting Jake as it is becoming more and more difficult to lift him into the car, not to mention his wheelchair, both of which will only get bigger the older he gets.
I would love to hear from anyone who would like to fundraise for Jake.
Anything you can give will be very much appreciated in the hope to give Jake a better future.
Keep up to date with Jake and our fundraising events on Facebook.com/Jakesfund10
If you would like to email me my email address is:

Jakesfund@outlook.com
Thanks for taking the time to visit my JustGiving page.

Tree of Hope reserves to use these funds for any purpose stated in the parents charter, including but not limited to, medical treatment, surgery and therapies and related travel expenses, medical and exercise equipment, childcare, home adaptations and the cost of vehicles designed for the disabled.

Donating through JustGiving is simple, fast and totally secure. Your details are safe with JustGiving - they'll never sell them on or send unwanted emails. Once you donate, they'll send your money directly to the charity. So it's the most efficient way to donate - saving time and cutting costs for the charity.