Jacob's Footsteps- Help to keep Jacob walking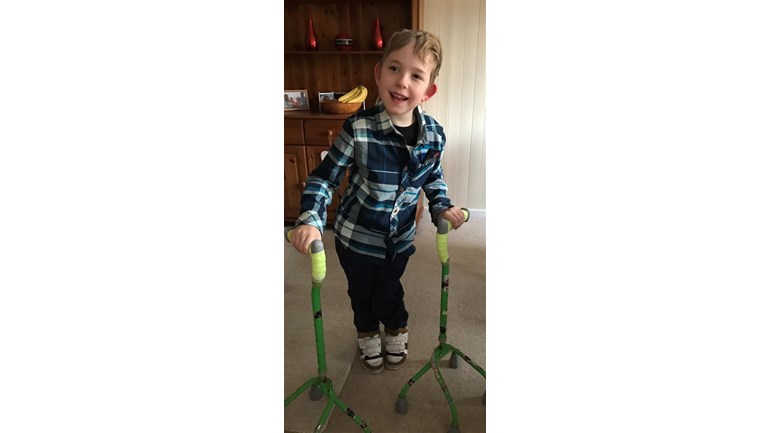 Hi, my name is Jacob, I am 7 years old and I have cerebral palsy. I have a twin brother called Jordan. We are the best of friends and it is Jordan's and my biggest wish for me to be able to walk independently, so that one day we can play together.
In July 2013 I had to travel to St Louis Children's Hospital in America to have a major operation called SDR (Selective Dorsal Rhizotomy). This was privately funded with the help and generosity of many people. Having this operation has significantly improved my life for the better and has greatly improved my mobility. I am now able to walk independently on my quad sticks, ride a bike, sit comfortably, swim, and ride a horse, just to name a few things!
However, this has taken 3 years of intensive therapy and hard work to get me to this stage. The operation unlocked the door to give me a whole new life but it is up to me and continuing the therapy and hard work that is going to allow me to walk through it!
I have been attending regular private physiotherapy sessions, and travelling many miles to 'Walk This Way UK' in Scotland for many blocks of intensive training. It is this coaching that has been life changing for me and allowed me to progress as much as I have. I am doing so well, but in order for this to continue we must carry on with the therapy. I will also need corrective orthopedic surgery in June 2017 in America to release the tendons in my legs which are tight. Obviously this costs a lot of money and we would be most grateful for your help to keep me on my feet.
We are going to be doing lots of fun and interesting fundraising events to help raise the money to help Jacob over the next 3 years, which we anticipate will cost about £45,000 in total.
Any donations or fundraising ideas would be greatly appreciated. Even if everyone kindly donated just £1- every little helps. Please help us by getting involved with events or simply making a donation. There is more information on Jacob's journey, SDR and our mission on our website www.jacobsfootsteps.co.uk or go to our facebook page, www.facebook.com/jacobsfootsteps and hit "like".