Jacob's Footsteps- Help Jacob walk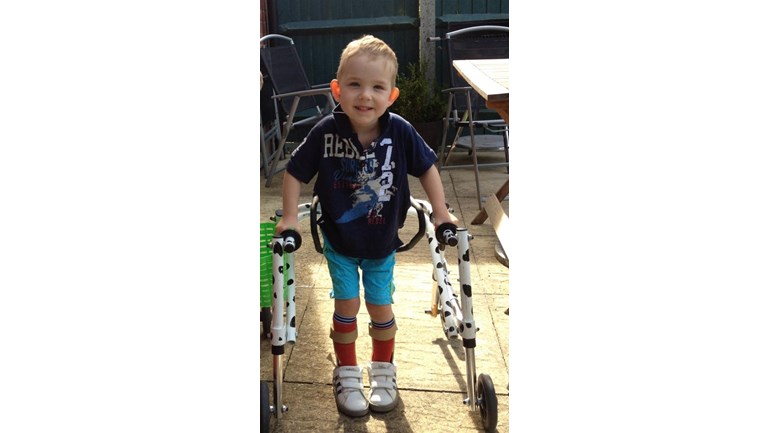 Hi my name is Jacob and I have cerebral palsy. I am nearly 4 years old and I have a twin brother called Jordan. We are best of friends and it is Jordan and myself's biggest wish for me to be able to walk independently, so that one day we can play together without me always struggling and being in pain. I try so hard with everything that I do but at the moment I can only commando crawl and roll over and am just starting to use my Kaye walker on my own.
We were born prematurely at 28 weeks and only weighed just over 2lbs each. We both had a tough time in special care and spent almost 2 months in hospital. It was a very worrying time for everyone but we kept on fighting and eventually we pulled through. Everyone calls us "little miracles"
There is an operation called SDR (selective Dorsal Rhizotomy) that is performed in America and also is beginning to be performed in the UK too. It involves cutting some of the damaged nerve fibres in the spinal cord. It is these nerves that are causing my legs to be so tight and stopping me from crawling, walking and even sitting comfortably on my own. This means that I rely on my family to support me all the time and I cannot join in and play with my friends as I would like too. Having this operation could change all of that and improve my life for the better.
I have been told that I am a suitable candidate for SDR and have been accepted for the surgery at St.Louis Childrens hosiptal in America. The surgeons predict after the operation I will be able to walk just using sticks and be able to take some independent steps!!!! 
I attend a fantastic physiotherapy centre called Footsteps 3 times a year, and my family are always taking me horse riding and swimming, and doing my exercises at home with me. However, all of this costs a lot of money and for me to progress enough to be accepted for the SDR I need to increase the amount of physio that I am having and I need some new physio equipment to help me at home.
We have started doing lots of fun and interesting fundraising events to help raise money to help me walk, we have now begun the big task of raising £65,000 for the actual operation and aftercare.
Any donations or fundraising ideas would be greatly appreciated. Even if everyone kindly donated just £1- every little helps. Please help us by getting involved with events or simply making a donation
There is more information on Jacobs journey, SDR and our mission on our website www.jacobsfootsteps.co.uk
or on our facebook page, just search for "jacobs footsteps" and hit "like"