Jacob Jokiel - SDR Fundraising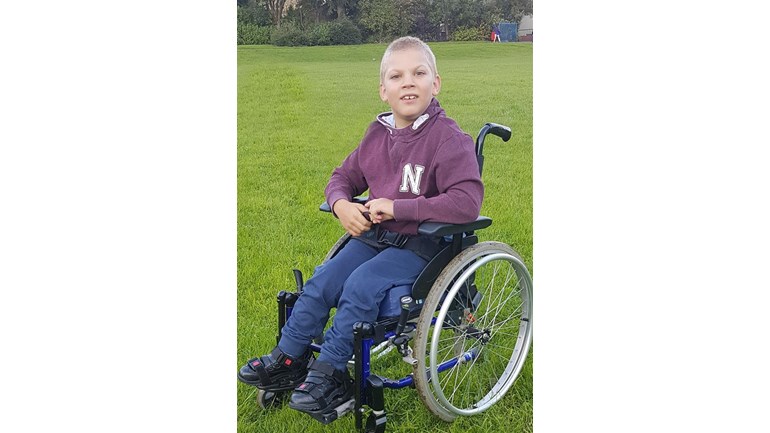 Jacob is 11 years old and living in Bury.
Jacob was born in April 2009, delivered by forceps after 27 hours labour. He developed Group B strep which caused sepsis. After a few hours, his heart stopped beating and he was placed on life support. After two days, we were informed that Jacob was also fighting Meningitis.
Jacob has Spastic Diplegia Cerebral Palsy, which resulted in his muscles being very tight and painful, particularly in his legs. Jacob is reliant on help for all his personal needs which are becoming more difficult as he grows. He requires daily physio to help with the stiffness in his muscles. Jacob cannot get up or stand up by himself, so he needs to be manually transferred and rely on a wheelchair. He wears splints to make sure that his feet are kept in the correct position.
There is no cure for Cerebral Palsy, but an operation called Selective Dorsal Rhizotomy (SDR) is the only one that will permanently reduce the tightness. Jacob was able to receive this life changing surgery in March 2019 in Alder Hey Children's Hospital in Liverpool.
This was only possible with help from so many generous people who donated to Jacob's Fund.
To enable Jacob to obtain the best results from this procedure it is paramount that he continues to undergo private physiotherapy sessions to help him build strength in his muscles and enable him to walk.

Jacob is a very sociable boy who loves his family and friends. He is also determined to do things by himself like every other child despite his disability.
We need to raise £35,000 in total as this procedure and physiotherapy is not funded by the NHS.
Please donate to help Jacob continue his journey to independence.
Thank you for your support