Caoimhes Page <3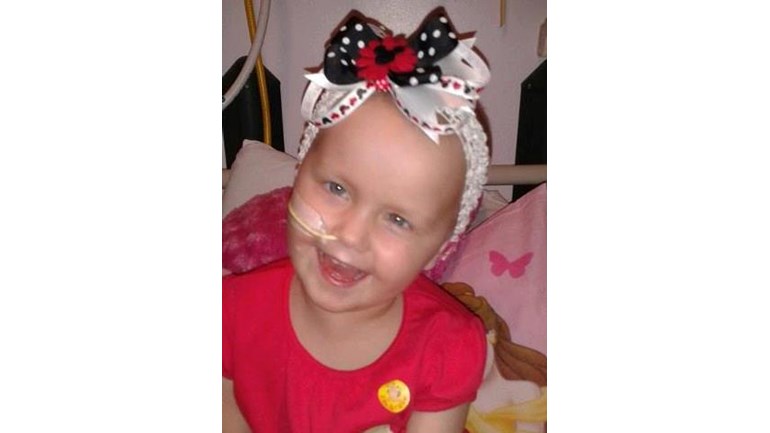 Thanks for taking the time to visit my JustGiving page.
This page is for a very special little girl named Caoimhe ( pronounced Keeva)
Caoimhe is only three years old, she has Anaplastic Ependymoma with Spinal Metastases, a grade three malignant brain tumour. She is currently having chemotherapy to keep the cancer at bay because of her young age and the detrimental effect radiotherapy has on such a young brain.
To give Caoimhe conventional radiotherapy in this country would leave her neurologically devastated, blindness, deafness, low IQ and stunted growth are only some of the side effects, however Proton Therapy is targeted revolutionary method of irradiating young children, It is so accurate there are very little side effects, It also delivers the maximum dose to the targeted area! but is not available in this country.
 We aim to take Caoimhe to America so she can receive this treatment and are raising funds towards this.
Chemotherapy has no proven effect on this type of cancer, conventional radiotherapy if she survived it would leave her no quality of life. Proton therapy has and does work in fighting this type of tumour!
This type of treatment costs approx 200,000 pounds,
The NHS have denied Caoimhe funding for this treatment.
We now need to raise this money ourselfs they treament is £200,000, but this ammount doesnt include theadditional  funds Caoimhe and her mum would need to be able  to live in America for about three months in order to see this treatment through.
All money raised will be used for Caoimhe in the phenomenal costs of living with this disease, including insurance for her mum, no insurance company would insure Caoimhe so if she were to become ill and require extra care this would need to be paid for, any chemotherapy she would require while there would need to be paid for,  - *accommodation needs to be paid for,* travel expenses * flights,.* basic living costs all need to be paid for.
We have appealed the desicion made bythe NHS board regarding funding for the proton therapy,however we know part of the decision making process is based on curability, hence theire first decision and we have littel hope of them changing htier minds.
Caoimhe at present has a very dismal prognosis, with a 40 percent five year survival rate, but we know of and have spoken with parents of children in America with the same diagnosis who have received this treatment and are surviving beyond their statistical given time.
The NHS have offered us no hope, very little support, and low expectations for the same disease the Americans are facing full on, aggressively battling and winning!! Not every child can be saved, and that is the devastating realism, but statistically Caoimhe would have a better chance of survival with this treatment. Giving up isn't an option!! Life without Caoimhe isn't an option! She has been through so much yet smiles and fights on every single day, she absolutely lights up all of our lives, she is amazing and she deserves the chance of life! ..
thank you everyone for the astounding help and support xx
Donating through JustGiving is simple, fast and totally secure. Your details are safe with JustGiving –  Once you donate, they'll send your money directly to the charity and make sure Gift Aid is reclaimed on every eligible donation by a UK taxpayer. So it's the most efficient way to donate -
So please dig deep and donate now.