Jack's Will To Walk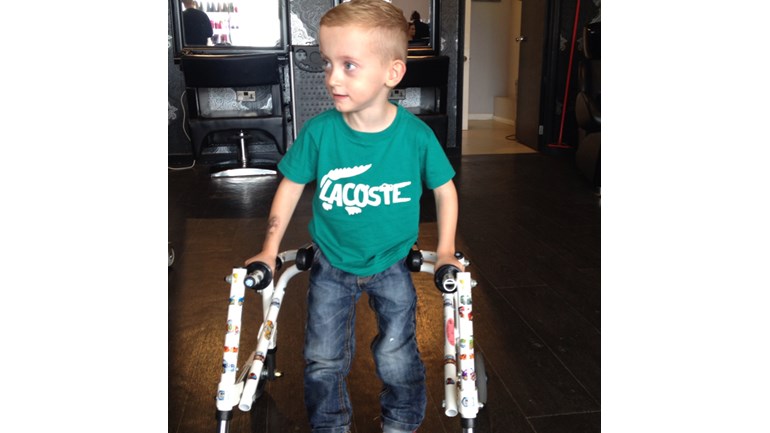 Wow! Thank you anonymous who donated £5000 to jacks fund truly generous and wonderful person can not thank you enough! X
Wow thank you to the camel challenge crew how generous we are so grateful to you x
Thank you for your kind and generous donations, so many people are so thoughtful and we can not express enough how much your donations mean can not thank you enough xx
Updated on Jan 12th 2013 at 8:54 AM from the JustGiving API
Thank you so much I wish I knew who everyone was so I could thank you personally, to all the kind people who have donated to jack if you have Facebook you can follow is journey by adding his Facebook page - jacks will to walk. You can see him and read updates about little jack x thank you again x
Updated on Jan 10th 2013 at 9:04 AM from the JustGiving API
I am over whelmed by all your generous donations so so kind thank you to all of you jacks life will be much easier for him, he has been working very hard with his Physio to build on his strength
Updated on Dec 24th 2012 at 4:39 PM from the JustGiving API
Thank you for all your support and kindness each and every person who has helped me so far on my journey I really hope you all have a very special Christmas, I have a Facebook page called jacks-will-to-walk if you want to see me and follow my journey love to you all jack xxx
Updated on Dec 19th 2012 at 9:26 AM from the JustGiving API
Thank you such kind and generous people helping jack on his journey we can not thank you enough x
Updated on Dec 10th 2012 at 10:21 AM from the JustGiving API
Thank you to the kind people donating to jack every donation is getting us closer to our target! So kind x
Updated on Nov 27th 2012 at 9:13 PM from the JustGiving API
Thank you for you very generous donations so very kind! Words are not enough to show how thankful we are x
Updated on Nov 23rd 2012 at 3:07 PM from the JustGiving API
Thank you for your kind donations so many thoughtful people xxx
Updated on Oct 28th 2012 at 2:10 PM from the JustGiving API
Thank you to all the kind people who have donated here you really are going to help jack to reach his full potential in life xxx
Updated on Oct 5th 2012 at 2:02 PM from the JustGiving API
Thank you so much for all your kindness and support we are forever grateful ... Gary jones you did an amazing sponsorship for jack I'm trying to thank everybody personally but would like to say a big thank you here to everyone as I don't have a contact for everybody x
Thanks for taking the time to visit my JustGiving page.
My name is Jack Rooke, i was born on 2nd October 2008, i weighed just 2lb 12 ounces.
My mummy went into labor early at 28 weeks, i lived in Neonatal intensive care for the first 11 weeks of my life in Bath RUH.
After i came home my family began to notice my mobility skills were very delayed so when i was around 12 months of age i had to have an MRI scan of my brain.
My scan showed i had damage due to a bleed on the brain which resulted in me having Cerebral Palsy.
Due to my brain injury, causing me to have Cerebral Palsy i have stuggled with basic skill effecting my mobility, i have found it very hard to, sit, crawl and get myself around.
My type of cerebral palsy is called spastic diplegia, this means the muscles in my legs are very tight, i am now going to be 4 next week. I can not stand or walk unaided, i have to be carried or put in my swifty push chair which i do not like.
I have a frame called a kaye walker that i use to walk with, i can only use this indoors and get tired very quickly,so can not go very far, i love the independance i get with my frame but would love to one day be able to walk with out it, to be able to join in with my friends and run around playing with them. For my family to see my take my first steps i need some help.
one of my favourite things is football and to play one day with my friends at the moment is only a dream.
This is why i am asking for your help, there is a life changing operation i can have called Selective Dorsal Rhizotomy (SDR). This operation will take away the tighness in my muscles in my legs and allow me to walk all by myself!
Jack is such a happy little boy and tries so hard and is very determined to do things for himself. we would love for jack to have this chance in life to have surgery and give him the best chance he can have of taking his first steps.
This operation costs a lot of money we are hoping to raise enough money so jack can have the operation and can have intensive physiotherapy he will need after.
Any donation no matter how small will help us to achive Jacks Will To Walk x