Just for Jack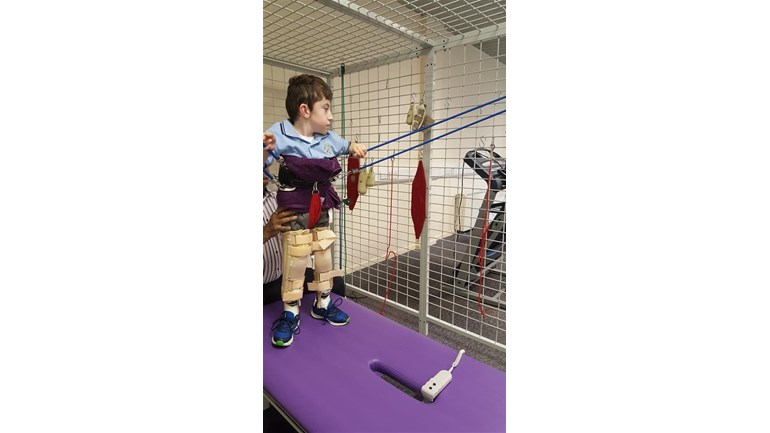 In May 2016 Jack had his spinal surgery and we went on our 1st journey to the Craniaa neuro rehab centre in Newry having received funding from Caudwell Children's Charity. 
We didnt know what to expect or how it would benefit Jack but we thought we needed to try something new. We met with Dr Goshi and his wife Ramya where they took a full history and straight away started to work on Jack starting at the hands working up to the elbows and shoulders down to hips, knees, ankles and feet. Intensive stretching and movements using weights as they worked their way round him. Jack tolerated it all so he was strapped up and put into bungee straps attached to what they call a spider cage which fully supported him, he was able to bounce up and down like he was on a trampoline working and stretching his back and stomach muscles. Finally finishing off on the treadmill.
We didnt think we would see any results for months but after a few wks Jack was wanting to get up on his hands and knees(ive been trying to get him to do this for yrs!!) And now he does it with no effort at all. His muscles are getting stronger and recently his hips and knees were measured and have corrected by 5 degrees! Pretty amazing, his own physio is happy with his progress and has included some of the techniques into a plan for him at school as i continue his standing and stretches at home. 
Our funding is running out and we want to continue with it as we are sure that some day Jack will walk, we don't expect miracles and know Jack won't run marathons but if he can walk around home and school with the aid of crutches it would give him a better quality of life and independence. 
7.5% of all donations to Tree of Hope in relation to this appeal will be allocated to the general charitable purposes of Tree of Hope to cover our core operating costs.
If we raise insufficient funds, or surplus funds, then the funds will be used, if appropriate, to fund support for our child's needs in accordance with Tree of Hope's charitable objects.  If in those circumstances we are unable to use all or part of the funds for the benefit of our child in accordance with Tree of Hope's charitable objects, then any funds that cannot be used will be transferred to be used for the general charitable purposes of Tree of Hope.