Jack's next steps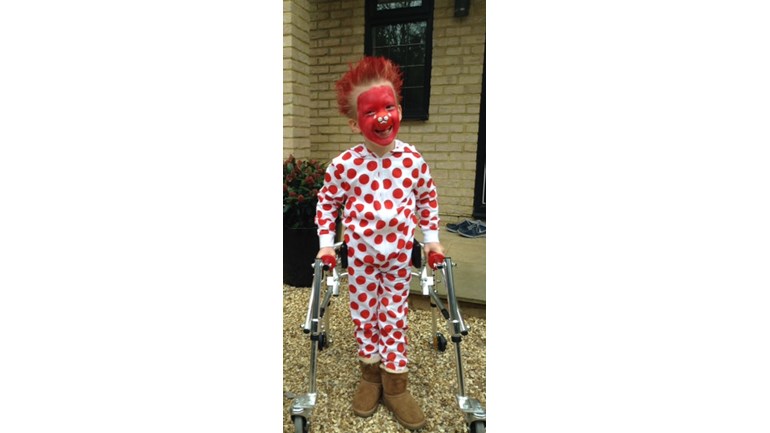 Hello. My name is Jack and I was born on the 9th June 2009 at St. Peter's Hospital in Surrey. Perhaps a little too eager to start my life, I arrived into the world a little chaotically some 8 weeks early, suffering oxygen starvation, which resulted in a condition known as Cerebral Palsy. This means I have great difficultly using my arms, hands and legs and with no intervention, I would not be able to walk, use my hands normally, or even sit up without help.
 

In March 2013, in order to give me the best possible chance in life, my mummy and daddy embarked on a fund raising campaign to pay for an operation called SDR, Selective Dorsal Rhizotomy at the amazing St. Louis Children's Hospital in Missouri.  The following months were crazy with friends coming together in a variety of fundraising activities, including a Summer Ball at Wentworth, a Triathlon, Paella & Pimms party, Pop-Up Cinema, Sky-dive, and a night of spiritualism and mediums plus many more! By July, we'd raised the $40,000 required to pay for the operation and immediate after care in St. Louis and in August I set off to the US for my big trip to get my new legs.  The SDR procedure
 involved removing some of the nerve connections from my muscles to my spinal cord that cause the immobility and stiffness in my legs.  The operation has enabled me to move more freely and have much more freedom and control over my body.
 

August 2013 was a tough month, like no other. I was in surgery for 4 long hours while Dr. Park worked his magic.  After 5 days I was allowed out of hospital but had to return for an hour of intensive physiotherapy every day for 3 weeks.  The operation and hard work that followed allowed me significantly more flexibility in my legs and now I begin a long journey of postoperative physiotherapy and hydrotherapy here in the UK to train my leg muscles to walk as normally as possible. Already, I am now walking short distances with a Kaye-walker and I very recently just swam a few metres on my own for the first time ever. None of this would have been possible without the life-changing operation in St. Louis and without the support of the very generous people who made that trip possible.  Although the operation was life changing, it wasn't a miracle cure and life goes on with daily physical therapy in some shape or form.
 

I started school in September 2013, which I love and I have already made lots of new friends. I am now in Year 1 and love music, school dinners, computers and play dates! I continue with physiotherapy 3 times a week plus swimming and daily stretches. I even have a personal trainer who I see once a week to help with my strengthening and conditioning. Some days there just aren't enough hours in the day!
 

Although I now have a lot more freedom and my legs work better, I will never enjoy the full, physical freedom that any other 5 year old would because my core is weak and nothing can be done to remedy this. I will always need assistance to transition from sitting to standing for example and I will likely never walk unaided or run, or kick a ball, or hop, skip and jump.  So my challenge continues and my mummy and daddy continue to fundraise to buy me equipment to make my life a little bit easier and pay for the constant therapy sessions I have to endure.
 

I now have a new power chair that I am able to use to help keep up with my friends. I would also like to get a new trike so I can ride around in the sunshine and some specially adapted seating for home so I can play with my brother in the garden. I also need a new lightweight self-propelling wheelchair and a new Kaye walker as I have grown so much in the last 2 years!
 

Last year, Team Jack completed the Surrey Half marathon in March, a Triathlon in May and the Windsor Half Marathon in September (mummy and daddy say never again to the Windsor half)! In May, Team Jack have signed up for The Adrenaline Rush which takes place at the Olympic Park in London. It's an urban assault course incorporating thrilling obstacles and daring challenges so it should be fun!
 

The cost for physio alone is over £10,000 a year plus the cost of special equipment, toys and intensive physio courses, it can easily add up to £25,000 so the need to continuously fundraise is enormous. So many people join in to help raise money to replenish the piggy bank and we are very grateful for the generosity of people that support us with their time, money and friendship.
 

Thank you so much for reading my story, and for helping me to enjoy the world as you do. Thank you for making a difference.
 

Love Jack xxx
April 2015
 

Please contact Sarah Ostler for more info on 07718 521316 or sarahostler72@googlemail.com