TEAM JACK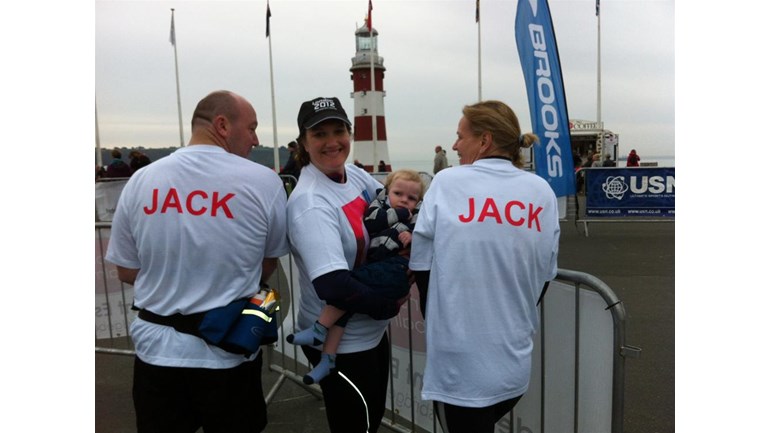 We have the most amazing 3 year old son called Jack O'Herlihy. Despite his physical and visual challenges he is a happy little boy, who loves horse riding, swimming and music.
Shortly after birth Jack fitted and a scan found that he had muliple bleeds on his brain for reasons unknown. Concequently he has been diagnosed with Dystonic Cerebral Palsy, severe cortical blindness and is fed via a gastrostom. It was a terrible time and he still can not hold up his head well, cannot sit, roll, talk or communicate.  Jack needs help with every aspect of his life. He relies on equiptment such as specialised chairs and switches to help him learn to play.
Jack is now beginning to make progress towards noices for yes and no.  He has learnt to use a switch to play stop and start music and loves his nursery rhyums.  Jack has continued to Horse ride weekly, which has really built up his trunk control.  He rides in most weathers and never minds.  Jack goes swimming weekly and has recently started drama classes with some of his friends. 
Jack is making sense of the world and as all parents would we want to make this journey as easy and understandable for him as we can. He has so many challenges and difficulites to overcome. His progress may be slow, but he is making progress and we are excited for his future no matter how difficult.
Jack has the most amazing friends and family who have done the most amazing things to help him.  Last year Olivia, Emma and Darryl  ran a half marathon and Daniel completed a white collar boxing competion, together raising nearly £3000. I am overwhelmed by people generosity and forever thankful.  This has helped provide equiptment and horseriding for Jack. He just loves the swing we bought last year, which he plays on with his brother. I thank everyone who has made efforts or contributed in anyway, it really means alot.
This year we are planning to make a sensory room for Jack to help him learn to play, relax and become more independant. We are also going to keep up his horse riding and get further equiptment to help him integrate with the world. We will continue to fund raise for Jack so that we can do the very best for him that we can, and thank you all for your kind support.