Super Jack McKenna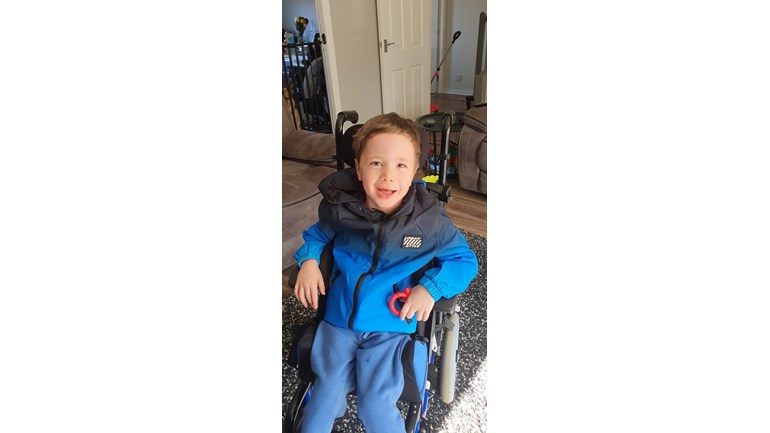 We are raising funds to enable us to make adjustments to our home for our son Jack. Jack has cerebral palsy and requires a downstairs bedroom and wet room, adjustments made to our kitchen and widening of all internal doors so that Jack can access all areas of the family home. This is going to cost at a minimum, £65,000 (plus vat). The local council will help by paying 80% towards the cost of the wet room and widening of the internal doors, but not towards any living space at all. As well as Jack's savings, we need to fundraise to help reach the overall goal. If anyone can help us with fundraising, sharing this page or donating to this page it would be very much appreciated. 

Jack was born at 33 weeks and suffered a brain bleed around the time of birth causing him to have hydrocephalus, epilepsy and cerebral palsy. Jack has had two brain surgeries so far, one at eight weeks to insert his VP shunt and one in November 2020 to replace the shunt as it was blocked. 
Jack's epilepsy is controlled by medication at the moment but there is always a worry it will come back as bad as it was when Jack was younger. We know there is a chance we will need to change medication again and find something else that will work in the future due to the type of epilepsy Jack has. For now it is well controlled. If anyone is interested in knowing more about Jack's epilepsy it is called Infantile Spasms (West syndrome) 
Jack's physiotherapy is provided through the NHS, his physiotherapist visits Jack at home for his appointments. Currently these take place in the family living room, the plan is Jack will have space in his downstairs bedroom for these appointments. All of his equipment and toys will be to hand. Also, he would have a hoist in there to help us with moving him onto the floor and back into his seating. 
As a result of the damage caused to Jack's brain, he will always be fully dependant on his family looking after all aspects of his care, including tube feeding through his gastrostomy, moving around and repositioning, and all aspects of personal care. Jack relies on a wheelchair, which is pushed by us, to get around and specialist equipment including special seating and a standing frame for postural support.
One of Jack's most favourite things is water! Included within the wet room we will be having a specialist bath installed which Jack will love. The shower will also be accessible to Jack due to the wet room floor. Jack absolutely loves any type of water, especially being in a bath. He requires full support and either lays flat, with little water, or uses specialist seating in the bath. With Jack getting bigger, this will not be an option for long. As well as Jack getting bigger, he is getting heavier and more difficult for us to lift from awkward positions, like in the bath. With our plans for the downstairs bedroom and wet room, Jack would be transported from the wetroom to his bedroom via a tracking hoist. The quicker we start hoisting Jack the better as having to carry him from the bathroom to the living room, or up and down stairs is becoming difficult for those who care for Jack. It will also be better for Jack as he won't get a fright or be startled when we lift him up from a low level, like the bath.
Jack is a very happy boy who loves to have a carry on and have cuddles. He always has a smile when he sees a friendly face and everyone he meets comments on this. 
We want to make sure that our home is set up for looking after Jack for the rest of his life. We need these adaptions to our home to ensure we are able to do this. They will not only make Jack's life easier but everyone who looks after Jack will benefit as we will be able to ensure Jack's safety when he is being moved around. We are already feeling the strain of lifting Jack and are worried the longer this goes on, it is reducing the amount of time we will physically be able to do it. Relocating is not an option for us as we have such a good support system locally, we would be giving up too much, we need family local to us to help care for Jack. His Gran and Papa are a 30 second walk door to door from us, his Gran and Grandad a 2 minute car journey, and lots of other family in between too.
Any donations, small or large would be very much appreciated. Donations of items or anything we can use for a raffle are also welcome, all funds would be paid into Jack's page on Tree of Hope. Also, if you could please share this page on social media and to anyone else you think may be able to help Jack. 
Thank you, Laura, Ross, Jack and little brother Harry xx
7.5% of all donations to Tree of Hope in relation to this appeal will be allocated to the general charitable purposes of Tree of Hope to cover our core operating costs.
 
If we raise insufficient funds, or surplus funds, then the funds will be used, if appropriate, to fund support for our child's needs in accordance with Tree of Hope's charitable objects.  If in those circumstances we are unable to use all or part of the funds for the benefit of our child in accordance with Tree of Hope's charitable objectives, then any funds that cannot be used will be transferred to be used for the general charitable purposes of Tree of Hope.