Isla Roses wish to walk xxx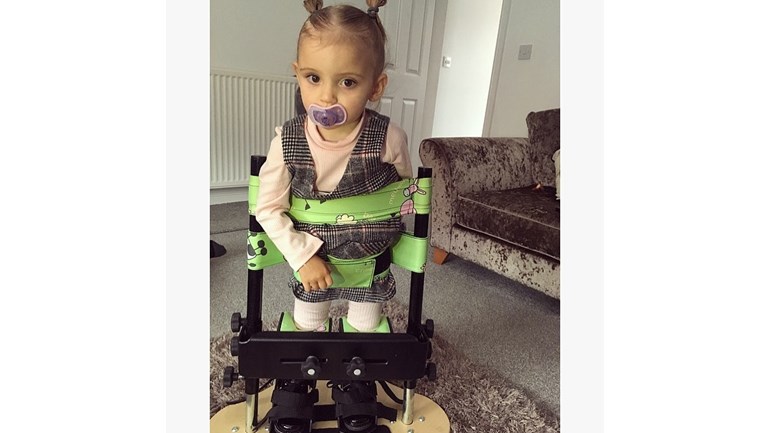 MY STORY... 
Thank you for visiting my page, Here is my story. I was born at 36 weeks after being told I had stopped growing. I was born weighing a very small 4lb2!! 
I was diagnosed with CMV a few days after I was born, the doctor told us I had severe brain damage. I had sepsis when I was born, I needed 3 platlet transfusions, and a special medication for 6 months to stop the CMV spreading to other areas of my little body. 
Luckily, the medicine saved my eyesight and my hearing after nearly losing them both, which I am very greatful for!! The doctors told my mummy and daddy i may never be bottle fed, smile, laugh, talk or even sit up. Our biggest fear as a family became a reality.  
My mummy and daddy say I'm a fighter, on average CMV affects 1 in 150 children. And sadly, 400 children die born with CMV each year. 
I have had 3 MRI scans altogether since I was born, I have gross motor delay and cerebral palsy. The large 

part of the brain which controls balance, movement, speech and almost everything has been mostly damaged and is smaller than the rest. It h

as mostly affected me from my waist down, but each day I get Stronger and prove everybody wrong! 
I am very clever and I love to communicate using makaton when I watch Mr.tumble at grandmas house!! 

I am the happiest most kind and caring little girl you could ever meet! And nothing gets in my way. I love to dance with my nanny in her arms! And one day I would love to be able to dance on my own 2 feet. 
Mummy and daddy have been taking me to Physiotherapy under the NHS for around a year and a half, and although the consultants say I need physio weekly, I can only get an appointment when they can fit me in on their busy schedule! On average once a month. 
Me, my mummy and daddy usually spend 3 busy days a week attending hospital appointments at different places, which includes visiting tone management for my tight muscle tone. I now take 2 special medicines for these everyday which can make me sleepy. Lycra suit clinics, which have given me my special suit that I wear under my clothes everyday to help my posture, daddy says it's hard to get me dressed!! I also have a standing frame and special boots to help strengthen my legs. 
I am almost 3 now and i can't crawl, walk or even weight bare, which is hard and sometimes frustrating when I am out and at nursery as I would love to run around and play with my friends! 
The reason for my page is to try and raise the funds in order to get me private Physiotherapy and hydrotherapy where i will have frequent sessions at least once a week with good, professional care where I can build up my muscles and hopefully get on my feet like every child should! 
My mummy and daddy have been 
searching around but unfortunately these 1 hour sessions are around £80 per hour, but are very much worth it as it helps me on my journey! Every donation no matter how little will get me where I want to be. 
If you would like to carry on following my story you could visit my Facebook page 'help Isla rose get on her feet'
 With your help, I could get my wish to walk and get the best chance of catching up with my friends and the best chance out of life. We thank you from the bottom of our hearts xxx