Isabelles Dream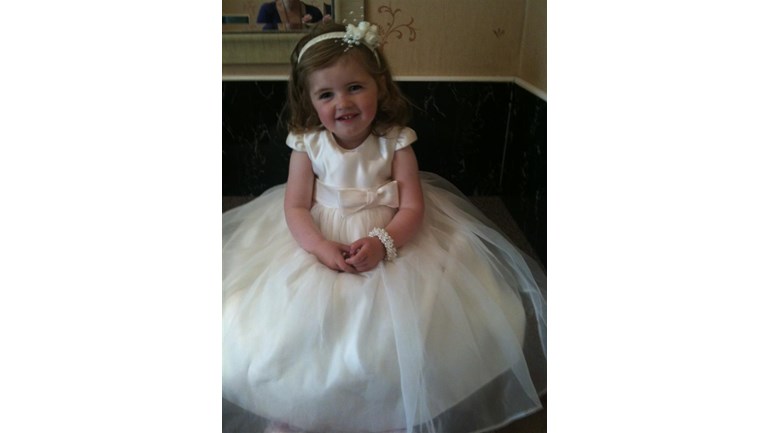 Hi, my name is Isabelle  and i am 5 years old. I live in Workington with my Mum, Dad and 2 older brothers Cain and Ryan. I was diagnosed with Cerebral Palsy Spastic Diplegia at approx 2.5 years old 
I am an independent walker however my condition simply put means that there is extreme tightness in my legs. I tend to walk on my toes and go over a lot as my brain is sending the wrong signals to my spine. I go through painful serial casting and botox injections and physio in the hope it will help. However this is not the case for me as i wear plastic splints and leg gaits through the day and night. These are very uncomfortable and struggle to get a nice pair of shoes to fit over them. As a little girl it is heartbreaking.
I am asking for your help in order to help Tree of Hope raise monies towards the cost of a potentially life changing help towards  essential and longterm aftercare following an operation  called SDR  which i have now been lucky enough to be told that the nhs will fund  (this only applies to approx 120 children at the moment in the country as part of  a  recently announced and momentous commissioning through evaluation scheme which ultimatley aims to in the future possible routinely funding children like me  to have a better quality of life ) at Leeds  General Hospital which involves a brilliant surgeon called John (i like him) cutting the 'bad signal nerves that are sending the wrong signals from my brain to my spine to my legs'to help me walk better and let me keep my independence which i have tried so hard to maintain. 
I will need years of aftercare  as this is vitally as important as the operation itself although the local health team are happy to support me , the more physio and strengthening i do over the years the better the outcome for me, i will need  expensive specialist equipment for my rehab and benefit so much from expensive private strengthening and physio sessions.

You would never think i go through this because i am the most happy and determined little girl you will meet, i never stop singing, i was born to  to be on the stage singing and dancing all round performing. I love belting out Robbie Williams hits or anything from the 60s to current times. I love to dance however find it hard and frustrating as i am unable to keep up with my friends.
I fall over a lot ,i tire easily and cant walk very far without getting tired out, and my balance is poor and i try to keep up with the other children. I find it so frustrating that my 'crazy legs' as i call them wont do as i am telling them.
This operation will  remove  the spasticity and tightness in my legs and enable me to build up my strength in order to walk as i am now and even better, no tightness means better balance, better movements, more independence  and ultimately a better quality of life to prevent this horrible spasticity taking hold of my legs any more as i grow .If i do not do this it will become worse and i could end up in a wheelchair. I just want to walk alongside my friends without my mam saying 'be careful' or to even put my own socks on, things which others take for granted. I want to be able to do which i can't manage due to the spasticity and to give me the best possible chance of having the best legs i deserve.
Myself and my family will have to put in so much work afterwards with intensive recovery physio programmes, but this is all for the greater good to help me walk better.  However , I am so excited i cant wait for this journey to begin. I will be a queen in the bed when i go into hospital and i will have my dream legs that will do as i tell them to and with your help towards the ongoing costs of the aftercare i truly will be the best i can be.
Should we exceed the target amount (or if we do not raise enough funds, or if they cant be used for any other reason) the funds raised will go to the general funds of Tree of Hope to assist other sick children.
Please if you can find it in your hearts to donate to Tree of Hope and help my dream come true to be the best that i can be and to dance and play and keep up with my friends. I can do a lot, but i want to do more and live my life to the max! and with your help you are making  my journey so much easier to allow me to be the best that i can be x

Yours eternally gratefully
Isabelle Pears x
Thanks for taking the time to visit my JustGiving page.

Donating through JustGiving is simple, fast and totally secure. Your details are safe with JustGiving – they'll never sell them on or send unwanted emails. Once you donate, they'll send your money directly to the charity. So it's the most efficient way to donate – saving time and cutting costs for the charity.