Isabella's fund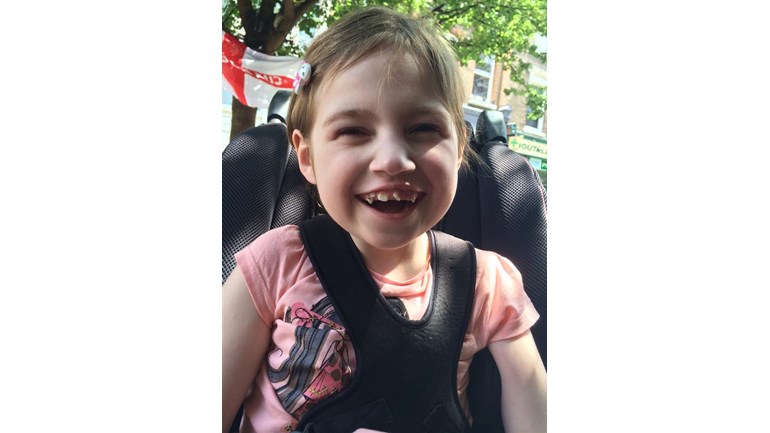 Thanks for taking the time to visit my JustGiving page.
We are raising money for the beautiful Isabella. Isabella is ten years old and suffers from a rare chromosome disorder which has left her with a number of medical difficulties. Isabella is extremely delayed with all aspects of her development and her family are yet to see her crawl take her first step or say her first word. Despite all her problems you can't help but fall in love with her and she has already touched so many lives.
Isabella didn't have the easiest of starts in life and was rushed to hospital at six weeks old as she wouldn't feed and was diagnosed with two holes in her heart, although  it was initially believed Isabella would need surgery so far we have managed to avoid this. However she is still unable to feed or take anything orally so is fed by gastrostomy.
Just a few weeks after being released from hospital Isabella was rushed into hospital again, this time doctors diagnosed her with epilepsy. the next few years became some what of a blur with the family and Isabella spending most of her life in hospital. Due to Isabella being so weak and not developing normally a simple cough or cold became critical for her and would quickly develop into pneumonia. As well as this her epilepsy was difficult to manage and get under control and she was later very ill and was diagnosed with meningitis.  Isabella has since also been registered as blind and suffers from problems with her  bowels as reflux.
Over the years the family and their friends have raised money so that Isabella could take part in intensive physiotherapy programmes, as a result Isabella has become much stronger and can now sit unaided on the floor for periods of time on her own. She can also roll over and play with basic toys like rattles, all of which has given her a greater quality of life as well as giving us all hope for what she may be able to achieve in the future.
The greatest gift we have however been given is that Isabella is now a very happy girl who smiles and giggles something that as a family we waited years to experience.
Isabella is now eleven years old and as with all eleven years old they growth spurts have started. Unfortunately for Isabella this has brought with it more complications, Isabella's now has scoliosis of her spine which has greatly deteriorated meaning she will need to wear a lyrcra suit 24 hours a day to try and slow it down, she also now needs a specialist moulded wheelchair to prevent pressure sores on her back where it is twisting. The onset of this is that she can no longer fit in our car in her specialist car seat so we have to buy an adapted wheelchair accessible vehicle. It has also made it more crucial that we can provide regular Physio therapy for Isabella to not only keep her strong but to try and assist with her posture and her scoliosis as we want to do all we can to prevent her from having spinal surgery in the future. The equipment Isabella needs is becoming more and more expensive and her Physio therapy is £75 an hour and we try and provide at least one hour a week although we would ideally have two hours a week. When we initially started fundraising for therapy our dream was that one day Isabella would walk however we now know that it's much more important than that, the Physio keep her strong it gives her the strength to fight off infections to cough to clear the mucus  from a simple cold that historically progressed to pneumonia.
Despite the huge progress she has made we still have a long way to go,  we are all committed to giving Isabella the best possible life and want to be able to provide Isabella wth as much therapy and the equipment she needs over the next few years.
Should anything happen which would mean the money could no longer be used for Isabella's benefit then any donations will be given to tree of hope so that they can help other children in need
Donating through JustGiving is simple, fast and totally secure. Your details are safe with JustGiving – they'll never sell them on or send unwanted emails. Once you donate, they'll send your money directly to the charity. So it's the most efficient way to donate – saving time and cutting costs for the charity.