Isabellas Fight with Cystic Fibrosis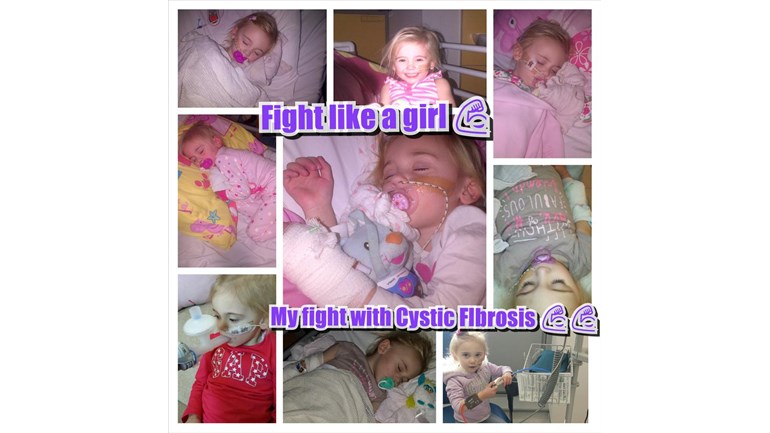 Thanks for taking the time to visit my JustGiving page.
Bella was born on the 15/5/11, I was the happiest mummy alive. Then something I didn't expect happened. When Bella was just 4 weeks old, we found out that she had cystic fibrosis.
Cystic fibrosis is an inherited disease caused by a faulty gene. This gene controls the movement of salt and water in and out of your cells, so the lungs and digestive system become clogged with mucus, making it hard to breathe and digest food. More than two million people in the UK carry the faulty gene – around 1 in 25 of the population.There is currently no cure for CF but many treatments are available to manage it, including physiotherapy, exercise, medication and nutrition.
Each week five babies are born with CF, and two people die.
It was a big shock that our tiny beautiful little baby girl had a lifelong, life threatening disease which there currently is no cure for. I was heartbroken, not knowing what the future would hold for my little girl.
Bella has struggled with gaining weight as part of her CF so all her life we have had to try and encourage her to eat a very high calorie diet which can be very difficult when she has a very small appetite (which most children with cf have) so she needs to have a feeding tube when she gets poorly.

We have to go to hospital every month to have check ups on her weight and also for them to check she has no bugs growing in her lungs. The week after waiting for her cough swab result seems like forever.
Most of the time we have to change her medicines to try kill the bug before it starts ruining her lungs.
She also has had to stay in hospital for a very long horrible 2 weeks, where she needed I.V antibiotics and extra physio. Most people with cf will have many hospital stays throughout their lives.
Every day is a fight to try and keep her as healthy and well as possible, although I cannot stop her getting these horrible bugs that will slowly destroy her lungs, I can try to prevent it by keeping her away from others that are ill and a daily routine of medicines and physio. This is why I am asking for as many people to help as possible to try and help me raise money for a physio vest that will help to clear her lungs of the sticky mucus she produces, therefore preventing bugs growing. 
Even though Bella has cystic fibrosis she is a happy beautiful little girl, she always has a smile on her face. She never complains when she has her medicines all throughout the day which I can tell you taste revolting, or when she has to do her nebuliser or physiotherapy. 
Having a child with cystic fibrosis is an emotional roller coaster, but just means she needs more cuddles when she is poorly and more sweeties and chocolate than everyone else :)
I hope many of you will help Bella by sharing this page and donating money, even the smallest amount will help.


Donating through JustGiving is simple, fast and totally secure. Your details are safe with JustGiving – they'll never sell them on or send unwanted emails. Once you donate, they'll send your money directly to the charity. So it's the most efficient way to donate – saving time and cutting costs for the charity.