Give Indra a Chance to Walk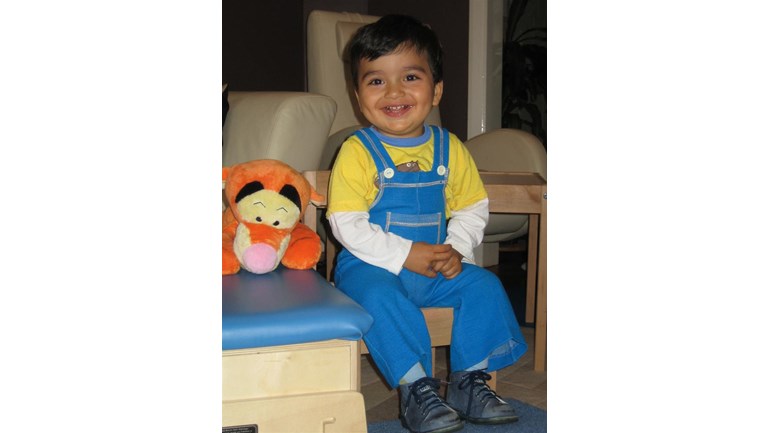 (francais en bas)
NOTE: Please go to http://www.gofundme.com/g7xps?r=77685 to view our overall support to date. We established this site earlier in our fundraising process, and set up the one at JustGiving for U.K. residents. You may sponsor at either site.
Family Fundraising:
On May 20, 2012, I will be running the Richmond Park Trail Marathon in London. It will be my first marathon.
When I hit the inevitable "wall," I hope one inspiration will keep me going -- I am running to help my 4-year old son walk.
Indra suffered brain damage at birth and was diagnosed with Cerebral Palsy early on. Cerebral Palsy is a non-progressive neuromuscular disorder whereby children have difficulties in controlling muscles and movements as they grow and develop. Indra's Cerebral Palsy primarily affects his ability to move like a normal child. At 4 years old Indra can take a few steps using tripods.
In recent years, SDR ("Selective Dorsal Rhizotomy") has emerged as a cutting-edge surgery that can help children with Cerebral Palsy. Dr T.S. Park at St. Louis Children's Hospital in the U.S. has been leading the way in transforming these children's lives. This surgery could give Indra a chance to walk at some point in his life. Surgery and the following 12 months of intense therapy will cost £65,000 (US $100,000; €80,000).
We hope to raise as much sponsorship as possible for Indra's journey of faith, optimism, and bravery.
Thank you.
Damien & Suneeta
--------------------------------------------------
Donner à Indra la chance de marcher
Ce 20 Mai, je courrai le marathon de Richmond Park, à Londres. Ce sera mon premier marathon.
Quand j'atteindrai l'inévitable "mur" aux 30 km, j'espère qu'une motivation m'aidera à continuer – je cours pour aider mon fils Indra à pouvoir marcher seul.Indra souffre d'une condition neuromusculaire appellée Infirmité Motrice Cérébrale (IMC). IMC est un désordre neuromusculaire non-progressif qui affecte entre autre la capacité de se mouvoir. A 4 ans, Indra ne sait pas marcher.
Ces dernieres années, les chirurgiens de l'hopital de St Louis dans le Missouri, USA, ont developpé une procédure chirurgicale révolutionnaire ("Risothomie Dorsale Selective") qui pourrait donner a Indra la chance de marcher. L'intervention ainsi que les 12 mois de ré-éducation coûtent €80,000 (US $100,000).
Nous espèrons recolter autant de fonds que possible en soutient à l'optimisme et au courage d'Indra pendant son long rétablissement.
Merci.
Damien et Suneeta