Independence for Thomas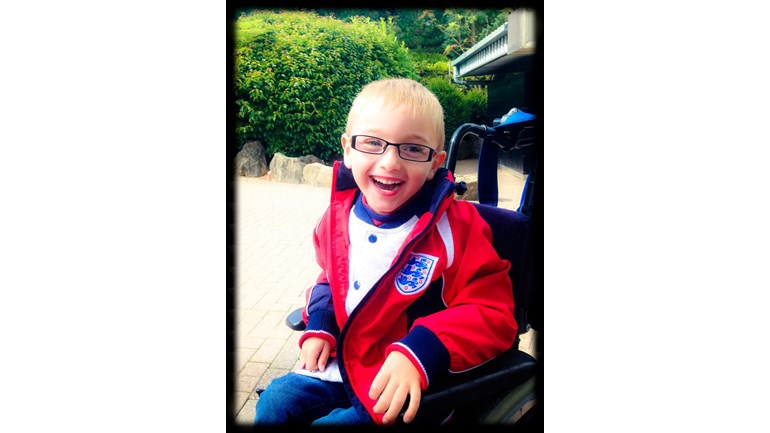 Hi, my name is Thomas and I'm 6
years old. I have Spastic Quadriplegia, which is a form of Cerebral Palsy that affects both my upper and lower limbs. I can't stand or walk, but I have a manual wheelchair, which I'm super fast in. I love watching football, (especially Spurs, who are my favourite team), going to the cinema, swimming and playing with my friends.
My story has already been quite a long and complicated one and my Mum, Mandy definitely tells it better than me.....
Thomas was born prematurely at 32 weeks, weighing 4Ib 2oz. Until this point, I'd had a normal pregnancy with no complications, so it was a complete shock to everyone when he decided to make
such an early appearance.  The first few days of Thomas' life were a wonderful but frightening time. Immediately after being born, he was rushed off to the Neo Natal Unit and placed in an incubator with a CPAP machine to help him breathe. The hardest part was not being able to hold him, something that every new mum waits their whole pregnancy to do. It took a long time for Thomas to put on weight, as he had to be tube fed, but eventually after a very long month in hospital he was finally strong enough to come home!
When Thomas missed his developmental milestones, we suspected that something wasn't right. I remember watching a TV programme about premature babies with a little boy that had Cerebral Palsy
and thinking this was just like Thomas. However both his Paediatrician and Neurologist said that Thomas didn't show any of the characteristics and instead diagnosed him with Global Developmental Delay. This didn't feel right and eventually after almost 18 months of seeing numerous specialists, blood tests, genetic screening and developmental assessments, Thomas was given an MRI scan. This showed there was damage to the white matter on his brain and in April 2011, just after his 2nd Birthday, he was diagnosed by the same Neurologist as having Cerebral Palsy.
The Neurologist said there was no explanation as to why this had happened or what had caused it, but that it had probably occurred during pregnancy. He also said that as Thomas, at the age of 2, had still not sat up independently, that it was unlikely that he would ever
walk.
Since Thomas' diagnosis, so much of his time has been taken up with hospital appointments, physio and occupational therapy, medication, treatments and constant assessment, but he never complains. For a young boy who has had such a challenging start to life, he handles it so well and is always happy, enthusiastic and full of life. He has a wonderful sense of humour, is cheeky and has a killer smile that always makes my heart melt. He lights up a room with his personality and never lets his disability get in the way of him having fun. I am so proud of what Thomas has achieved so far and am excited about the adventures that he still has to come!
Thomas' disability brings many challenges for him. The smallest of day to day tasks that most of us take for granted, such as brushing our teeth or having a bath or shower are extremely difficult for Thomas, neither of which he can currently do independently. I want Thomas to live as full and as independent a life as he possibly can and this means that he needs a home environment that is fully adapted to meet all of his complex needs.
Whilst Thomas has been awarded a Disabled Facilities Grant from our Local Authority to assist with the cost of the works, unfortunately there is significant deficit between the amount awarded and the total costs, which the council are not prepared to fund despite many, many letters of appeal over the last 2 years. I have looked at where cost savings could be made, but as the works are limited to; creating a downstairs bedroom and bathroom, widening doors and creating level access to the garden, there is no way to do this without significantly compromising Thomas' safety, development and future wellbeing. Each day that goes by where Thomas doesn't have a home environment that fully meets his needs, he suffers and the chance for an independent life in the future is jeopardised.
This is where your help, support and generosity are much needed and where the first of our fundraising challenges will start. I will be doing lots of activities in an attempt to raise the money we need to complete these works. Every donation that you make, however small, will help to give Thomas the opportunity to have a bright and
independent future, something that he so rightly deserves.
If you would like to find out more about Thomas and the fundraising challenges that we will be undertaking, please visit Thomas's website
http://www.independenceforthomas.com
Thomas and Mandy x

Thanks for taking the time to visit my JustGiving page.

Donating through JustGiving is simple, fast and totally secure. Your details are safe with JustGiving - they'll never sell them on or send unwanted emails. Once you donate, they'll send your money directly to the charity. So it's the most efficient way to donate - saving time and cutting costs for the charity.
Tree of Hope reserves to use these funds for any purpose
stated in the parents charter, including but not limited to, medical treatment, surgery and therapies and related travel expenses, medical and exercise equipment, childcare, home adaptations and the cost of vehicles designed for the disabled.