Hope 4 Vinay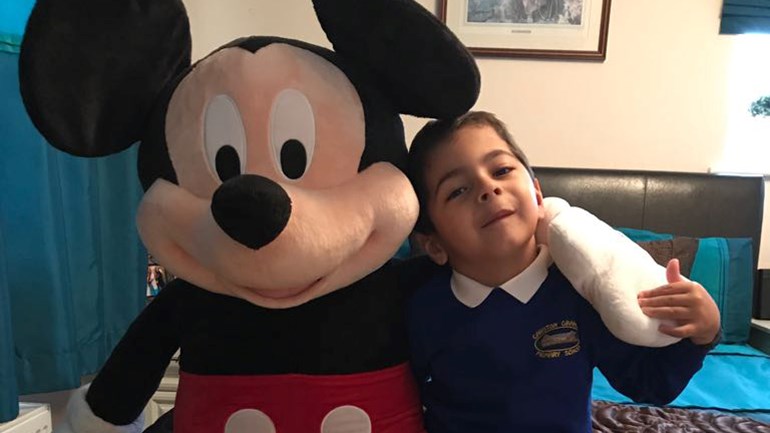 Hello,
My name is Vinay, and I live with my mummy and twin sister. I am 4 years old and I have Cerebral Palsy. I was delivered by emergency c-section 9 weeks early after suffering fetal distress whilst in my mummy's tummy. I weighed 3lb 11oz and they put me in an incubator in intensive care. I was kept in hospital for four weeks. I was eventually diagnosed at 15 months with Cerebral Palsy because I wasn't reaching the normal milestones expected.
I am unable to stand alone and cannot walk without the aid of my walking frame or tripod sticks and I need my wheelchair for longer distances. My condition causes the muscles in my legs to be very tight, which is known as spasticity. I need help from my mummy all the time to move from sitting to standing or transferring to the toilet or bath, which is a real struggle. 
Every day my mummy helps me to exercise to ease the intense tightness and spasticity in my muscles which become tighter as I grow. I have always wished I could run or even walk unaided around the playground or ride on a scooter with my twin sister and friends, instead of being the boy sitting on the side watching with an aching heart.

There is, however, the chance of a life changing operation carried out by Great Ormond Street Hospital, in London – an operation called SDR, Selective Dorsal Rhizotomy. To put this simply, this is an operation done by making a small incision at the lower back and testing the nerves individually by using electrical currents, which then shows which nerves are sending 'faulty' signals from my brain to my muscles to cause the spasticity. The 'faulty' ones are then carefully cut and the spasticity disappears.
If you want to know more about the SDR operation at Great Ormond Street, then please visit this link: http://www.gosh.nhs.uk/medical-information-0/procedures-and-treatments/selective-dorsal-rhizotomy
For me to be able to have this operation the amount we will need to raise is £60,000 to cover the cost of the operation, the ongoing intensive Physiotherapy after the operation and the special gym equipment that I will need to aid my recovery.
I am grateful for any donation, however small it is. Any amount will go towards making my "ONLY WISH" come true.

Thank you so much for your support. I will be forever grateful. Please add gift aid if you are a tax payer.
Bye bye.
Donating through JustGiving is simple, fast and totally secure. Your details are safe with JustGiving - they'll never sell them on or send unwanted emails. Once you donate, they'll send your money directly to the charity, Tree of Hope, which is managing the donations on our behalf. 

7.5% of all donations to Tree of Hope in relation to this appeal will be allocated to the general charitable purposes of Tree of Hope to cover their core operating costs.
If we raise insufficient funds, or surplus funds, then the funds will be used, if appropriate, to fund support for our child's needs in accordance with Tree of Hope's charitable objects.  If in those circumstances we are unable to use all or part of the funds for the benefit of our child in accordance with Tree of Hope's charitable objects, then any funds that cannot be used will be transferred to be used for the general charitable purposes of Tree of Hope.