Hope4mae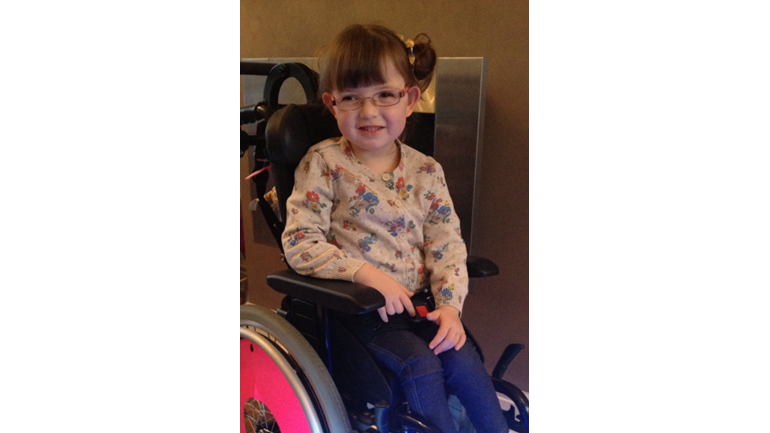 Thank you:
We would like to  say the biggest thank to everyone who has helped us to raise funds for Mae's surgery. Mae's family are now trying to further Mae's fundraising campaign to raise funds to cover another couple of years of Mae's ongoing therapy costs and specialist equipment to help her reach her full potential.
If you would like to organise a fundraising event then please contact Mae's mum on 07572878679.
please see my video at:
http://www.youtube.com/watch?v=Ey7UYyIb7-8
This is where just a few minutes of your time could really help towards changing the rest of Mae's life - Turning dreams into reality!!....please read...
About Mae:
 Mae was born on 10th May 2009, after a complicated delivery. Mae was almost 7 weeks premature weighing just 4Ib 11oz. Mae spent the first few weeks of her life in Doncaster 's Special Care Baby Unit.
Mae's parents recognised problems in her development before they were apparent to professionals. She was then assessed by the paediatric team. She was referred to an ophthalmologist where Mae's parents gave details of her birth history. Mae was diagnosed with delayed visual maturation and a divergent squint. Her Doctor also requested that she should have an Mri scan on her brain just after her 1st birthday.
An Mri scan was performed on 05.07.2010. Results followed showing injury to her brain. Mae was then diagnosed as having Spastic Quadriplegic Cerebral Palsy. So lots of intervention was put into place. Mae attended our local hospital weekly for 2 1/2 years and a specialised nursery weekly too. She had a great start in helping her to reach her potential.
Mae has made fantastic progress and persists to amaze those close to her always with such determination. She tries so hard to work against her condition but no matter how hard she tries she cannot stand or walk independently. Mae has difficulty moving her legs and problems with her posture due to bad signals from her brain to her muscles. In addition, the spasticity (tightness) in her legs cause discomfort, this will worsen as she grows. Mae would love to be able to do the things that most others take for granted. She would love the chance to ride a bike or perhaps a scooter, to bounce on the trampoline with her friends (which she has done in her wheelchair before now), to run into the garden with her brothers whilst her Dad is at work and her Mum prepares food and play/kick a ball instead of having to sit by the door. She would also love to be able to dance to music without the discomfort of burning her knees on the floor. Mae goes through life with her infectious smile (As Great Grandma says '' A smile that lights up the room''). It would be Mae's ultimate dream to stand and walk independently.
Surgery:
Mae has been accepted for a life changing operation called Selective Dorsal Rhizotomy at St Louis children's hospital Missouri by Dr T s Park who has been doing this specialised procedure for more than 25 years and has operated on more than 2,000 children from 43 countries. Dr Park holds a 100% success rate. The surgery will permanently reduce Mae's abnormal muscle tone. Her sitting and standing postures will also improve. As will her balance, endurance and levels of comfort. For all these reasons Mae would be a very good candidate and the operation will help her significantly. Mae will be able to walk with a walker and crutches. It is thought that in time Mae could take some unaided steps for short periods. This really would be a dream come true! It is likely that Mae will require Hamstring surgery to feather her hamstrings which will enable them to stretch much further. For this Mae will need to return to the US.
Hope4MaeFundraising Targets:
The Funds raised will be used for Mae's surgeries and treatment in the US,  Post op Physiotherapy, Flights and Accomodation.
Medical equipment inc crutches, canes and specialist orthotic needs (Knee immobiliser, AFO'S, SMO'S). Mae's orthotic needs are likely to be for a number of years following SDR surgery. In addition Mae will also need Intensive physiotherapy in the UK inc private home visits (£75.00 per hour) and treatment at the Footsteps centre (£6000-£8000 per year). Mae will also require an amount of strength and conditioning to assist her muscle build up.
To further help to ensure that Mae's dreams can become a reality we would love to hear from anyone that would like to fundraise for our cause.
Anything you can give will greatly help in funding Mae's aftercare, and help to give her a better future!
 Mae Louisa Lilly Fox, My Contact: 07572 878 679
Cantley, Doncaster
South Yorkshire 
please see my video at:
http://www.youtube.com/watch?v=Ey7UYyIb7-8
Thank You so much for taking the time to visit my Just Giving page!!
If you would like to email me my email address is:
hope4mae@hotmail.co.uk 
Thank You so much for taking the time to visit my JustGiving page.
Donating through JustGiving is simple, fast and totally secure. Your details are safe with JustGiving – they'll never sell them on or send unwanted emails. Once you donate, they'll send your money directly to the charity. So it's the most efficient way to donate – saving time and cutting costs for the charity.
So please dig deep and donate now.