Hope for Lizzy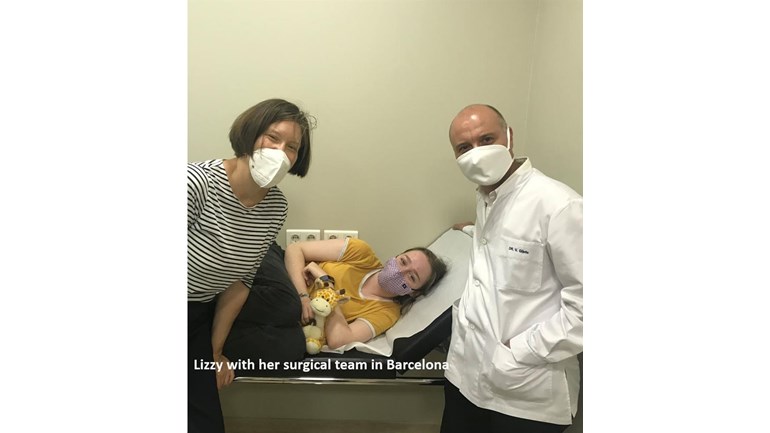 In 2020 Elizabeth underwent 2 spinal operations in Barcelona to correct an instability in her neck and secondly a tethering of her spinal cord.   Both operations were a success,and towards the end of 2020 she was making great progress being able to walk some distance and go out with friends with no sign of the ME/chronic fatigue symptoms she'd lived with since age 13.  However, in a small proportion of individuals, especially those with a connective tissue disorder such as Elizabeth, the spinal cord can re-attach.   When this happens, it creates severe pain and spasming, and difficulty with sensing the bladder.   This has happened for Elizabeth.   As such she is now bed-bound, spending her time lying in the foetal position, and requiring a wheelchair to get to the toilet and 24-hour care.  She bathes in a kid's paddling pool we fill up in her bedroom.


The answer is to un-tether the spinal cord and allow it to move freely and normally in the spinal column.  If you can help, please select the 'Donate to this child' link in the top left.
This cannot be performed in the UK, so again we are taking her to Barcelona and the leading neurological centre there for surgery in early September 2021.   In addition to releasing the spinal cord, the surgeon will also add protection to reduce the chance of a re-tethering in the future.   We are fundraising through Tree of Hope due to their expertise and to enable gift aid to be collected from any UK tax payer.
This again is a big spinal operation for Elizabeth and as such we have initiated another 'Hope for Lizzy' fund-raising campaign to help fund the operation.   The total cost is around £36,000.   Using our savings takes us some of the way to the cost, but we need to raise £20,000 to make up the amount.
We had a brief glimpse of what is possible for Elizabeth and it's been hugely disappointing and frustrating for her to have these problems take away that freedom and normality she was beginning to enjoy.  Any support you can give to help Elizabeth have a more normal life without pain and spasms would be most appreciated.
7.5% of all donations to Tree of Hope in relation to this appeal will be allocated to the general charitable purposes of Tree of Hope to cover our core operating costs.

If we raise insufficient funds, or surplus funds, then the funds will be used, if appropriate, to fund support for our child's needs in accordance with Tree of Hope's charitable objects.  If in those circumstances we are unable to use all or part of the funds for the benefit of our child in accordance with Tree of Hope's charitable objectives, then any funds that cannot be used will be transferred to be used for the general charitable purposes of Tree of Hope.