holly's journey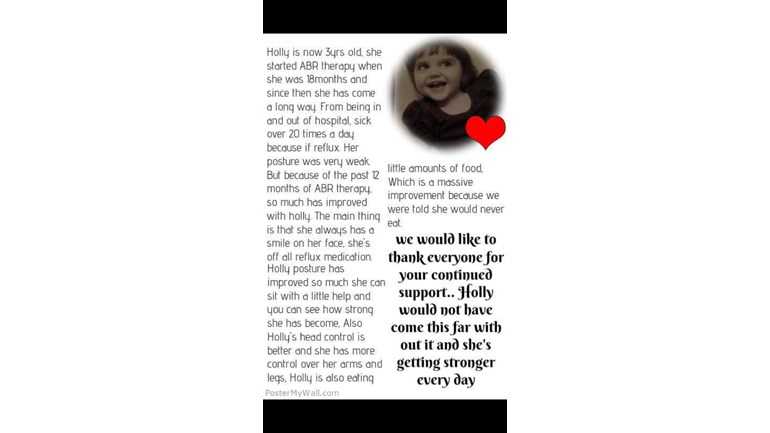 Hi, Holly here, 19th Dec 2011 I was introduced to my mummy, daddy and two brothers. The look on my daddy's face was overwhelming to see that daddy had his little girl. Fours hours for me to decide when to see the real world. A couple of hours had past after undergoing assessments and all seemed ok, I was able to go home.
The excitement was unbearable as I was going to meet my new family waiting for me at home,we arrived with open arms.
Few months had past and mummy and daddy
...
were worried as I choked and going blue when feeding. I struggled to keep my head control and strength up as I wasn't getting the nutrition I needed. 7 months had past for the nhs to realise something was not right with me.
I was sent for a ultrasound, couple of weeks later was referred for a mri scan. Letter had come through asking to see my mummy and daddy in person, to speak about the results.
I was diagnosed with Periventricular leukomalacia(PVL), brain damage to both sides of the brain. Weeks and weeks had gone by, the time I was introduced to the NG tube. I was happy I could have food again even though I couldn't taste it. The NG was very uncomfortable and irritable but had to get on with it. After being in and out of clinics due to me pulling the NG out I had a video fluoroscopy. My results shown I had no co-ordination and strength swallowing, I then knew it was a more of a indefinite need. A further letter for a gastrostomy operation was received. I shown strength and determination as I were only in for three days, after recovery from the op I feel so much better as im not irritated by the tube. Few weeks go by and now want to do the things my brothers are doing. My mind tells me I want to do it but cant physically do it, its getting harder by the day. Even though im undergoing physio, it wont seem to help. This is when I heard about the ABR therapy in scotland.we have been having ABR therapy since june last year and in getting stronger every day. i can now eat little amounts of food and i love chocolate. im off all my medication for reflux and i havent been sick for 5 months.