Just Give Henry a Voice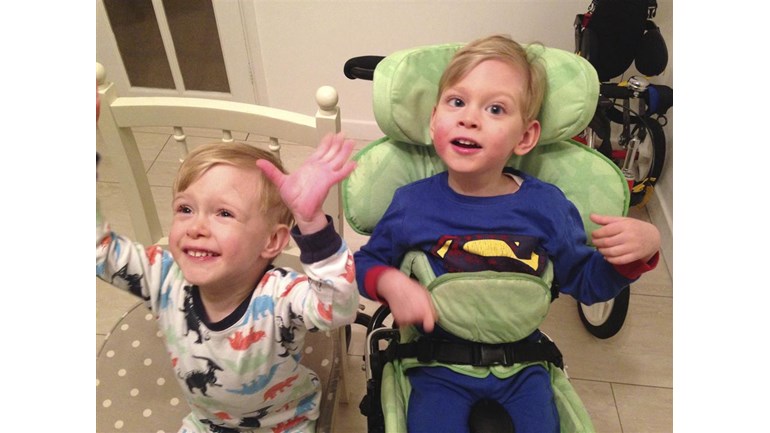 Just Give Henry a Voice
Imagine you woke this morning and had lost the ability to speak or communicate in any way. No matter how hard you tried everyone you saw was completely unable to comprehend what you were trying to say. What do you think you would feel?
Frustration? Despair? Fear?
This was how Henry woke this morning and will continue to wake every morning of his life unless we are able to find a way to give him the gift of communication.
Communication; it is something so fundamental in our lives and it is so easy to take for granted. My dream is to one day be able to talk to my son. And even though the words may not come from his mouth, it will be his voice.
There are a number of communication aids available for children with cerebral palsy. We have recently had a demonstration for a technology which we believe will give Henry an opportunity to develop a form of communication with limitless potential.
Eyegaze Technology tracks eye movements and allows the user to progress from selecting between simple choices all the way up to conversational speech.
It is life changing technology and suffice to say it comes at a significant cost.
To see eye gaze in action please see the following video. It is the best video demonstration I can find on youtube - if anyone can suggest any others please let me know!
https://www.youtube.com/watch?v=PRxHoIhz3VA
For the last year we have been undertaking Advanced Bio-mechanical Rehabilitation (ABR) Therapy with Henry in Scotland. During this time we have seen Henry make some wonderful progress so are hopeful that this will continue to serve him well. The cost is significant and again we must turn to fundraising in order to allow Henry this opportunity.
http://www.abrscotland.com/Pages/default.aspx
Raising a disabled child is about constantly revisiting and reviewing the decisions you have made for your child's treatment, therapy and equipment solutions, and putting them under the spotlight so you can ask the question; is this the best I can be doing for my child?
We want to be realistic about the questions we will ask about Henry's needs over the next few years and are desperate to be in a position that we are able to offer the right support for Henry, whether it is equipment or therapy.
The unfortunate truth is that much of what would revolutionise a disabled child's life is simply beyond what the NHS are willing to provide.  
We are raising funds for Tree of Hope who are a fantastic charity supporting disabled children and their families. 
The funds we raise for Tree of Hope will be used to provide Henry with Eyegaze Technology and allow us to continue ABR for Henry for the next three years. It will also offer us some additional flexibility when we ask that question of the services and equipment we are using in order to provide the best possible care for Henry. We are currently trying to obtain a fit for purpose wheelchair which is so desperately needed.
We humbly ask for any donations or fundraising assistance you feel you would be able to offer Henry. There's no question that our target is a phenomenal sum, which took us aback when considering what was appropriate, but accounting for Eyegaze being in the region of £11,000 depending on model, add ons and software and ABR at £7,000 a year, it is simply the cost of giving Henry the best quality of life we can.
This is a long term fundraiser for which there will be a number of fundraising events. Updates will be posted.
Should we exceed the target amount (or if we do not raise enough funds, or if they cannot be used for any other reason) the funds raised will go to the general funds of Tree of Hope to assist other sick children.
Thank you to Tree of Hope and thank you to you for taking the time to read and for considering supporting Henry!

On behalf of Henry and Jasper; Thank you!
Mark and Andrea.
About Henry
Henry and his identical twin brother Jasper were born in January 2012. They were premature and both extremely poorly in their own ways. Jasper overcame significant difficulties and despite undergoing multiple surgeries, including two open heart surgeries, emerged a strong and capable little boy.
Henry tragically suffered catastrophic brain damage, when he was two days old, in an event it now seems we will never fully understand. He has quadriplegic spastic cerebral palsy meaning that all four limbs are affected. He has almost no voluntary movement and is unable to support himself.
Thankfully the part of his brain which controls cognitive function appears to have been relatively spared by the damage and we know Henry as a really bright and switched on little boy. He loves music, reading time and cartoons! He likes funny noises and silly faces and will burst out laughing over the daftest of things!
Henry has a Facebook Page at:
https://www.facebook.com/pages/Henrys-Page/515395105262811?ref=bookmarks
I also write a blog about being Henry's Dad: