Help Wee Oliver Walk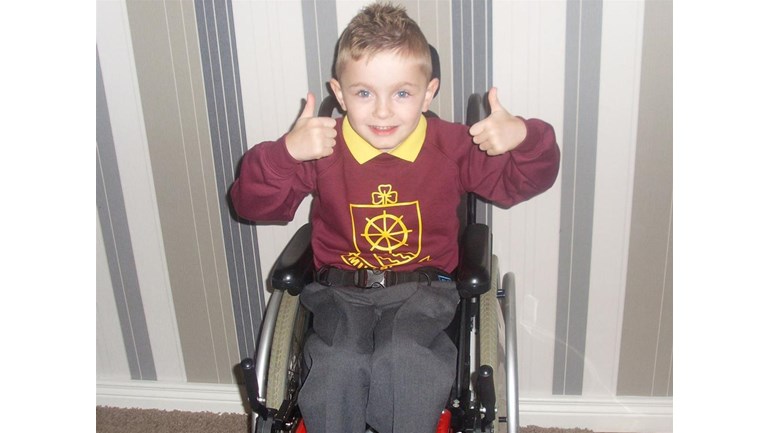 So we're almost 2yrs post op now!! And what a difference. Oliver is working so hard to keep progressing and maintain all the strength he's built up. He's had a lot of growth spurts recently so we are working hard to push through those.. Lots of stretching and trying to maintain the level we are at and down let him slip back any. 
Oliver trains at least 5 days a week, at home, in Core gym with his probate PTs and with his nhs physios. But in order for us to continue with his intensive home programme we need to make some more space at home for all of his bulky gym equipment, including treadmill, total gym, parallel bars, ijoy and differents mats, balls and benches. We have decided the best long term and safest option for us and Oliver is to invest some of his funds in to the purchase of a garden building which we will use soley as his gym/therapy room. 
We look forward to having this installed in time for the summer holidays so we can get stuck into his programme whilst he's off school. 
We won't be returning to Scotland for therapy until Halloween this year so the new space will be really important in ensuring Oliver stays on top form!! This will be our 3rd trip of 2015 to Mike and Charli and each time we come back with lots of new records and achievements!! Long may it continue 💚👣 
*wee Oliver update* 7august*
As most of you know thanks to all of your help and support fundraising, Oliver had his SDR operation in St.Louis on July 1. He also had a second surgery to lengthen both his hamstrings on July 17. Both operations were a success and Oliver is progressing fantastic! 
We purchased some new equipment for Oliver in St.Louis including, 2 new pairs of braces, knee immobilisers, a new Kaye frame and tri pod canes. All of these are key to building him up and getting him on his feet.
We plan to return to St.Louis in around 12-15mths for Oliver's review with Dr Park and Dr. Dobbs. There is also a chance that in the future Oliver may need his heel cords lengthened, so we need to keep aside funds for this surgery if the need arises.
The plan for Oliver now is to get him as strong as we can and to build the muscles that have never been used before. This means for Oliver lots of Physio both NHS and private. And also lots of visits to specialist intensive strengening programmes in Scotland and Wales. The first 12mths will be crucial in his progress and we have to put in as much as possible and as much as he can tolerate so we can get the best possible results from the surgeries! 
He is booked for a 3 day session in Wales at the end of September and a 2 week session in Scotland at the beginning of November. We are considering squeezing in another in Wales before Xmas too.
The cost of maintaining this level of care for Oliver will run between £10,000-£15,000 per year.
As you know we had originally set our target at £60,000. Over £45,000 of this has already been spent on his medical care in the US, his new equipment and associated costs. 
To ensure that we have the funds in place to maintain Oliver's private care for the next 3/4 years and to ensure his review trip back to St.louis, we as a family have decided to up the target from £60,000 to £95,000. This is to give us the security that funds you have already raised for Oliver are available to him whilst he needs them.
We can't thank people enough for the support and kindness they have shown to Oliver over the last 8mths.. We would never have been able to give our son this chance without you all. From the bottom of our hearts, THANK YOU! 
**********************************************************
Meet Oliver Dickey... Our beautiful 5 year old son! 

Oliver was born 6 weeks premature on 16 August 2008, weighing 5lb 6oz. He spent two weeks in the neo-natal unit in Antrim Area Hospital before the doctors decided that he was healthy enough and ready to come home with us to Coleraine... We were over the moon.
The months flew in and our beautiful little baby grew bigger everyday! He developed his own wee personality, had us wrapped around his wee finger! 
But as Oliver approached his 1st birthday we knew something wasn't right... He wasn't reaching the same milestones as other babies his age! He couldn't balance well, he couldn't sit or crawl... 
We contacted our doctor who arranged for Oliver to start some physiotherapy sessions. But we still couldn't see any improvement, so we had him referred to a peadetrician. After meeting with Oliver she arranged for him to have an MRI to see if they could find out what was wrong.
On 9th April 2010 we got a phone call to go to the hospital.
The MRI result showed that our beautiful wee baby had Cerebral Palsy... We were devastated!! 
The Doctor told us that Oliver had a type of cerebral palsy called spastic diplegia... which means that his legs are very tight and he can be in a lot of pain at times.
She told us that this meant that he might not be able not walk, but this was something that couldn't be confirmed until he got older.. It was basically a waiting game!! All we could do was start more physio and give Oliver as much help as we could to get him stronger and hope and pray for the best! 
I was 4mths pregnant with our second son, Max, who came along on 20 September that year.
As time passed Oliver did begin to improve... He started crawling properly and began to pull up on furniture around the house.
But as Max got older it became more obvious to us just how bad Oliver's cerebral palsy was.. Max began walking at 10 mths... Oliver just sat and watched... One day he said to us "look, Max is walking" .
We were broken!! We pushed harder with more physio and hydrotherapy.. We bought equipment for the house to help us with his daily physio routine.
He became more determined once Max started walking and began trying to use a Kaye walker.
When he started nursery he went in everyday in his wheelchair but tried at least once every day to walk a wee bit in his frame across the classroom. But he knew he was different. He would say that the boys and girls could run but he can't! 
Oliver started primary school in September 2013, and I have never seen him so happy. He just loves it. The kids in his class are brilliant with him, they push him around in his chair, they draw him pictures to take home, they never leave him out! 
But once again, Oliver knows he's different. He came home one day  and said "mummy the boys and girls can jump in the puddles but I can't"
We knew we had to do something.. we looked into a surgery called Selective Dorsal Rhizotomy ( SDR) The surgery in simple terms cuts the dead nerve endings away from the spine and allows the ones that do work to perform properly! 
We got all of Oliver's medical information together and applied to St.louis Childrens hospital in America. 
Just before christmas, we got the email from Dr Park to say that he thinks Oliver is an excellent candidate for the surgery. He expects that after surgery Oliver will walk independantely at least in a protected environment. 
This was huge news!!! The thought that one day he could do something simple like walk to the toilet.. Or pick up a toy that he's dropped on the floor! 
So now we need your help!! We need to raise at least £60,000 to pay for Oliver to get to America for his SDR surgery, 12mths of intensive physiotherapy/rehab and any equipment he'll need after it! This will be life changing for Oliver.. And for us as a family!
Please help us if you can.. no matter how small a donation... It all adds up! Please Help Wee Oliver Walk!!!
Should we exceed the target amount ( or if we do not raise enough funds, or if they cannot be used for any other reason) the funds raised will go to the general funds of tree of hope to assist other sick children.