Help Leo To Walk Pain Free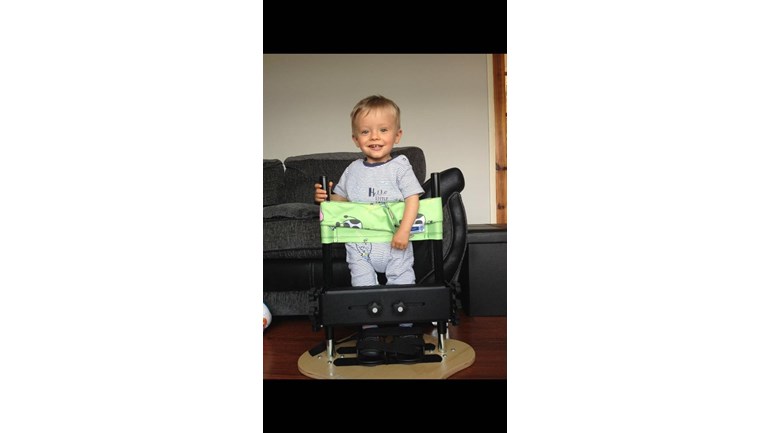 Leo's story and why we are fundraising

Leo our son was born 10 weeks premature by emergency caesarean on the 14th June 2013 and weighing 2.2 pounds. Upon his arrival it was going to be a very long time for us in the special care baby units to help him grow outside the womb,its amazing what they can do even when you see how small, delicate and translucent they are. Unfortunately being so premature it does carry risks and after a CT scan we found out Leo suffered a pre birth haemorrhage in his brain and we couldn't be told what the future would be for our son and only time will tell. Over the coming weeks/months Leo had regular head scans to see how much the haemorrhage had damaged his brain and then we got the prognosis that Leo has Hemiplegia on his left side a form of cerebral palsy and high muscle tone in the affected side. On the plus side 90% hemiplegics do eventually walk but will require a lot of physiotherapy to strengthen his weaker side. Leo is now 2 and has surprised everyone with his progress, early intervention and hard dedication is very important whilst the brain is still developing. Although he's not walking yet he
is a very happy little boy and gets around crawling and bum shuffling in his own cute little way. Intellectually he is like any other child but he is delayed due to his prematurity and will catch up eventually. Leo also has speech delay and is having speech and language therapy.
Unfortunately due to the cuts in our NHS Leo doesn't get enough care he fully deserves that's sufficient for his progress and getting equipment is very expensive and that's why we are fund raising to give our little boy the best possible chance in life to succeed.

What is the money for?

Because of his Hemiplegia he has high muscle tone in his leg and arm and that results in a form of toe poking and closed fist. There is a life changing new pioneering operation that Leo can have called Selective Dorsal Rhizotomy (SDR) Unfortunately the NHS will not fund this and we will have go private. Without this he is going to find it really difficult to be mobile for the rest of his life and we are not going to let that happen. Children just like Leo that has had this surgery go on to live normal independent lives.

How it works

Basically they take two vertebrae from his lower spine and sent electrical pulses down each nerve, once the muscle spasticity is located they just simply cut the nerve and place the vertebrae back in to the body and that releases the high tone. Leo can only have this procedure when he becomes 5 years old due to the risks involved but after the operation he is required to have intensive physiotherapy for about a year to strengthen his leg and affected side

What we need now.
With premature babies and not everybody is the same, Leo is struggling with his speech and requires speech and language therapy, again the NHS cuts only give us 1 hour a month if we are lucky and that just doesn't cut it. So again the private sector is our only option.

The SDR operation and the intensive physiotherapy does cost a large amount of money and without your donation it would take us way past Leos 5th birthday and in reality it might never happen due to the costs, so our goal is to get the funds well before then.
Our contribution to help us raise Leo's funds

In May 2016 I am going to complete The Great outdoors Challenge (TGO) for the secondtime, first time was in 2006 with my dad but this time its with my brother and brother in law. I am hopefully going to raise a substantial amount of money with your help for my son and help provide him with more physio and equipment he will need as he starts new challenges in his early life.

As a Challenger, I will start my hike by signing out from one of around a dozen locations on the west coast, strung between Torridon in the north and Ardrishaig in the south and my journey will end when I reach the eastern seaboard between Fraserburgh and Arbroath. This isn't for the faint hearted the Scottish highlands have some of the most challenging terrain,mountains and weather in Europe and I will be Walking from west to east, coast to
coast, self supported and carrying a full Backpack, Food, Tent etc covering 225 miles in 13 days and scouring the Munro's along our route. My Dad is 70 and this will be his last one, so I feel this is our only chance to do this for my Son and his grand child.

Thanks and we really appreciate all your help and donation. Anything you give will definitely help Leo to walk and provide a better life for him.
www.facebook.com/helpleotowalk

Let's try and reach our target.

Mum, Dad, Jake and Leo
Donate from your smart phone text
LEOL50
£££
70070

Thanks for taking the time to visit my JustGiving page.
Donating through JustGiving is simple, fast and totally secure. Your details are safe with JustGiving - they'll never sell them on or send unwanted emails. Once you donate, they'll send your money directly to the charity. So it's the most efficient way to donate - saving time and cutting costs for the charity.