Help Jamie Stay On His Feet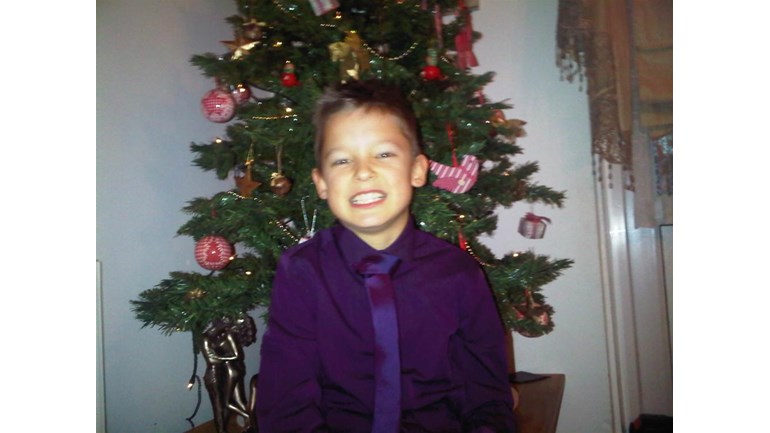 Thanks for taking the time to visit my JustGiving page.
Hi there! My names Jamie (also known as 'speedy' or 'smiler') i am 10 years old and have a condition called cerebral palsy. I was born 10 weeks prematurely and at somepoint during birth suffered a bleed to my brain.

2 and a half years ago my life was very different from what it is now. i was unable to stand or walk unaided. i couldnt sit crosslegged on the floor with my friends at school or keep up with them in the playground. i used a walking frame but was struggling to use it for distances and was becoming increasingly reliant on my wheelchair which i HATED!! To top it all off i was in discomfort everyday of my life from the tightness (spacticity) in my body. i was told by the hospital the limited mobility i had would decrease as my body got bigger, heavier and tighter and i would be completely wheelchair bound. My future was a pretty bleak place. THEN my family heard of this pioneering surgery called selective dorsal rhizotomy (SDR) without going into too much detail it involves opening the spine, testing the nerves using electrodes and then severing the faulty nerves which reduces the spacticity in the body, amazing!  (if however you would like a more detailed explanation please click the link below)

http://www.nbt.nhs.uk/our-services/a-z-services/neurosurgery/selective-dorsal-rhizotomy/what-selective-dorsal-rhizotomy-sd
My family started a fundraising campaign called 'Help Jamie to find his feet' When we started fundraising the surgery wasnt available in this country but was in the States with a very talented surgeon called Dr Park. However during the course of the fundraising another talented surgeon, Dr Aquilina who had trained with Dr Park began performing the surgery over here. After alot of conflicting emotions my family met with Dr Aquilina and decided to proceed with having the surgery performed over here with Dr Aquilina (privately paid for as the NHS rejected our application for funding)

On the 8th of november 2011, 4 days after my  8th birthday i underwent the surgery. My first words spoken in icu were 'my legs feel loose!' my mum kept peeking under the covers and smiling at a sight she had never seen on me before, flat feet!! the first week was rough. The meds made me violently sick, i was unable to move properly, had a catheter (boys im sure you empathise with me there!) and was in pain from the surgery. However as the days progressed so did i and was soon able to go for trips around the ward in my wheelchair, to the school there and to see my friend will who was post SDR. Out of my wheelchair was another matter. The tone was what had kept me upright before, without it i was like a jelly! the team worked hard with me though and i fought through the pain and tiredness and with alot of physio was soon able to start taking steps in my frame.

3 weeks later (earlier than initially expected) i was able to go home and then the hard work really did begin!! daily physio, gaitors on overnight, stretches, stretches and MORE stretches! But my hard work and determination started to pay off. i started being able to balance, ON MY OWN, take steps ON MY OWN, progressed from walker to tripod sticks to elbow crutches for walking. i could finally join my mates at carpet time on the floor CROSS LEGGED and eventually acccomplished my ultimate pre surgery goal of not only owning my very own scooter but being able to ride it too, gooo me!
However some tightness still remained and it was hindering my progress. I required some tendon release. All the health professionals who worked with me all agreed this was necessary however the team at Bristol were a little aprehensive and wanted to explore alternative routes first (serial casting, which made me MISERABLE, increased gaitor wear, which only temporarily helped) i was also going to be the first post SDR child to have had the muscle release done over here and unlike the sdr which was performed identically to Dr Parks perfected technique the technique used over here for muscle release involves severeing the muscles with a risk of overlengthening as opposed to the States where they use a less invasive method that feathers the muscle and has no requirements for post operative casts. We met with the surgeon over here and my family were left with alot of concern and worry that i was not going to be in the very best possible hands and so the decision was made that the last of the fundraised money (money set aside for my therapies) would be used to fly me to the States to St Louis to have the surgery performed by their renowned orthapedic surgeon who performs the percs (muscle release) on the post SDR children operated on by Dr Parks. We flew out and on the 3rd of April i had my percs surgery. It was a complete success (although i suffered terribly with sickness!) and after just 1 overnight stay i returned back to the apartment we were staying in, returning to the hospital for checks and daily physio treatment. After a week we flew home.
Although a success the surgery had weakened me which was really frustrating for me. I battled through again though and now, nearly a year post op am even able to WALK to school on my crutches and am even trying to use hiking poles to eventually replace the crutches!
However my new found happiness and mobility CANNOT be taken for granted!! with every growth spurt i have i tighten and weaken. My family do the best they can for me but are not trained professionals. i still require alot of support from specialists and equipment such as specialised splints all of which isnt available on the NHS. These items and therapy are all extremally costly and so my family are fundraising again to get me what i need to keep mobile, something which people take for granted.
So PLEASE PLEASE HELP ME TO STAY ON MY FEET!!! i want to keep riding my scooter and running about with my mates at school. ive worked so hard to get where i am today PLEASE help me to continue to progress. Every little helps and myself and my family are so grateful for all your donatiuons and support.
THANK YOU

love Jamie (aka speedy!)
Donating through JustGiving is simple, fast and totally secure. Yuor details are safe with JustGiving - they'll never sell them on or send unwanted emails. Once you donate, they'll send your money directly to the charity. So its the most efficiant way to donate - saving time and cutting costs for the charity.