Helping Ava Hall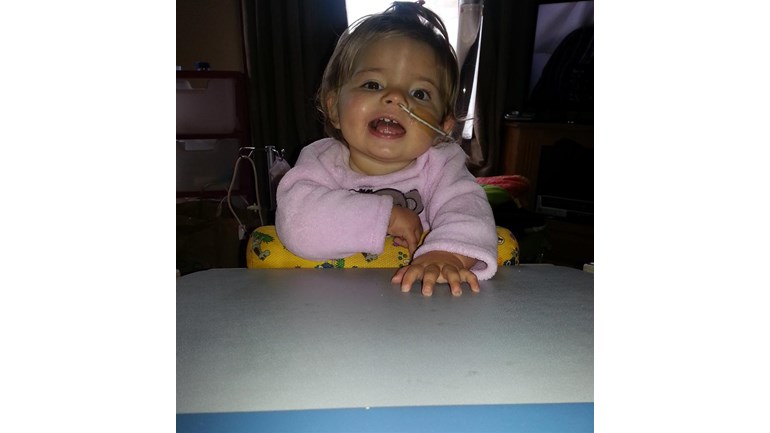 Our beautiful Ava was born on 3rd July 2012 weighing in at a healthy 8lb 3oz. She was just perfect! She fed well, if a little demanding but was thriving. She was doted on by her big brother James and sister Keira. She slept well from day 1...but little did we know this was the first sign's of her difficulties.
She gave us her first beautiful smile at 6 weeks old, giggled at 12 weeks and managed to roll over at 16 weeks....everything was as we expected!
However at 17 weeks old she started smiling less, had stopped giggling and was making uncoordinated movements particularly in her arms. She stopped looking at things and gave no response to noise around her....even the noise that her sister and brother created! She was proccupied and we felt she was in her own little world.
It was a fight to get any professionals to believe us when expressing our concern's about Ava. It took 3 months for her to be referred to the paediatrics..who as soon they met her knew there was something seriously wrong with her, but were unable to tell us what. She had to undergo so many tests and procedures that no baby should have to endure.
During the period of investigations it was apparent that Ava was regressing in her development to the point of losing her beautiful smile which was heartbreaking for all of us. Also during this time she started displaying odd movements which involved her lunging forward and her eyes would go up into her head. By May 2013 she was having these episodes 24 hours a day, often resulting in her waking up screaming and us not being able to do anything to comfort her.
From her EEG we were told the devastating news that she had West Syndrome also known as infantile spasms (epileptic seizures) and she needed treatment straight away. So within 36 hours she was placed on a combination of medications in the hope to get the seizures under control. These medications came with their side effects which resulted in Ava being hospitalised due to her not being awake enough to eat and drink. Furthermore she was finding it more and more difficult to chew and swallow her food which was a result of her continous seizure activity. She needed to have a nasogastric tube inserted to ensure she was getting the nutrients she needed as she was loosing weight rapidly.
Her MRI scan highlighted she had a brain injury called Periventricular Leukomalacia (PVL). It is unclear how this will effect Ava and it is a wait and see prognosis.
We have since found out that Ava's eye's and ears function, however due to her conditions she is unlikely to be processing what she see's and hear's, which for us as a family has been devastating. At 19 months old Ava has very low muscle tone which stops her from sitting up and has variable head control.
Sadly Ava has treatment resistant West Syndrome and her consultant is tirelessly trying to find the right combination of medications for Ava as she is still continuing to have seizures on a daily basis.
After extensive research we came accross a charity called Snowdrop who have given us hope and inspiration in helping Ava reach her milestones. 
http://www.snowdrop.cc/
None of us know what Ava's future will be and how deiliberating her condition will be long term. However we want to do the best for her and this comes at a cost and we hope with the help of Tree of Hope we can raise enough funds to access the treatment she deserves and access specialised equipment which is not available through our local statutory services.
The funds raised will go to Tree of Hope to assist other sick children if we exceed the target amount or if we do not raise enough funds, or if they cannot be used for any other reason.