Help Harry walk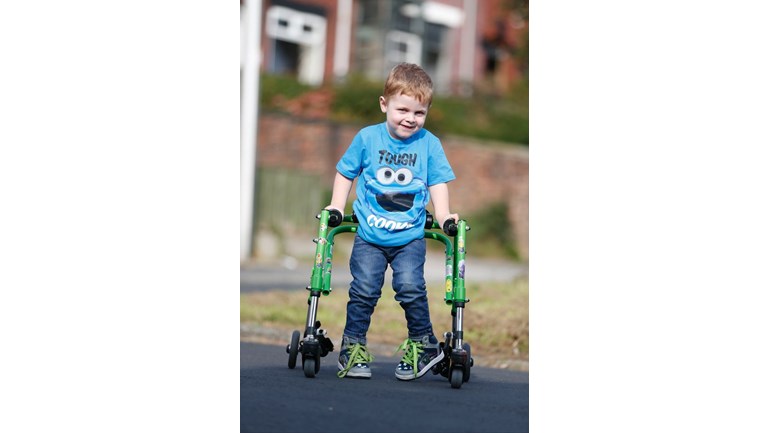 Harry was born at 37 weeks it was a straight forward birth and every thing seemed fine until we began to realise he wasn't meeting the milestones that most babies do. At 12 months he could not yet sit up so we were referred to a paediatrician. When he was 18 months he was diagnosed with diplegic cerebral palsy.
Harry is a very happy and cheeky 3 year old boy who tries so hard in everything he does. He longs to join in and play with his sister Amy who is 4 and very protective of her little brother.  He can not walk, run or jump on the trampoline like his sister .When we told Amy Harry might be having an operation to help his poorly legs as she calls them she said 'so does that mean he will be able to go on the slide.'  They love to go to the park but Harry wants to be able to do things on his own and not have Mummy or Daddy carry him around. He really enjoys  going to nursery to play with his friends but it's not the same in his wheelchair.
As a parent you want your child to achieve the best they possibly can, for Harry to do this there is an operation collect Selective Dorsal Rhizotomy (SDR). We have been very fortunate to have been told Harry can have the surgery done on the NHS which is very rare however we will need to fund some physiotherapy and any equipment he will need to get the best out of the surgery. The surgery will reduce the stiffness in Harry's legs which is causing him all the problems and which will hopefully able him to walk. 
We hope to raise £20,000 for tree of hope to enable us to pay for all the physiotherapy and equipment needed pre and post surgery.
Should we exceed the target amount (or if we do not raise enough funds, or if they cannot be used for any other reason) the funds raised will go to the general funds of Tree of Hope to assist other sick children.