Help Elias Walk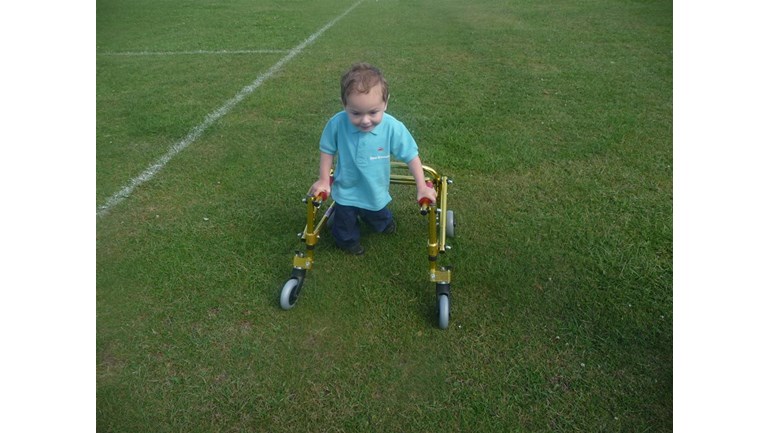 *********************************UPDATE*********************************
We have increased the target amount to £23k as Elias needs another surgery to flatten his feet.  It has been confirmed that it won't be fully funded by the NHS. 

Elias is a courageous and charismatic 5 year old who has cerebral palsy. This affects him in his right leg and as a result he has difficulty walking, for example, Elias tires easily, is unable to walk flat footed and has issues with balance, general movement and fine motor control.

Elias only learnt to walk a year ago. Sadly Elias is still unable to walk flat footed. We have been advised by Elias' surgeon Mr Chell that Elias would benefit from undergoing a surgery to lengthen the tendons in his legs. This will enable him to walk with a flat foot. Elias will need extensive physiotherapy in order for the operation to be a success. Elias will need physiotherapy two times per week for 18 months, with the total cost being £10,000. Unfortunately, it has been confirmed that this will not be fully funded by the NHS.
We have increased the target amount as the nhs withdrew funding for Elias's operation, so we now need to raise for both the operation and the aftercare.  Thanks to everyone who has supported so far and those who will in the future.
My name is Elias. Thank you for visiting my page. I was born 2 months early on the 2nd of december 2010 weighing in at 4lb 13oz. I started fighting from the beginning and showed everyone just how special I am. I spent a couple of weeks in scbu before being released home.
I continued to grow into a happy and alert baby and progressed through most of my milestones,but mummy noticed my physical development was behind. The doctors thought I just needed to catch up because I was premature. At one year old mummy mentioned her concerns to my health visitor who referred me to a physio.
In time I saw my physio who told us I have increased tone in my legs. For me this means stiffness and thats the reason I was struggling to sit up or crawl. I then saw a consultant who suggested the cause to be cerebral palsy.
I am a very happy little boy who tries very hard! I loves many things including Dinosaurs,LIghtening Mcqueen from cars,trucks,trains actually anything with wheels will do. I like playing outside,painting, drawing,horse riding and swimming.
I have to go in my walker everyday,mummy stretches my muscles,I wear my gaitors and take medication to stop any pain and try to keep my muscles relaxed and at the normal length. This is lots for one little boy.
I am now 2 and  half and cant stand or walk unaided. I have a gold kaye walker which I like because it helps me get around but most of all I want to be able to stand,walk and run like my friends. One day I may even kick a football and get to run after it myself!
I have been funded an operation called Selective Dorsal Rhizotomy it involves cutting some nerves in my spine that are holding the spasticity (tightness) ,meaning my legs will be more relaxed helping me use them properly. This will be life changing for me, as I will not require as many surgeries and as much medication throughout my life. As it takes away some of my spasticity I should be able to take some unaided steps. Please help me Raise 15K to provide me with the best aftercare and equipment to aid my recovery.  Without the physio the operation would not be as succesful.
Should we exceed the target amount (or if we dont raise enough funds,or if they cannot be used for any other reason) the funds raised will go to the general funds of Tree of Hope to assist other sick children.
I will work very hard and wont let you down!