Help Aaron learn to eat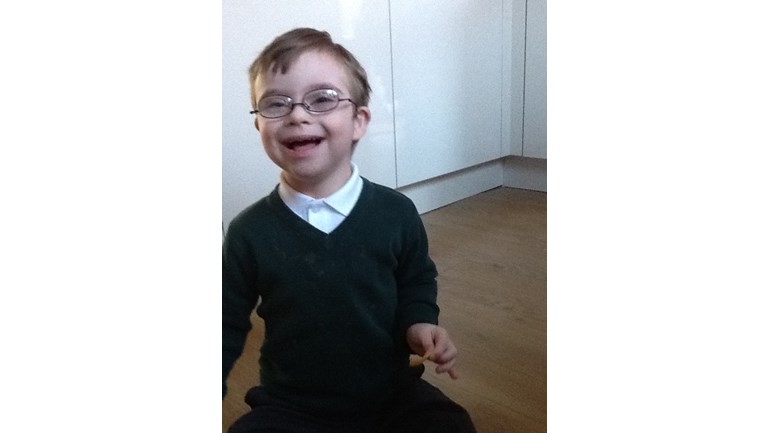 It's not easy or quick to write Aaron's story. He's been through so much in his short life and sharing such personal things doesn't come easily to me. I apologise in advance for how long his story is and can only hope that if you choose to read it that I can explain sufficiently what we think are the main reasons for his oral aversion to eating and why we are seeking your help. Here goes...... 

We are hoping to raise the money needed to take our son to the No Tube Clinic in Austria. This clinic specialises in medically supported hunger based weaning to help children eat again when there is no longer a medical reason for them to still have a feeding tube.

Our son Aaron is 4 and has Down Syndrome. He was diagnosed with a complete AVSD (very large hole in his heart) during the pregnancy. From birth he had difficulty feeding and had a Naso gastric feeding tube placed almost immediately. He was extremely tired and couldn't take enough milk to gain the weight he needed to survive his open heart surgery, which he needed asap.

Unfortunately he developed severe acid reflux too at around four weeks old, which made him vomit 8-10 times a day. By 10 weeks old he had rejected his milk bottle completely and had developed a severe oral aversion.

He had his open heart surgery at 4 months old which was successful, but one week after coming home he had an acute respiratory failure and was admitted to hospital intensive care on a ventilator again. He was lucky to survive it he was so poorly. He had two more respiratory failures after that and each time he was intubated by ventilator in intensive care. These intubations and the continuous vomiting increased his oral aversion to the point that he wouldn't even put his own fingers in his mouth.

Eventually, at 8 months old he had a Nissen fundoplication stomach tightening surgery to try and stop his constant vomiting and he also had a gastrostomy feeding button placed directly into his stomach. He was then diagnosed with oxygen de-saturation at night so was prescribed night time oxygen. He continued to be vulnerable to chest infections.

We worked really hard with speech and language therapy help to try to desensitise Aaron's mouth and face area, but he was still terrified of anything near his mouth and although it was a slow process, we were making progress, although he was still fully tube fed.

Unfortunately, due to a respiratory virus, he had another severe respiratory failure at 16 months old. He was in intensive care intubated on a ventilator again and unfortunately developed further complications after a week. He needed emergency surgery to save his life. He had developed a bowel blockage which had perforated. He had half his large intestine removed and was given a temporary iliostomy bag. Unfortunately, he didn't get better. One week later he had further surgery to drain 2 abscesses that had developed after the surgery on his bowel. He spent 4 weeks intubated on a ventilator in intensive care and was very poorly. We feel very blessed that we didn't lose him. We spent around 3 months in hospital whilst he recovered from this episode. The iliostomy was reversed finally and luckily he had no further complications from his bowel reconnection.

All of this took a huge toll on his oral aversion and we knew we were in for the long haul from a feeding point of view. He has continued to be vulnerable to respiratory infections and has ocassional partial bowel obstructions due to abdominal scar tissue, but has made huge progress with his health in the last year. He came off oxygen last year and we now use inhalers and prophylactic antibiotics to help prevent chest infections from affecting him as severely as before. He is stable enough for us to start thinking about how to get him eating and off the tube feeds.

We are now at a stage where there is no medical need for Aaron to have a feeding tube, but he continues to refuse food. We have tried everything that has been advised to us by the professionals involved in his care. The resulting lack of success has led us to research this extensively and we have found lots of evidence that a medically supported intense hunger wean could help Aaron. This is not available here in this country. We have done an initial assessment with a specialist clinic called No Tube, who are dedicated to helping children like Aaron and they have said that they think they can help him and will accept him at one of their feeding schools.

We want to take him to the No Tube clinic in Austria for a feeding school in May 2016. We feel this is our last hope to try and help him eat and are desperate to try everything we can. This is why we are asking for your help to raise the money we need to go. The cost of the treatment is 8320 euros plus flights and accomodation. We estimate this to be around £8000.

Despite everything that Aaron has been through, he is an amazing, friendly and happy child who is a joy to be with and we think he deserves a chance to experience the pleasure of eating like anyone else.

Many thanks for taking the time to read Aaron's story,

Kev, Hayley and Aaron Ward

Thanks for taking the time to visit my JustGiving page.
Tree of Hope reserves to use these funds for any purpose stated in the parents charter, including but not limited to, medical treatment, surgery and therapies and related travel expenses, medical and exercise equipment, childcare, home adaptations and the cost of vehicles designed for the disabled.

Donating through JustGiving is simple, fast and totally secure. Your details are safe with JustGiving - they'll never sell them on or send unwanted emails. Once you donate, they'll send your money directly to the charity. So it's the most efficient way to donate - saving time and cutting costs for the charity.