Help Robin learn to eat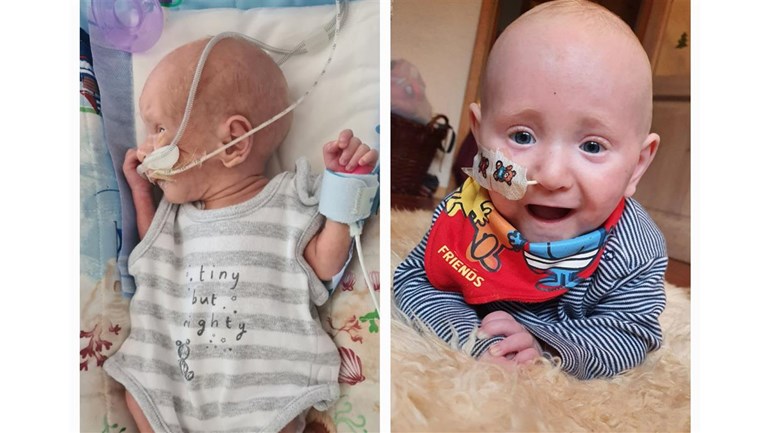 Hello! I'm Robin. Me and my twin brother Oscar were born in May 2021 at 30 weeks gestation and we were both really tiny! I only weighed 830g at birth - less than a bag of sugar. Because of this, I spent the first 10 weeks of my life in hospital where the doctors and nurses helped me to grow and breathe on my own.
Because I was so little, I had to be fed through a tube in my nose, which was really good for me back then as it helped me gain weight. When I came home from hospital, we thought I would wean off the tube and start breastfeeding like my brother. But it just never happened...! 
Now I'm 9 months old and I'm doing very well! I particularly like it when my parents sing songs to me or I get to play with my brother. Unfortunately, I still have my feeding tube however, and haven't learned how to eat or drink normally. In fact, I hate bottles and I don't like solids much either. Even though I have worked really hard with my doctors, speech and language therapist and dietician, I haven't been able to wean off the tube successfully. The tube has now become a big part of my life, but it also causes lots of issues: it makes me retch, gag and vomit a lot, it restricts my movement and the activities I'm able to do, and having it replaced or even just retaped is really stressful and traumatic for me. When I (or my brother) pull out the tube in the middle of the night, we have to take a trip to A&E to have it repassed so I don't get too hungry. Becoming tube free would really improve my quality of life! 
This is why my parents want to take part in the Netcoaching program from Notube (www.notube.com). Notube is a nonprofit organisation based in Austria that specialises in eating disorders and weaning children off their feeding tubes. It is led by an expert team of pediatricians, child psychologists and feeding therapists. Through its innovative virtual netcoaching program, it has helped hundreds of children from around the world wean off their tube with a 90% success rate. 
This is where we need you: We need you to help us raise the funds necessary to sign up to the program. We are raising funds through Tree of Hope, a children's charity that supports families to fundraise for medical treatments not available through the UK health care system. We would be so grateful for your support in helping to improve Robin's quality of life by learning how to eat normally! Please note, if you're donating from abroad, you need to select "Pound" as your currency. Then you can use your credit card or Paypal to donate. Thank you so much!!! Xxx 
7.5% of all donations to Tree of Hope in relation to this appeal will be allocated to the general charitable purposes of Tree of Hope to cover our core operating costs.
If we raise insufficient funds, or surplus funds, then the funds will be used, if appropriate, to fund support for our child's needs in accordance with Tree of Hope's charitable objects.  If in those circumstances we are unable to use all or part of the funds for the benefit of our child in accordance with Tree of Hope's charitable objectives, then any funds that cannot be used will be transferred to be used for the general charitable purposes of Tree of Hope.