Help for Sebastian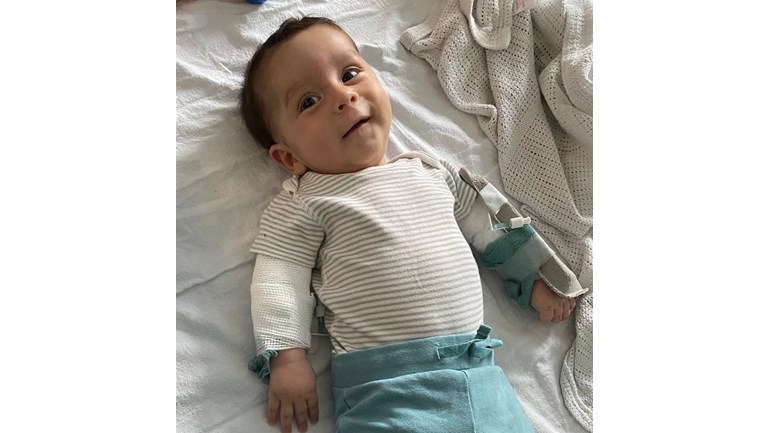 Hi All,
Welcome to our fundraising page for our son Sebastian.
We have established this page to raise money in order to provide Sebastian the care that he needs and allow him to develop to his best potential despite having Spinal Muscular Atrophy type 1.
Here is our story:
We are Dharmisha & Kuba. We met in 2010, got married in 2017 and in 2021 our amazing son was born. Everything was going well. We were ticking things off the WonderWeeks app however, there were always a few things "You can roll from your back to stomach…", "you shake a rattle"… Sebastian just didn't do those things. But when the health visitors came to see us, they didn't find anything alarming, saying we just needed to give him time.
But something became more obvious when Sebastian started to attend baby groups. Why were these other babies moving more and more each week and hitting milestones and Sebastian was not? Asking yourself such questions, you immediately hear the voice in your head: "Don't compare, he's on his own timeline, give him time". But something just did not seem to be right.
At the 13 week appointment, a health visitor noted that Seb, whilst he was still gaining weight, had dropped two percentiles on the weight chart. She didn't think this was alarming, but because of this in combination with his delayed milestones we decided to see a paediatrician to give us peace of mind more than anything.
Little did we know, we, as a family were beginning our journey to obtaining a life changing diagnosis with this first paediatric visit. He had written "hypotonia – bright faces" on the referral letter to the neonatal specialist.  After several appointments and many tests Sebastian was diagnosed with type 1 Spinal Muscular Atrophy.
As humans we are born with two genes responsible for producing a protein which enables us to move our muscles, these are called Survival Motor Neuron 1 (SMN1) & Survival Motor Neuron 2 (SMN2). We are supposed to have 2 copies of SMN1 which is responsible for producing a majority of this protein. Sebastian was born without any copies of SMN1. 
Sebastian was diagnosed with Spinal Muscular Atrophy Type 1 on the 10th June 2021. A condition with a life expectancy of 2 years. Without treatment Sebastian would deteriorate, overtime losing his ability to swallow, to eat, to breathe and the little movement he had managed to gain. It is no exaggeration to state our worlds had crumbled, we, our family were truly devastated. Never in our lives had we experienced heartbreak like this until this day. As a parent all you hope for is the best for your children and at this point all we hoped for is our baby Sebastian to survive.
After being seen by Great Ormond Street Hospital other things became apparent. Sebastian had stopped moving his legs and he was breathing into his belly. He would also tire during bottle feeding. He was fatiguing and these were all signs of deterioration, the SMA had been progressing gradually in front of our eyes and there is nothing you (as a parent) can do to stop it.
Fortunately for us, the NHS had just approved a disease altering drug called zolgensma, the most expensive drug in the world at the time. This gene therapy attempts to replace the missing protein through a one-off intravenous drip. The timing was uncanny, this drug had only been approved 4 weeks before Seb was diagnosed. We didn't know whether Sebastian would be eligible for it.
After several phonecalls and emails and just generally making as much noise as possible Sebastian was invited to Evelina hospital for vigorous testing to ensure that he was well enough to receive the drug. To add to the drama Sebastian's liver enzymes were high, we therefore had to go in again to obtain a liver ultrasound. After the constant nail-biting between tests and results Sebastian was given the all clear. He would receive zolgensma the following week.
On the 30th June 2021 we had to listen to a doctor tell us all the risks that come with zolgensma. Liver failure, heart failure, low platelets amongst other things including that this might not work. We then had to sign a form with this all stated so they could proceed. We appreciate that this was all routine, but nothing in our lives could have prepared us for this reality. And we didn't have any choice, this was Sebastian's best shot at gaining movement and more importantly, staying alive.
Sebastian was hooked up to a machine which administered this drug and it took just over an hour. Then it was over. Seb's liver enzymes kept climbing which led to us staying for a little longer.
So what now? Every day Sebastian must do physiotherapy and hydrotherapy to gain as much movement and mobility as possible. A doctor once described zolgensma as a protein transplant, Sebastian can have the protein but he has to move to make use of it ('zolgensma without physiotherapy is like machine gun without bullets').  Whilst we were hoping that the NHS would be able to support us with physiotherapy we have found that they struggle with the lack of experience and resources, SMA is a very rare disease. Hydrotherapy pools across the country have been closed over the years, meaning we have to travel around an hour one way to use our "local" hospice hydropool. All of these things have a cost but we will do anything to get Seb wherever he is going. That's why we've set this page up.
Despite the fact that all of Sebastian's Great Ormond Street Hospital specialists and local care advocate for him and other children to receive the RSV immunisation, NHS England has refused to fund Sebastian's immunisation. We already had to cover the costs of 4 doses for 2021 winter season on our own (£5220 / £1305 per dose) with further 6/7 doses required during the 2022 winter season. We are trying to raise money for the outgoings to maintain his health: equipment he needs, wheelchairs, housing adjustments, physiotherapy and hydrotherapy.
We will be incredibly grateful to anyone who would like to support Sebastian.
All the money we raise will be held by the charity Tree of Hope with additional benefit of gift aid (please tick the box when donating, Gift Aid is a government scheme for UK charities to reclaim the tax you have paid and gain 25% more at no cost or hassle to you).  They will then pay the hospital and physiotherapy centres on our behalf.  
Many thanks Dharmisha, Kuba & Sebastian
7.5% of all donations to Tree of Hope in relation to this appeal will be allocated to the general charitable purposes of Tree of Hope to cover our core operating costs. If we raise insufficient funds, or surplus funds, then the funds will be used, if appropriate, to fund support for our child's needs in accordance with Tree of Hope's charitable objects.  If in those circumstances we are unable to use all or part of the funds for the benefit of our child in accordance with Tree of Hope's charitable objects, then any funds that cannot be used will be transferred to be used for the general charitable purposes of Tree of Hope.