Helmet for Hugo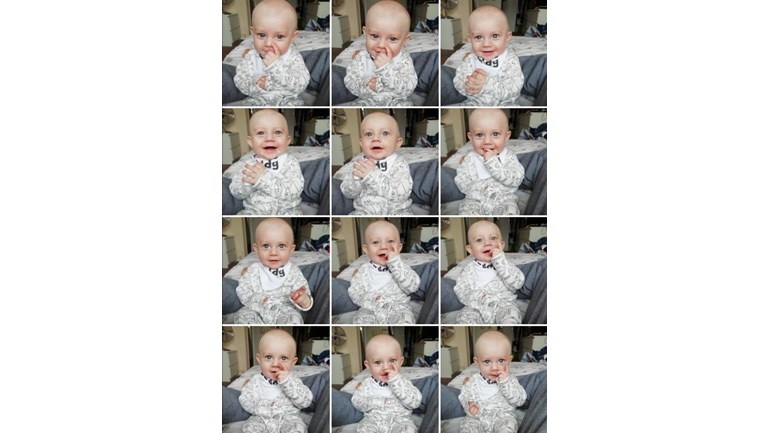 Hi, my name is Hanna and I am Hugo's mum. 
My baby is a curious and hilarious little man. He often acts as if he understood everything we say
and gives us perfectly timed 'looks' that speak more than words and make everyone laugh. He either babbles joyfully or roars like a wild animal straight from the jungle, running around in his walker, bumping into things and stealing clothes from the drying rack!
It is an absolute pleasure to watch him grow, however, there is one thing that kept me worried
throughout the past 6 months. His head. It is severely flattened on one side. It looks a bit as if
someone squished it diagonally and now his ears are misaligned, right side of his face is more
prominent than left and round the back there is a flat area on the right side. This condition is
called plagiocephaly. I've noticed it when Hugo turned 4 weeks old. Health visitors kept reassuring me that it is normal and will correct itself with time. They advised to practice repositioning to relieve the pressure from the flat area and to try and keep him upright as much as possible so that he doesn't spend too much time lying flat on any surface. We did all that as much as we could and as much as it was possible, however with little effect. When Hugo turned 6 months old I started to get seriously worried and decided to take him to his GP where I've heard that I shouldn't worry and that it's normal and that some children will just end up with slightly misshapen heads and that it is fine and hair will cover it with time…! My jaw dropped as I couldn't imagine how I'd feel as a child, teenager or a grown man being potentially bullied for my head's weird shape, feeling self conscious for the rest of my life or not being able to get a standard haircut because of the need to hide my insecurity… 
I don't want my son to struggle mentally with this 'cosmetic' issue and thankfully there are more people who share my thoughts and feelings. The company called Technology in Motion specialise in treatment of plagiocephaly and help children like my Hugo. They offer an orthosis helmet therapy which lasts anywhere from 4-6 months and costs £2100. We've already attended several appointments and Hugo's head deformity was classed as severe by our therapist.

It is a lot of money to spend for me as a single mum and also because we've been through
some personal and financial struggles with Hugo already. I realise that the coronavirus has left a
lot of us in financial troubles and I truly appreciate any help, however small.
If you are reading this and would like to support our case, please know that I would love to thank
you from the bottom of my heart and to wish you every blessing that you may need in life. 
❤️
Thank you for taking the time to visit my JustGiving page.
Donating through JustGiving is simple, fast and totally secure. Your details are safe with JustGiving - they'll never sell them on or send unwanted emails. Once you donate, they'll send your money directly to the charity. So it's the most efficient way to donate - saving time and cutting costs for the charity.
7.5% of all donations to Tree of Hope in relation to this appeal will be allocated to the general charitable purposes of Tree of Hope to cover our core operating costs.

If we raise insufficient funds, or surplus funds, then the funds will be used, if appropriate, to fund support for our child's needs in accordance with Tree of Hope's charitable objects.  If in those circumstances we are unable to use all or part of the funds for the benefit of our child in accordance with Tree of Hope's charitable objects, then any funds that cannot be used will be transferred to be used for the general charitable purposes of Tree of Hope.