Helen needs your help!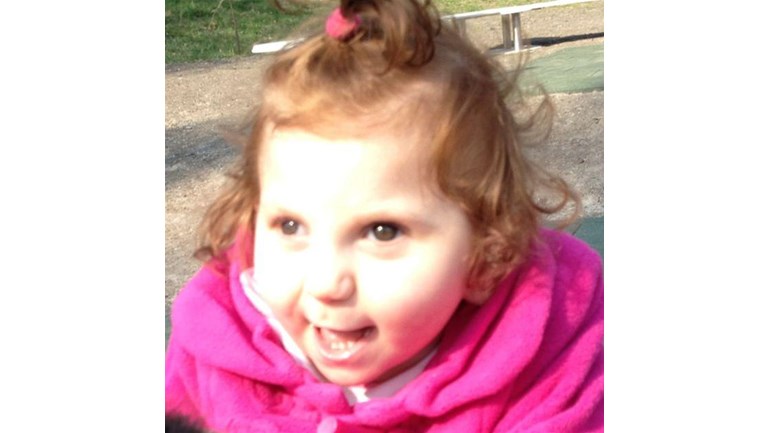 Helen was born on 9th January 2013, weighinga healthy 6lb 9ozs, a beautiful perfect baby.
The Doctor's checked her over and although she had aslight heart murmur they said this was normal in small babies andthat if we wanted to we could take Helen home. As Helen is our first child we decided that Helen and Ania should stay in overnight, thiswas probably the best decision we could have made. During the nightHelen was unable to maintain her temperature and although theDoctor's were not unduly concerned she was placed on a heated mattress. However any time Helen was taken out of the mattress she would not maintain her temperature, blood tests also showed that Helen had a very low blood sugar level and she was immediately rushedto NICU. This was to be the start of the worst 3 weeks imaginable. Helen had to have her blood tested every two hours, she was on a heart monitor and was being tube fed through her nose. Her blood sugar at one point dropped so low that she was very close to dying. She had various tests during her stay, one of them being an MRI scan...
When we were taken into a small room with a Doctor and Nurse to be informed of Helen's MRI results we were left devastated, we were told that part of Helen's brain (the Corpus Callosum) was partially missing and despite this being quite common (one in ten people, the majority of which do not even know it is missing and lead normal lives) they could not predict the long term outcome for Helen.
However Helen is a fighter and the Doctors were surprised when she began drinking from a bottle and gaining weight and finally after 3 weeks we were told we could take our beautiful daughter home.
At that time all we could do was to surround her with as much love and care as she needed and pray for the best for her. After a few days being at home Helen gave us the most gorgeous smile and her first giggle when she was 3 months.
However it became clear after a few months Helen was missing milestones and she was delayed on every single level. At the age of 5 months Helen was still unable to hold her head up (due to her low muscle tone) or make any co-ordinated movements, she did not respond to objects and had difficulty feeding. Despite of all the exercises we were providing for her, Helen kept her hands closed very tightly all of the time. Additional reviews of her MRI scan have shown other parts of her brain are also partially absent, including one responsible for co-ordination. Helen's vision and head growth is also effected meaning she has microcephaly. One of the images on MRI scan showed that there is suggestion of Polimicrogyria.
Despite the various tests and research the Doctors are still unable to find an underlying cause, they feel she has a genetic syndrome but do not know which one. This is an ongoing issue.
On a daily basis Helen receives various therapies and goes to various classes. Also on two occasions we went to Poland to Filii centre for Children (http://filii.pl/) whereHelen received NDT Bobath Physio-therapy, Vojta Therapy, NeurologopediaTherapy, Vision therapy, Hand Therapy and Sensory Integration Therapy. After Helen attended Filii we noticed dramatic improvements in her motor skills. After the first occasion Helen's head control improved enormously so much that we didn't have to hold her head any more after the secondoccasion she was able maintain sitting position with minimum support and also began to reach for objects.
Helen receives NHS provided physiotherapy however thisis only once a month and is more to review how Ania is performing the physiotherapy rather than actually providing any.
Helen is now 19 months old, she has made lots of progress but her low muscle tone has impacted her upper body the most and she is unable to make co-ordinated movements, move herself into sitting position, eat food that's not fully blended. She is still unable to shake objects, clap, pull herself to sit or stand.In addition Helen doesn't make eye contact, has very limited communication and hand eye co-ordination. Despite all of this, Helen is a very happy child and her smile brightens even our most darkest days.
We have decided to set this web page to help our beautiful daughter by asking for your support. We would love to be able to take Helen to the Filii centre more regularly over a longer term (3 months) and to provide sensory equipment in our house to give Helen every chance to fulfil her potential.
We still do not know what the future will hold for Helen but we truly believe more regular stays in Filii will help Helen to develop basic skills and fulfil her potential.
We hope with the help of Tree of Hope we can raise enough funds to access this treatment and access specialised equipment which is not available through our local statutory services. 
The funds raised will go to Tree of Hope to assist other sick children if we exceed the target amount or if we do not raise enough funds, or if they cannot be used for any other reason.
Please see https://www.facebook.com/TreeofhopeHelenStockwell/ for current updates.
Thank you
Tłumaczenie polskie
Historia Helen  
Helen urodziła się w dniu 9 stycznia 2013 roku o wadze 3kg jako śliczne, zdrowo wyglądające dziecko. Lekarz zbadał Helen i choć miała lekkie szmery w sercu,  powiedział  że to normalne dla małych dzieci i że jeśli chcemy możemy wziąć Helen do domu. Jako że Helen jest naszym pierwszym dzieckiem zdecydowaliśmy, że Helen i Ania powinni pozostać na noc w szpitalu. Była to najlepsza decyzja jaka mogliśmy kiedykolwiek podjąć. W nocy Helen nie była w stanie utrzymać temperatury, chociaż lekarze nie byli nadmiernie przejęci, Helen została umieszczona na podgrzewanym materacu. Jednak za każdym razem, kiedy Helen została zdjęta z materaca nie umiała utrzymać temperatury. Badania krwi wykazały również że Helen miała bardzo niski poziom cukru we krwi do tego stopnia że została szybko przeniesiona na oddział Intensywnej Opieki Medycznej  dla noworodków.  Był to  początek najgorszych 3 tygodni jakie można sobie wyobrazić. Krew Helen była testowana co dwie godziny, była podłączona do monitora czynności serca i oddechu oraz karmiona rurką przez nos. Jej poziom cukru we krwi w pewnym momencie spadł tak nisko że była bardzo blisko śmierci. W trakcie pobytu w szpitalu Helen miała również robione inne badania, jednym z nich był rezonans magnetyczny...
Kiedy zaprowadzono nas do małego pokoju lekarz i pielęgniarka przedstawili nam wyniki  rezonansu magnetycznego Helen. Byliśmy zszokowani co usłyszeliśmy. Powiedziano nam, że część mózgu Helen (ciało modzelowate) częściowo brakuje. Chociaż to się zdarza (jeden na dziesięć osób, z których większość nawet nie wie o tym i może  prowadzić normalne życie) lekarze nie są w stanie  przewidzieć jaka będzie przyszłość Helen.  
Jednak Helen jest wojownikiem i lekarze byli zaskoczeni, kiedy zaczęła pić z butelki i przybierać na wadze i wreszcie po 3 tygodniach mogliśmy zabrać naszą śliczna  córeczka do domu.   
Byliśmy bardzo zmartwieni przyszłością Helen ale w tym czasie jedynie co mogliśmy zrobić  to otoczyć Helen miłością, troskliwą opieką oraz modlić się za nią. Po kilku dniach od przyjazdu ze szpitala Helen uśmiechnęła się do nas po raz pierwszy. Był to najwspanialszy prezent jaki mogliśmy otrzymać. Jednak kiedy Helenka skonczyla kilka miesiecy było jasne ze jest opóźniona na każdym poziomie. W wieku 5 miesięcy Helen nie była jeszcze w stanie utrzymać głowy (z powodu niskiego napięcia mięśniowego) lub wykonać żadnych skoordynowanych ruchów,  nie odpowiadała na rożne inne  bodźce oraz miała trudności w karmieniu. Pomimo nieustannych  ćwiczeń Helen trzymała zaciśnięte mocno ręce przez cały czas. Dodatkowe opisy rezonansu magnetycznego wykazały ze również inne części jej mózgu są częściowo nieobecne, w tym cześć odpowiedzialna za koordynację ruchową. Ponadto Helen ma zaburzenie wzroku oraz małogłowie. Jeden z obrazów rezonansu magnetycznego  wykazało, że istnieje sugestia  o Polimicrogyrie.  
Mimo różnych testów i badań lekarze nadal nie są wstanie  postawić diagnozy, przypuszczają  ze jest to syndrom genetyczny ale jest to wciąż kwestia otwarta.    
Na codzień Helen otrzymuje różne terapie i uczestniczy w różnych indywidualnych i grupowych zajęciach. Dodatkowo dwukrotnie pojechaliśmy z Helen do  centrum rehabilitacyjno-terapeutycznego  Filii  (http://filii.pl/) w Polsce, gdzie Helen otrzymała fizjoterapie NDT Bobath, Vojta terapię,  Neurologopedie, terapie wzroku, terapie ręki, terapie integracji sensorycznej. Po każdym 2 tygodniowym uczestnictwie w zajęciach Helen, zauważyliśmy znaczącą poprawę w jej zdolnościach motorycznych. Po pierwszym turnusie kontrola głowy  Helen poprawiła sie tak bardzo, że nie trzeba było trzymać jej głowy, za drugim razem pobytu w Filii  Helen jest w stanie otrzymać się w  pozycji siedzącej z minimalnym podparciem osoby dorosłej. Helen również zaczeła sięgać po przedmioty.  
Angielska slużba zdrowia zapewnia fizjoterapię dla Helen, jest to jednak tylko raz w miesiącu i jest to bardziej oparte na zasadzie przeglądu jak rodzice wykonują fizjoterapię swojemu dziecku.  
Podobnie ma się sprawa z  prywatna fizjoterapią.  
Helen ma 19 miesięcy i zrobiła wiele postępów, jakkolwiek  jej niskie napięcie mięśni najbardziej oddziałuje  na  jej górna cześć ciała. Helen nie jest w stanie wykonać skoordynowanych ruchów, poruszać się w pozycji siedzącej, jeść żywność która nie jest w pełni zmielona.  Helen  nie jest  jeszcze w stanie potrząsnąć przedmiotami, klasnąć, wyciągnąć się sama do pozycji siedzącej.  Ponadto Helen ma trudności w  nawiązaniu kontaktu wzrokowego, ma również bardzo ograniczoną komunikację i  koordynacje wzrokowo-ruchowa.  
Pomimo tego  Helen jest bardzo szczęśliwym dzieckiem, a jej uśmiech rozjaśnia nawet najbardziej szare dni.
Postanowiliśmy stworzyć tę stronę, aby prosić Was o wsparcie dla naszej ślicznej córeczki, Chcielibyśmy aby Helen mogla otrzymać fizjoterapie w centrum  rehabilitacjo - terapeutycznym Filii bardziej regularnie, aby jeszcze w tym roku Helen mogla skorzystać z Filii  w dłuższym okresie czasu (3 miesiące), nabyć specjalistyczny sprzęt oraz wyposażyć pokój Helen tak aby dać jej szanse na odpowiedni rozwój.
Nadal nie wiemy, co przyniesie przyszłość dla Helen, ale naprawdę wierzymy ze regularne pobyty w Filii pomogą Helen  rozwinąć  podstawowe umiejętności i wypełnić jej potencjał.  
Mamy nadzieję, że z pomocą Fundacji Tree of Hope  będziemy mogli  zgromadzić wystarczająco środków, aby uzyskać dostęp do  leczenia i dostęp do specjalistycznego sprzętu, który nie jest dostępny za pośrednictwem naszych lokalnych usług medycznych.  
Pozyskane środki pójdą do Fundacji Tree of Hope które pomogą  innym chorym dzieciom, jeśli przekroczymy kwotę docelową lub jeśli zgromadzone środki nie będą mogły być zużyte na inne cele.